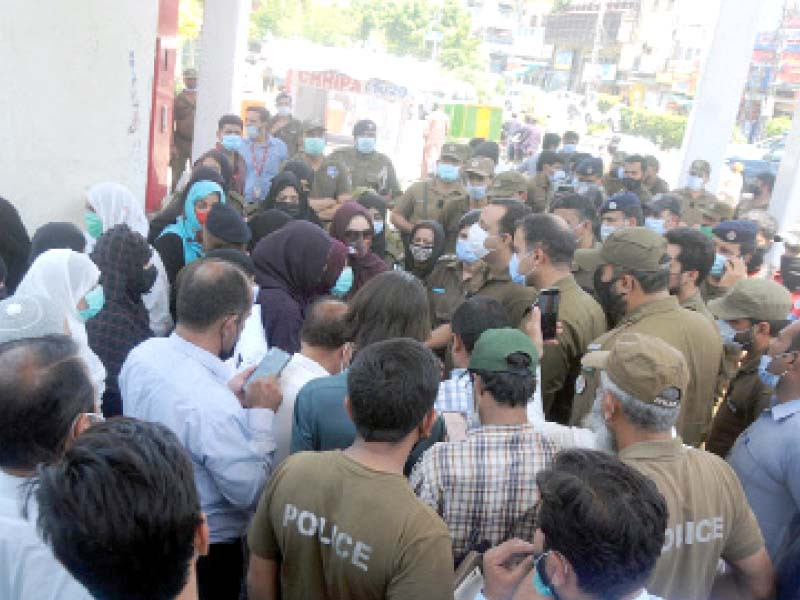 ---
BANNU:
Thousands of Janni Khel residents continued their protest and sit in against the brutal target killing of tribal elder Malik Naseeb Khan on sixth consecutive day. They have placed his coffin outside the police station and are demanding the arrest of those responsible. The participants have already announced a march to Islamabad if their demands are not met till June 10.
Malik Naseeb was one of the notable tribal elders who were the mastermind of the Janni Khel protest against the kidnapping and killing of three local youngsters. Those three friends were killed by local militants after a verbal fight. Malik Naseeb was demanding the dismantling of militants groups in the former FR Bannu which is now part of Bannu district mostly inhibited by Waziri tribesmen.
"An agreement had been reached with the government that all the militants groups will be dismantled in the area but after the end of protest Malik Naseeb blamed that government was not serious about a crackdown against the armed groups.
On Saturday police barred Qumi Watan Party's (QWP) provincial chairman Sikandar Hayat Sherpao from entering the Janni Khel area. He was going to show solidarity to the participants of the sit in. Sikandar blamed government of backtracking on its agreement with the Janni Khel tribesmen and said that government should have fulfilled all its promises.
Published in The Express Tribune, June 6th, 2021.
COMMENTS
Comments are moderated and generally will be posted if they are on-topic and not abusive.
For more information, please see our Comments FAQ