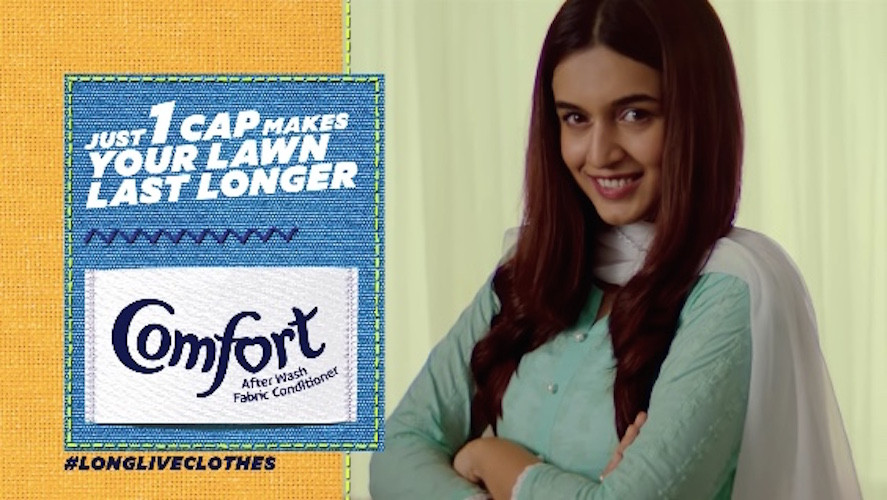 ---

Caution: This isn't your typical campaign. Viewer discretion is NOT advised.

In fact, we think everyone should watch it and be inspired by the quirky take the brand has taken to highlight a very critical issue. Recently, we came across a mysterious DVC and while we thought it's just another ad showcasing the lawn frenzy culture of Pakistan, to our surprise this DVC was hitting all the right notes when it comes to breaking the marketing clutter.
While a typical ad usually serves you with a dancing sequence and jingle or a song to go with it, Comfort chose to stir up an extremely critical debate about the yearly lawn madness in an unconventional and unique way.

We all know that in Pakistan two things sell like hot cake, food and lawn!! Agreed? Summers, winters or spring, you know it's time to welcome a new season when brands start throwing captivating teasers of their lavish lawn campaigns. Moreover, this lawn frenzy has become a cultural exercise for us all!
Pakistanis enthusiastically brace themselves for this race to fight this fashion war, so that they can get their hands on the latest lawn print. Jostling through the huge crowds at the stores on launch day or pre-ordering online is almost an accepted cultural behaviour now.

Comfort is the perfect, pocket-friendly solution to end this insanity, and make your clothes look good as new for longer! Instead of burning a hole in your pocket by spending thousands of rupees on new lawn outfits every two to three months, you could save tons of hard-earned money by making old clothes last longer and re-using them. You can tell the difference with just a few tries as your clothes will smell great, feel softer and look vibrant!
Comfort's out of the box campaign is quirky and thought provoking at the same time. It's high time that people start spending responsibly, especially since the world has been hit by a devastating Covid-19 pandemic that has led to millions of people losing their lives and myriad not having access to basic necessities after losing their jobs.
Kudos to the team for stepping away from redundant concepts and picking such a meaningful and much needed conversation in Pakistan.
This summer season, let's pledge to not waste extra money on lawn while looking equally great each time we reuse the old ones.