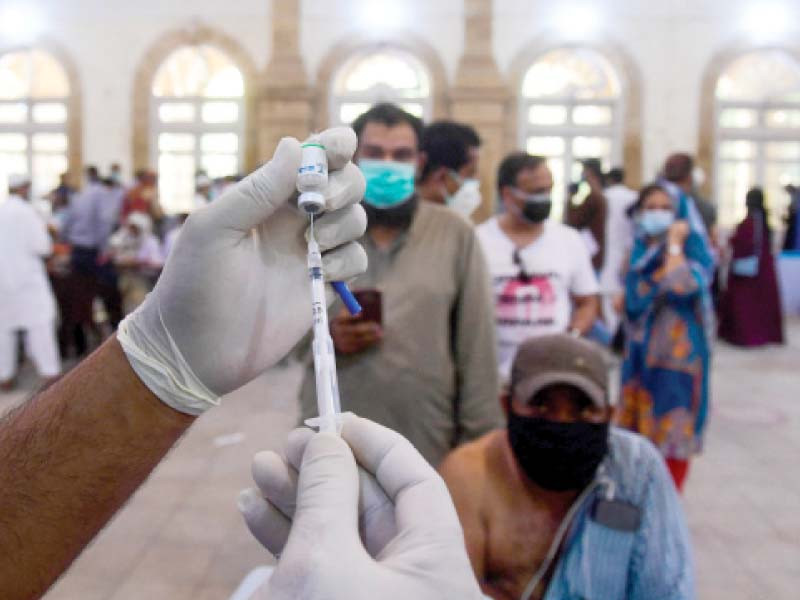 ---
K-P to increase number of vaccination centres to 1,000
Daily inoculation target will also be increased to 100,000 in coming months
---
PESHAWAR:
The provincial government has decided to increase the number of vaccination centers across the province from 270 to 1,000.
With the increase in the vaccination centres, the target for the daily vaccination will also be increased from 30,000 to 100,000 daily.
Addressing a new conference, Health Minister Taimur Saleem Jhagra and Special Assistant to CM on Information and Higher Education Kamran Bangash said that the news stories about the lack of vaccination centres were just rumours and the federal government was constantly supplying all the provinces with vaccines.
"Currently, around 30,000 people are vaccinated on a daily basis and in the coming few months, this will be increased to 100,000 vaccinations," he said, adding that there will be a relaxation in the lockdown once around 70 per cent of the population is vaccinated.
The health minister said that after a large-scale vaccination in the UK, the incidents of death were not being reported there and there were no new Covid-19 cases in the health workers too.
"This is a golden opportunity for us to defeat the pandemic and the role of media is vital in this regard," he said, adding that in Khyber-Pakhtunkhwa too, there was a decrease in the new infections as on April 25 around 90 per cent beds in the hospitals were occupied but "today this has successfully been reduced to 30 per cent and in total, around 800 Covid-19 patients are in hospitals".
"Our economy has comparatively sustained less damage but low-income classes including daily wage earners are among the worst hit. And in order to improve the situation, we have to convince our family members and friends to get themselves vaccinated as soon as possible. The Covid-19 vaccine is completely and totally safe and without side effects," he said.
Bangash urged the masses should follow SOPs and go for vaccination.
"If we want to control this infection, the only way out is by getting ourselves vaccinated," he said.
Published in The Express Tribune, June 4th, 2021.