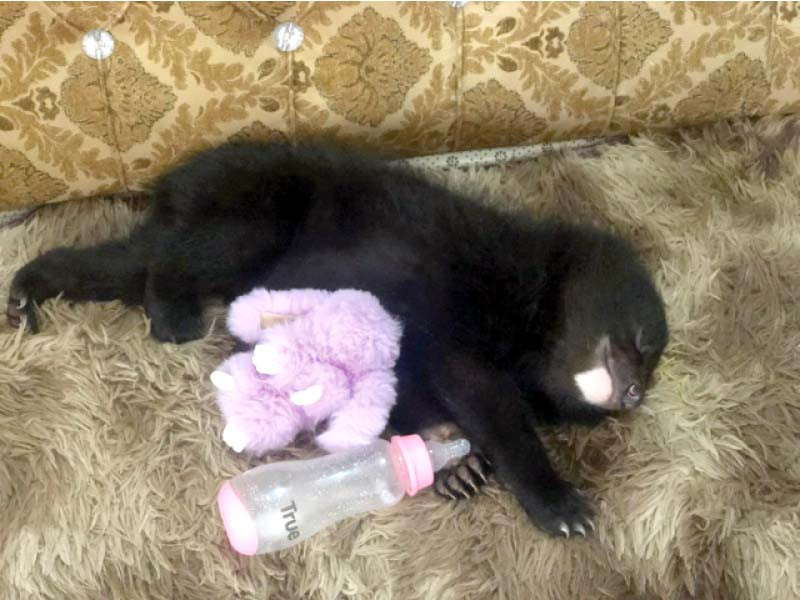 ---
RAWALPINDI:
A civil court has directed the relevant officials to move the bear cub recovered from a woman to the Islamabad Wildlife Management Board (IWMB) from Lahore Zoo. Officials privy to the matter said the cub would be left in the bear sanctuary for now.
The decision has been made after taking into account the cub's age who had behaved hysterically in Lahore Zoo where it injured himself after repeatedly striking its head against the cage.
Animal rescuer Aneela Umair, who had raised the cub after recovering it from poachers, filed a petition in the civil court of Ahmed Shahzad Gondal. She argued that the wild animal was very young to be caged and this incarceration was also against its natural instinct.
She pleaded with the court to issue orders to releasing the cub in the bear sanctuary in Balskar in Chakwal district. The cub will be handed over to IWMB by Lahore zoo management any time after Wednesday evening.
Currently, there are 40 bears in the Balksar bear sanctuary, most of them were recovered from poachers and those who use them to fight against dogs.
Read Rescued bear becomes a beacon of 'hope'
The sanctuary is suitable for the growth of the cub as it has all the required facilities including a pool brimming with fish. Aneela Umair told The Express Tribune she was happy over the court's decision. She added that after she rescued the cub she had raised it like a child and used to feed it milk daily. The cub will soon be set free in Balksar sanctuary after a ceremony.
Last week, The Punjab Wildlife Department (PWD) had taken custody of the bear cub from a house near Bagh Sardar after TikTok videos featuring the animal went viral. Civil Judge Ahmed Shehzad Gondal had ordered the relevant officials to move the bear cub to Lahore Zoo.
The Express Tribune had learnt the wild animal was bought by wildlife conservationist Anila Amir from poachers in the Neelum Valley forest area of Azad Kashmir who wanted to sell it for a hefty price. She said she did not have enough money to buy the wild animal from the poachers so she collected money from her parents, siblings, friends, and servant.
Anila had told The Express Tribune that she had raised the cub with utmost care like a human baby. She added the animal was badly injured when it was purchased and both ears and different parts of the body had wounds that were infected with pus. She said the cub could not eat anything and was fed milk with the help of a feeder. The cub used to drink three litres of milk daily.
The wildlife conservationist said the cost of treatment of the animal was quite high. However, within two months, his wounds healed and now he was able to eat fish.
Published in The Express Tribune, June 4th, 2021.