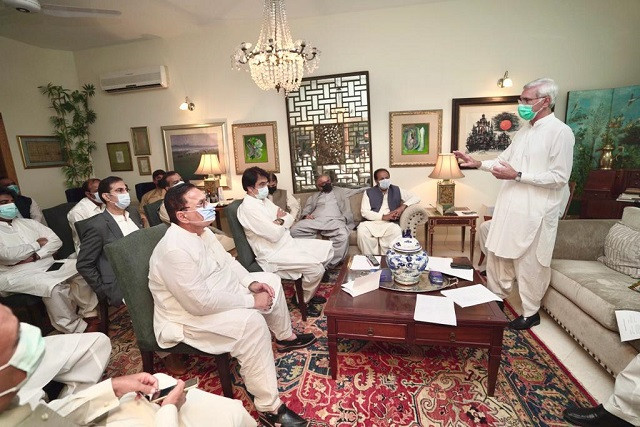 ---
LAHORE:
Lawmakers supporting PTI's disgruntled leader Jahangir Tareen warned the government in Punjab Assembly on Wednesday that it would be left with no option but to go home if it asked their like-minded group to leave the House.
The remarks came in response to a statement of Law Minister Basharat Raja.
The PTI benches seemed divided over a row between MPA Nazir Chohan of the estranged group and prime minister's aide Mirza Shahzad Akbar.
On the other hand, opposition lawmakers expressed full support for Chohan and called for quashing an FIR lodged against him.
Harsh words were exchanged when Raja, while responding to Chohan's speech, said he had contested the elections on PTI's ticket and his statement against Akbar was tantamount to having doubts on Prime Minister Imran Khan, so he had no moral ground to sit in the House.
The like-minded group's parliamentary leader Saeed Akbar Khan Nawani said on a point of order that the government should avoid making such statements against the group. He said the government should remember that the House would not remain intact and the government would go home within no time if any member of the group was asked to leave the House.
"Stop hurling threats in such a way. You would have to pay the cost if things remain unchanged," Nawani made clear.
He said the government had resorted to a cheap act of registering an FIR against Chohan and now rumours were being spread that he would be arrested. He dared the authorities to arrest the lawmaker. Nawani insisted that Chohan had done nothing wrong.
"Why is he being asked to leave this House on moral grounds? Has he voted against PTI's polices or violated any policy? What is his fault?" he asked.
Nawani said Akbar should have settled the matter by coming on TV and replying to Chohan's remarks.
"But in this case an FIR was registered to make a mockery of the system," he alleged.
Earlier Chohan said while speaking on a point of order that the people of his area had asked him why Akbar had been appointed to the key post. He said he had raised the questions he had been asked, but instead of giving a satisfactory reply, Akbar had lodged a report.
He claimed that he had been informed that Chief Minister Usman Buzdar had resisted the move against him for over 10 days but the PM's aide had succeeded in getting registered the FIR.
Some PTI lawmakers backed the stance of the law minister while only his own group supported Chohan from within the ruling party.
PML-N and other opposition lawmakers also supported Chohan.
Law Minister Raja reacted strongly to the remarks. He said Chohan had spoken on the basis of speculations without any evidence.
"No one can ask somebody about his religion," he said.
At this the opposition and like-minded members stood up in protest, saying that asking about sect or religion was not a violation of the law.
Panel of Chairpersons Mian Shafi directed the law minister to look into the matter of the FIR.
Published in The Express Tribune, June 3rd, 2021.