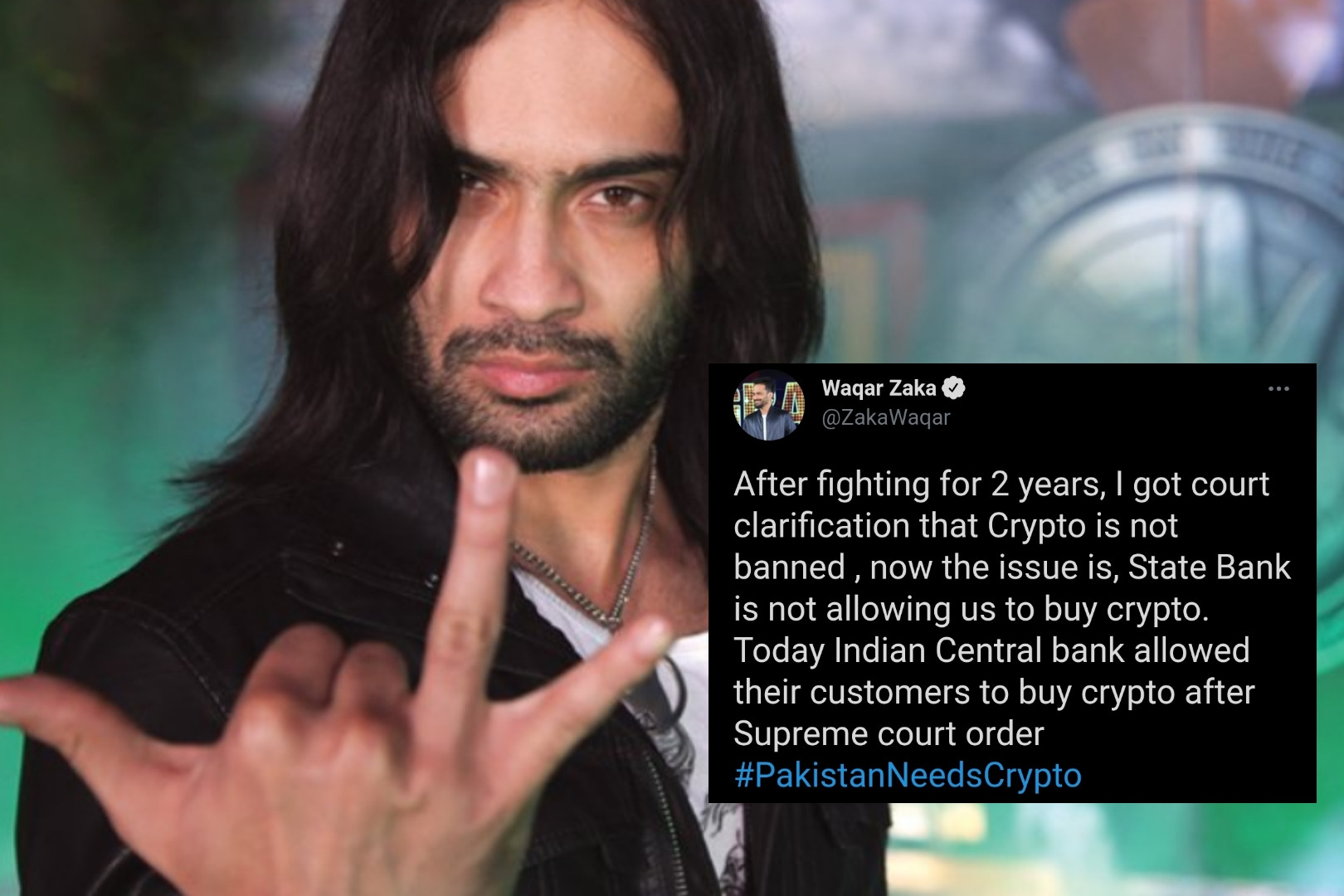 ---
KARACHI:
Twitter was sent into a bit of a frenzy recently due to some Tweets on the legality of cryptocurrencies in Pakistan by the incendiary crypto-enthusiast Waqar Zaka. The influencer's (uninformed) Tweets led to prominent members of the entertainment industry demanding an explanation about what exactly was going on.
Their demand came after Waqar Zaka talked about securing a court clarification on his Twitter handle which stated that cryptocurrencies are not banned in Pakistan. He further lamented that the State Bank of Pakistan restricted the public from trading in digital currencies. He wrote, "After fighting for 2 years, I got court clarification that Crypto is not banned. Now, the issue is, State Bank is not allowing us to buy crypto. Today, Indian Central bank allowed their customers to buy crypto after Supreme court order #PakistanNeedsCrypto."
After fighting for 2 years, I got court clarification that Crypto is not banned , now the issue is, State Bank is not allowing us to buy crypto. Today Indian Central bank allowed their customers to buy crypto after Supreme court order #PakistanNeedsCrypto pic.twitter.com/yNl7qa29um

— Waqar Zaka (@ZakaWaqar) May 31, 2021
Subsequently, Singer Ali Zafar and Producer Humayun Saeed retweeted the post seeking more knowledge about cryptocurrencies and clarification on what exactly Zaka was rambling on about.

If you're just as confused, rest assured, there is a slightly complicated (but not impossible to grasp) explanation. While Wakar Zaka is correct in saying that cryptocurrencies are not banned, when it comes to buying crypto, the situation is far from simple.
A cryptocurrency is a kind of payment mechanism that does not require a central authority and its state is maintained through distributed consensus. Moreover, it is an intangible asset and it does not exist in a physical form. Because there is no institution backing cryptocurrencies, they are prone to massive price volatilities.
The latest circular issued by the State Bank of Pakistan on cryptocurrencies dated April 6, 2018 states that virtual currencies (VCs) or initial coin offerings (ICO) tokens are not legal tender, issued or guaranteed by the government of Pakistan. This circular clearly states that cryptocurrencies are not banned however it excludes them from being a legal tender meaning that virtual currencies cannot be used for payment anywhere in the country.
Elaborating further, it says "SBP has not authorised or licensed any individual or entity for the issuance, sale, purchase, exchange or investment in any such virtual currencies/coins/tokens in Pakistan." This means that if a person becomes a victim of a cryptocurrency scam, he cannot approach the court of law or any financial regulator of Pakistan to register a complaint because virtual currencies are not considered a legal tender in Pakistan.
This circular poses a risk for cryptocurrency traders in Pakistan as they will not be able to voice their concern with any government authority.
In the statement, the central bank directed banks and other financial institutions to refrain from processing, promoting and investing in virtual currencies/tokens and stopped them from facilitating customers to make such transactions.
This circular was released following Pakistan's greylisting by the Financial Action Task Force (FATF) in 2018. Cryptocurrencies can be used to launder money which can deteriorate Pakistan's progress on FATF guidelines hence the central bank issued these directives to enter the whitelist. Given Pakistan's current position in FATF's grey list, the State Bank of Pakistan has little to no incentive to rescind this order hence cryptocurrencies will continue to be excluded from being a legal tender in Pakistan.
Moreover, the country might take signals from China's crackdown on cryptocurrency trading and mining due to concerns about potential fraud, money laundering and trading losses by individual investors.
In addition, Turkish crypto trading firms Thodex and Vebitcoin abruptly halted operations in April-May 2021 and scammed customers of millions of lira after which the Turkish government initiated a crackdown on cryptocurrency firms. Such incidents are also feared to take place in Pakistan hence the country has assumed a cautious stance.
Finally, Waqar Zaka talks about the Indian central bank allowing customers to buy cryptocurrency after the Supreme Court order. However, the influencer failed to state the history of Cryptocurrency in India which led to this decision.
In February 2020, the Reserve Bank of India flagged major concerns about cryptocurrencies and initiated a crackdown on crypto trading platforms.
As an alternative, the Indian government proposed a cryptocurrency bill that aimed to ban all cryptocurrencies in the country except for a state-backed digital currency. However, the Supreme Court of India slashed down the ban on the grounds of being unconstitutional and issued the order in question. On the other hand, State Bank of Pakistan's Governor Dr Reza Baqir said in April 2021 said that Pakistan was considering introducing its own digital currency.
So, it is safe to say that virtual currencies were never banned in Pakistan, you just can't trade in them in the country. However, since the State Bank of Pakistan will regulate the digital currency which it will create, it will eventually become a legal tender in Pakistan as well.
Zaka throwing around such vague claims devoid of much context onto the internet, written in a way to rile people up is socially irresponsible. For better or for worse, celebrities such as Zaka have a wider reach than subject experts, with celebrities having the power to spread (mis)information faster than anyone else. Zaka's claims lacked the nuance required to understand the situation surrounding crypto, which can just as easily slide into utter chaos. And while nuance is not exactly what we expect from most influencers/celebrities, it would be a welcome change to see Zaka even try to spread accurate information devoid of convoluted claims seemingly supported by official out-of-context screenshots.