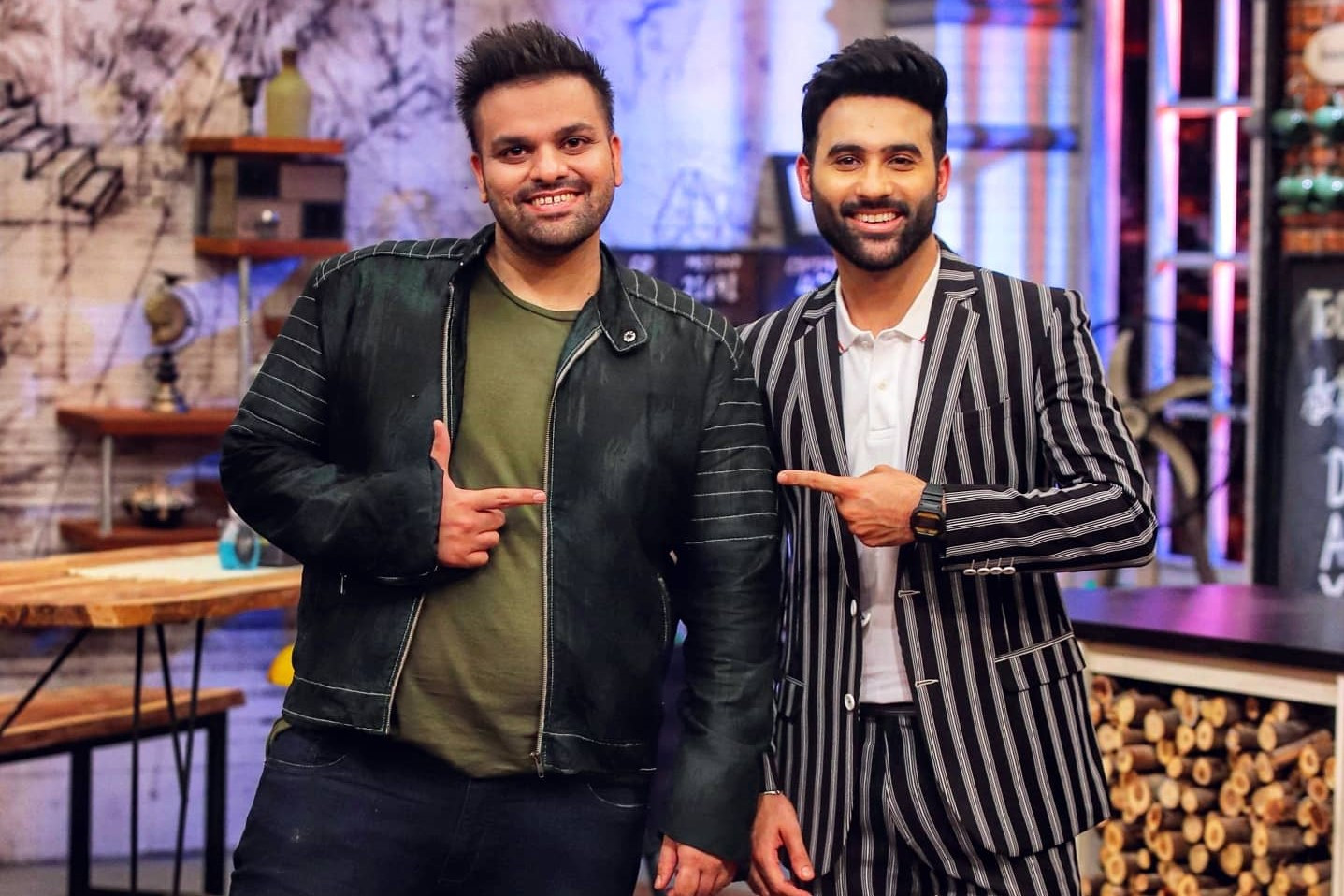 ---
Actors-comedians Aadi Adeal and Faizan Shaikh, most famously known as co-hosts on a local morning show, made an appearance on Time Out with Ahsan Khan. The two spoke about their earlier days in the industry as well as their experience of showbiz so far. Commenting on the pair's infectious energy, host Ahsan Khan asked the two the secret to their enthusiasm. "We had a show of our own and when guests would turn up acting like corpses, we realised this is not something we would want to do in the future… we've done shows in graveyards," shared Aadi.
Speaking about starting out in the industry, he added, "I wanted to become an actor. You see these cameras? I love them. So, I came to just act. I started theatre with serious acting. I ended up doing comedy due to an emergency. Yasir Hussain had a theatre play but he couldn't make it to Karachi, so I ended up doing it instead of him and from there on the comedy took off. The play was called Upbeatables."
Faizan revealed slightly different aspirations, commenting on his love of directing. The actor spoke about his mother, veteran actor Parveen Akbar, saying, "I never wanted to be an actor. I studied direction. I told my mother I wanted to get into direction so my mother sent me off to school to study it. I studied for four years in SZABIST and people would laugh at me saying, 'Your mother is such a big actor, and you have to study for it', but I am thankful to her right now because I got to learn so many new things because of her."
Speaking of his first role, he stated, "I had no intention of getting into acting. I gave an audition for a theatre play because of a friend. He said, 'Let's go' and I said, 'Who will cast us?' He didn't end up getting selected but I did." While reflecting on their experience in the industry so far, Ahsan asked the pair whether they had ever angered any of their guests because of their antics. Aadi shared the story of how he had unintentionally angered actor Maria Wasti due to his forgetfulness when it comes to names.
He continued, "I asked her what her name was and she got offended over how I didn't know her name despite how established of an actor she is." Aadi jokingly added, "We even went to her show afterwards and charged Rs35,000 each. Then our relationship was good. Good relationship. She's the best. You know, number one channels don't really have the budget."
Commenting on their reservations when it comes to the entertainment industry, Faizan spoke about how actors constantly tried to fit into an established mould instead of showing their own uniqueness. "Why do we need to get into the competition? When we already have an Ahsan Khan, why would you want to become another Ahsan Khan? Why do we become trapped in this thinking? So, I don't agree with it. Everyone has their own unique colours, and you should show those colours," said the actor.
On the issue of being typecast in the industry because of his weight, Aadi underlined, "I don't want to lose too much weight, but I lost some because I got a call regarding a commercial thrice. They asked me to come in for a screen test, and when I asked them what the role was, they told me I had to play the role of 'fatty'. I asked them what kind of a character that is supposed to be and they said I should just play the role of fatty. This happened another two times as well." He explained, "On TV, the fat guy is always eating. We come from a theatre background so we like playing characters. But if someone tells you that there's a fat boy in the script and you have to play him because he's fat, that's not how I want to work."
COMMENTS
Comments are moderated and generally will be posted if they are on-topic and not abusive.
For more information, please see our Comments FAQ