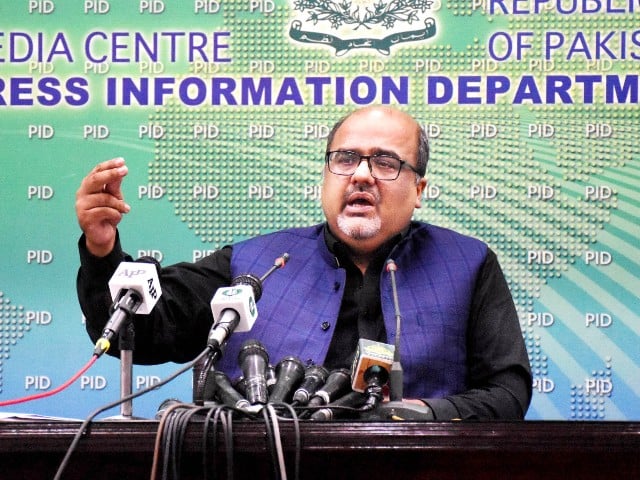 ---
LAHORE:
The Lahore police on Saturday registered a case against Nazir Chohan, a PTI MPA belonging to the estranged Jahangir Tareen Group, on the complaint of Adviser to the PM on Accountability and Interior Shahzad Akbar for statements that have allegedly endangered his life.
The Race Course Police Station has filed the FIR under sections 506 (punishment for criminal intimidation), 189 (threat of injury to public servant), 298 (making statements with deliberate intent to wound religious feelings) and 153 (provoking to cause riot) of the Pakistan Penal Code.
According to the complaint, sent to the police on May 20, Akbar has claimed that Chohan's statements while speaking on a TV show about the former's religious beliefs had put his life at risk.
"The offence has been committed to cause injury to the reputation, body, property and mind of the applicant and cause hatred in public at large towards the applicant," the FIR read.
"[Chohan committed] the offence with the nefarious design to wound the religious feelings of the applicant," it added.
"The applicant has been subjected to similar allegations in the past because he is performing his duties in a vigilant and responsible manner and the intent of the accused is to forbear the applicant from the exercise of his lawful functions."
The FIR further read that there Chohan's "unfounded, false and vexatious" claims would provoke "religious hatred" and put Akbar's life at risk.
In response, Chohan said he was ready to fight the case.
Information Minister Fawad Chaudhry expressed his support for Akbar on Twitter.
"Using religion card for personal vendetta is despicable. Lahore Police must take strict action against Nazeer Chohan MPA for using third rated tactics," he tweeted.
"Shahzad is doing his job [and] State cannot function if it fails to safeguard its officials against such attacks," he added.
Akbar expressed his gratitude to Fawad for his support.
"Hypocrisy and religious bigotry esp of [the] corrupt should have no space in public," he wrote on Twitter.
Earlier this month, a group was launched comprising PTI's dissident lawmakers, who claim that they are not a forward bloc, but were backing former party general secretary Jahangir Tareen in the wake of the fraud and money laundering charges against him.
A delegation of federal ministers officially met Tareen for the first time earlier this month.
Representatives of the Punjab government also participated in the meeting.
During the meeting, Tareen informed the federal ministers of the Punjab government's "retaliatory actions" against the group. He added that the Punjab government was subjecting them to political victimisation.
The federal ministers assured Tareen that his reservations would be addressed.
On this, the lawmakers belonging to the Tareen group decided to vote for the provincial government in the budget session.
Tareen told the federal ministers that he and members of his group were part of the PTI.
"The purpose of forming a separate group was to identify the injustices against us," he added.
The former party general secretary hoped that the government would ensure justice as promised. (With input from agencies)