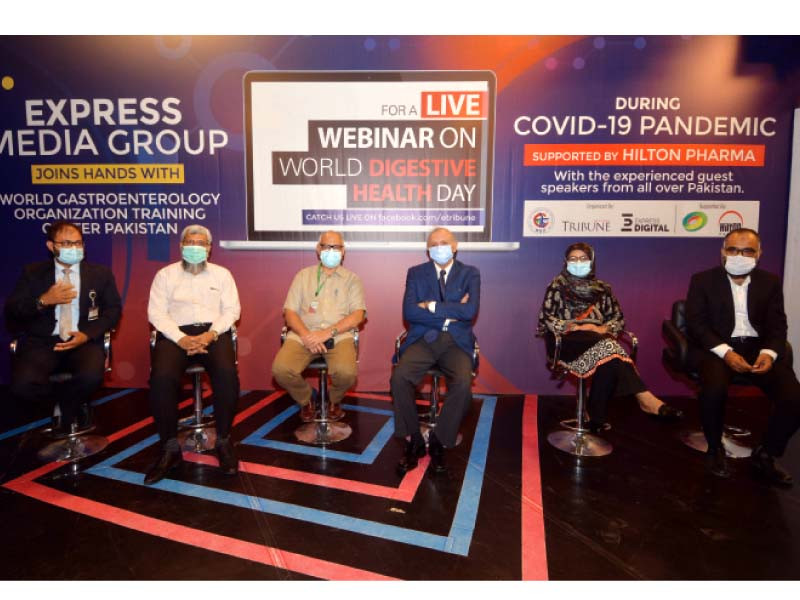 ---
Obesity; silent killer as deadly as Covid-19
Medical experts say it is sweeping the world at an equally alarming rate
---
KARACHI:
In addition to Covid-19, the pandemic of obesity is also sweeping the world with equally devastating effects. This was stated by medical experts who were speaking at a webinar to mark World Digestive Health Day 2021.
The event was organised by the Pak Gastroenterology and Liver Disease Society (PGLDS) in collaboration with The Express Media Group. Experts from Middle Eastern and South Asian countries said the only difference between the pandemics caused by Covid-19 and obesity was the acuteness of the disease.
Read: 'Obesity spreading at rate of pandemic'
They said infections had a relatively quick effect, while the effects of obesity on life expectancy were more insidious and devastating, but less acute. They also endorsed the demands of local and international bodies who sought higher taxes on sugar-sweetened beverages (SSBs) such as carbonated drinks, flavoured milk, packed juices and iced tea.
They said consumption of these beverages and junk food, in addition to inactive lifestyles, was the leading cause of obesity. The medical experts agreed that medical complications were being caused in both women and children all over the world.
The webinar was addressed by prominent gastroenterologists, including Professor Ajay Duesja from the Postgraduate Institute of Medical Education and Research (PGIMER) in Chandigarh India, Dr Majidah Bukhari from the International Medical Center (IMC) in Saudi Arabia, Professor Mamun Al Mahtab from Bangladesh, Dr Lubna Kamani from Liaquat National Hospital, Karachi Dr. Asma Ahmed from Aga Khan University, Karachi and Professor Dr. Shahid Ahmed from Darul Sehat Hospital, Karachi.
The online session was moderated by Dr Nazish Butt from the Jinnah Postgraduate Medical Centre (JPMC).
"The challenge for us is to be able to deliver affordable care for obesity to a world with variable resources, expertise and cultural practices", Professor Ajay Duesja said.
PGLDS President Dr Lubna Kamani said the world was facing two pandemics at a time. He added obesity was resulting in more deaths and causing further misery to people compared to some major infectious diseases. She urged governments and international health bodies to lay equal emphasis on obesity and the complications caused by it.
Professor Kamani maintained that obesity was the root cause of most non-communicable diseases (NCDs) including diabetes, hypertension, cardiovascular disease, stroke and fatty liver. He added it was the leading cause of liver failure in countries like Pakistan.
Read more: Covid-19 obesity risk higher for men
"According to WHO, every fourth person is overweight in Pakistan, while 30 to 35 per cent are obese," she said. Similarly, over 20 per cent of school-going children are either overweight or obese. Due to Covid-19 restrictions, this number is constantly on the rise", she continued.
Patron of the PGLDS Dr Shahid Ahmed said poor nutrition and inactive lifestyles were driving weight gain and obesity rates worldwide. "Policy intervention can make a difference in availability of ultra-processed and sugary foods."
Published in The Express Tribune, May 30th, 2021.