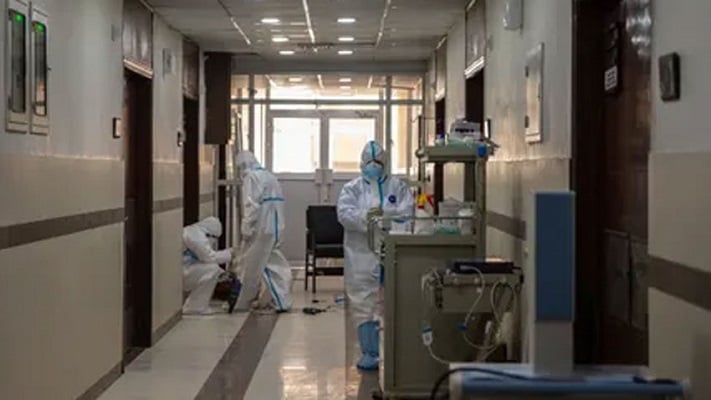 ---
Covid-19 is the disease caused by a new coronavirus called SARS-CoV-2. WHO first learned of this new virus on 31 December 2019, following a report of a cluster of cases of 'viral pneumonia' in Wuhan, People's Republic of China.
What happens to people who get Covid-19
Among those who develop symptoms, most (about 80%) recover from the disease without needing hospital treatment. About 15% become seriously ill and require oxygen and 5% become critically ill and need intensive care.
Complications leading to death may include respiratory failure, acute respiratory distress syndrome (ARDS), sepsis and septic shock, thromboembolism, and/or multiorgan failure, including injury of the heart, liver or kidneys.
In rare situations, children can develop a severe inflammatory syndrome a few weeks after infection.
Who is at most risk
People aged 60 years and over, and those with underlying medical problems like high blood pressure, heart and lung problems, diabetes, obesity or cancer, are at higher risk of developing serious illness.
However, anyone can get sick with Covid-19 and become seriously ill or die at any age.
Are there long-term effect of Covid-19
Some people who have had Covid-19, whether they have needed hospitalization or not, continue to experience symptoms, including fatigue, respiratory and neurological symptoms.
WHO is working with our Global Technical Network for Clinical Management of Covid-19, researchers and patient groups around the world to design and carry out studies of patients beyond the initial acute course of illness to understand the proportion of patients who have long term effects, how long they persist, and why they occur. These studies will be used to develop further guidance for patient care.
Which test to go for
In most situations, a molecular test is used to detect SARS-CoV-2 and confirm infection. Polymerase chain reaction (PCR) is the most commonly used molecular test. Samples are collected from the nose and/or throat with a swab. Molecular tests detect virus in the sample by amplifying viral genetic material to detectable levels. For this reason, a molecular test is used to confirm an active infection, usually within a few days of exposure and around the time that symptoms may begin.
How long does it take to develop symptoms?
The time from exposure to Covid-19 to the moment when symptoms begin is, on average, 5-6 days and can range from 1-14 days. This is why people who have been exposed to the virus are advised to remain at home and stay away from others, for 14 days, in order to prevent the spread of the virus, especially where testing is not easily available.
What should you do if you have symptoms?
If you have any symptoms suggestive of Covid-19, call your health care provider or Covid-19 hotline for instructions and find out when and where to get a test, stay at home for 14 days away from others and monitor your health.
If you have shortness of breath or pain or pressure in the chest, seek medical attention at a health facility immediately. Call your health care provider or hotline in advance for direction to the right health facility.
If you live in an area with malaria or dengue fever, seek medical care if you have a fever.
If local guidance recommends visiting a medical centre for testing, assessment or isolation, wear a medical mask while travelling to and from the facility and during medical care. Also, keep at least a 1-metre distance from other people and avoid touching surfaces with your hands. This applies to adults and children.
Source: World Health Organisation (WHO)
COMMENTS
Comments are moderated and generally will be posted if they are on-topic and not abusive.
For more information, please see our Comments FAQ