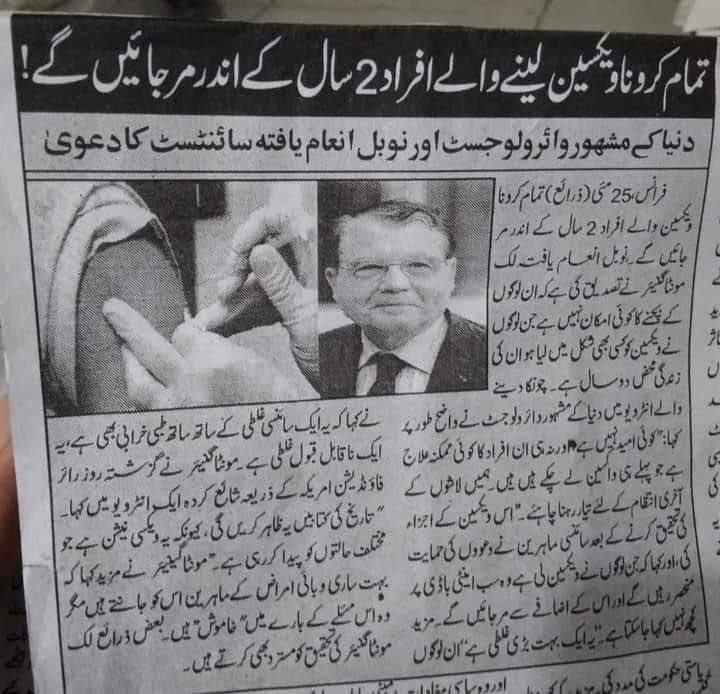 ---
Fact Check: Death within two years of getting the Covid-19 vaccine?
French Nobel laureate did not say 'vaccinated people will die within two years'
---
Social media was abuzz recently with a post on Facebook associating French Nobel prize-winning virologist Luc Montagnier with the claim that those who have received the Covid-19 vaccine had 'no chance of survival'.
The post, which was shared thousands of times on social media, reads, "all vaccinated people will die within two years. Nobel Laureate Luc Montagnier has confirmed that there is no chance of survival for people who have received any form of the vaccine."
The Express Tribune investigated the report and found the claim to be fake.
Montagnier, who was awarded the Nobel prize in 2008 for his work identifying the HIV virus, has in the past made anti-vaccination comments but he did not make the statement the viral post attributes to him.
ہمت کر کے کل ہی تو لی ہے میں نے ویکسین ۔ ہاتھ میں اتنا شدید درد ہے ۔ اور اب پتا لگ رہا ہے کہ دو سال بعد ہم نے مر جانا ہے ۔ 😭😭 pic.twitter.com/oUYAi6kGjF

— گڑیا صدیقی (@kooldjrian2) May 26, 2021
In one version of the fake post on social media, a two-minute clip from one of Montagnier's interview has been attached in which the virologist can be seen talking about the vaccine. However, the interview too does not contain the statement that is attributed to him in the post doing the rounds on social media platforms.
It is also pertinent to note here that according to the World Health Organisation, "there are strict protections in place to help ensure the safety of all Covid-19 vaccines."
Before any vaccine is approved for clinical use, they undergo "rigorous testing in clinical trials to prove that they meet internationally agreed benchmarks for safety and effectiveness."
As per the National Command and Operation Centre (NCOC) in Pakistan, the total number of people to have been fully vaccinated is 1,513,144.
Two days ago, the NCOC Chief and Federal Planning Minister Asad Umar announced opening Covid-19 vaccine registration for citizens aged 19 years and above.
The minister termed the start of the vaccination drive for the age group as marking the opening of inoculation for the entire population.