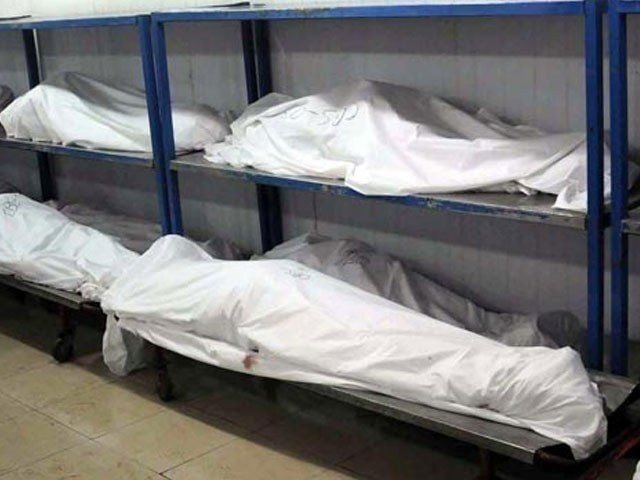 ---
KARACHI:
Three minors and a man died while six others were critically injured late on Wednesday night when the inner unit of an air-conditioner (AC) blew up during the gas-refilling process at a residential building in Liaquatabad No9, Karachi.
The explosion was so intense that the roof of the five-storey building caved in. The debris falling in the lane killed 40-year-old Muhamamd Asif, while six-year-old Abdul Hadi died inside the apartment, where six-year-old Zain, Danish, 35, two-year-old Noor Fatima, four-year-old Zainab, Faizan, 25, and Kashif, 20, suffered injuries due to the explosion and the falling debris.
The falling rubble also damaged the roof of the next door building. The residents of the building were the first to reach the premises on the fourth floor and pull out the victims from the pile of iron girders and concrete. The neighbours moved the victims down to shift them to hospital.
Police and the rescue workers also reached the spot and shifted the injured to Dr Ruth Pfau Civil Hospital's Burns Ward and Abbasi Shaheed Hospital. Zain and Zainab succumbed to their wounds later on Thursday during treatment at the former.
Read more: Three sustain burn injuries as gas cylinder explodes
Liaquatabad SHO Patel told The Express Tribune that the Bomb Disposal Squad (BDS) surveyed the blast site on Thursday, and ascertained that an exploding AC compressor had caused the blast.
The AC was running on old wiring which heated up causing a short circuit near the compressor, according to the BDS. This caused a spark and the gas in the compressor exploded, said Patel quoting the BDS report.
The explosion was so powerful that it tore through the walls of the apartment built with four-inch blocks instead of the regular eight-inch blocks.
Meanwhile, Central district Deputy Commissioner MB Raja Dharaejo said that the incident occurred at 11.15pm on Wednesday night. He added that he has ordered an inquiry into the matter and summoned the Sindh Building Control Authority (SBCA) officers to survey the site.
When contacted, a refrigeration technician, Aijaz Ahmed, told The Express Tribune that explosions in ACs are very rare. The gases used in AC compressors in Pakistan are classified as R134 and R5 which are non-inflammable. However, some newer models are coming with R600 refrigeration gas, Iso-Butane which is flammable, but has very low global warming affect.
Another cause of AC blast could be clogged and rusty pipes, he said.
At least four people had died of burn injuries when an AC blew up at a house in Karachi in May last year.
Published in The Express Tribune, May 28th, 2021.