 ---
TV personalities Manzar Sehbai and Samina Ahmed made headlines in April 2020 as pictures of their intimate wedding went viral. The moment was one for the books. But the wedding was not only special because it was two celebrities – it was special because they shattered glass ceilings with their decision to tie the knot at 70.
In a country that routinely shames women for remaining happily unmarried, case in point, Nausheen Shah, and treats women like 'cold turkey' if they turn 30 and haven't snagged a rishta, Sehbai and Ahmed's decision to make things official at 70 was a breath of fresh air!
But it seems Muttahida Majlis-e-Amal (MMA) does not want you to wait that long. In fact, it does not want you waiting at all. The political alliance consisting of conservative far-right parties of Pakistan presented a bill before the Sindh Assembly Secretariat, to make it mandatory for anyone over 18 to tie the knot immediately. This bill has been drawing the ire of civil and women's rights activists, along with social media and celebrities since late Wednesday.
Activists have dubbed the proposed legislation a 'joke' and rejected it entirely. The bill for the Sindh Compulsory Marriage Act 2021 was submitted by Syed Abdul Raheed. It proposes parents be compelled to provide reasons for their child's delayed nuptials in case they were not wed-locked by 18.
Following this, Armeena Khan shared an article announcing the news on Twitter and wrote, "What the actual duck egg?" Bench actor Usman Mukhtar also shared the news on his Insta Story and said, "This has to be a joke." Actor Anoushay Abbasi simply shared the same news asked, "What?"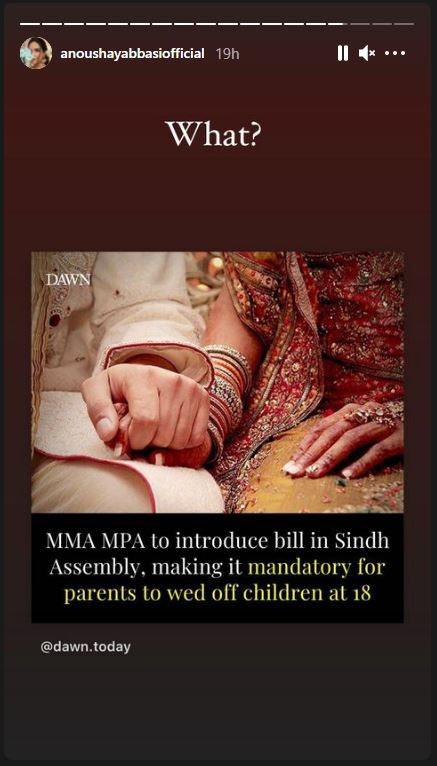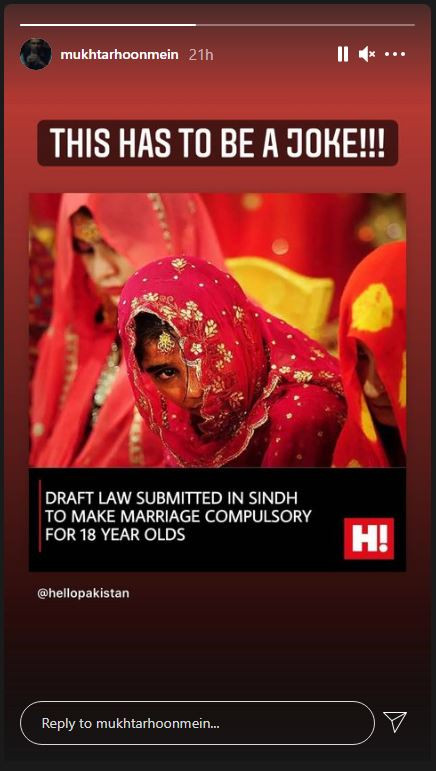 According to information acquired by The Express Tribune in an earlier report, the bill states, "The parents have to submit a declaration with the concerned deputy commissioner, citing the reasons for delaying marriage. Those who fail to inform DC will have to pay a Rs500 fine for each adult child."
After submitting the private bill at the assembly secretariat, Rasheed, who belongs to Jamaat-e-Islami (part of the MMA alliance) assosiated the rising number of rape and sexual assault cases with the ratio of unmarried people. "These kind of immoral activities take place when people don't marry their children on time."
In a video message, Rasheed insisted that marriage ceremonies should be arranged with simplicity and he condoned the demand of dowry by parents of the groom.
Meanwhile, Amar Sindhu, associated with the Women Action Forum (WAF), said it was legally, ethically, morally and economically wrong to force any parents to marry their children by 18.
Have something to add to the story? Share it in the comments below.
COMMENTS
Comments are moderated and generally will be posted if they are on-topic and not abusive.
For more information, please see our Comments FAQ