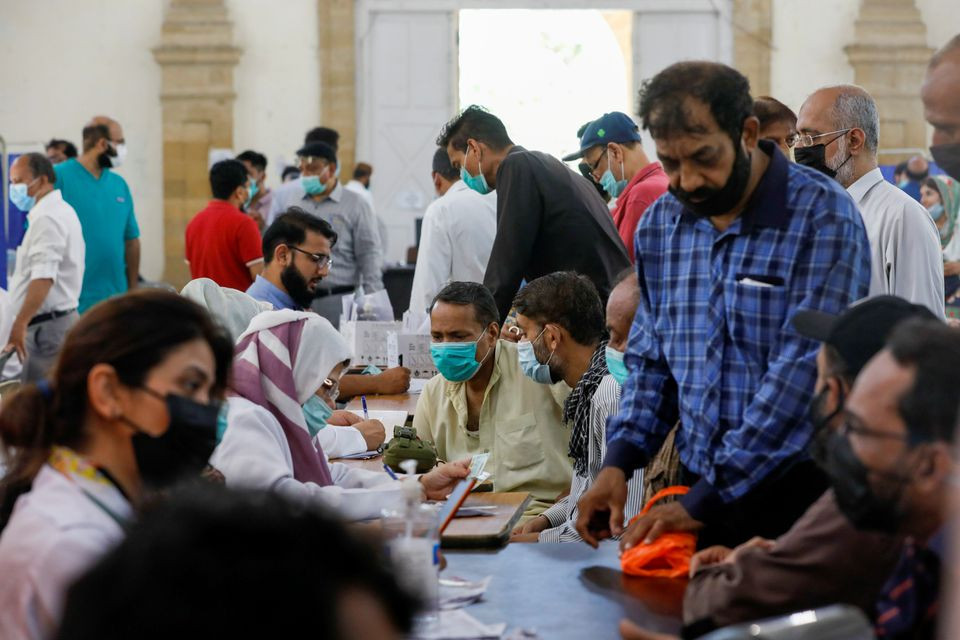 ---
Infection rate in ICT drops to 2.7%
One more dies of Covid as 111 new cases surface in federal capital
---
ISLAMABAD/RAWALPINDI:
The Covid positivity rate has continued to decline in the federal capital amid the third wave of the pandemic on Tuesday as the number of cases reached the lowest in a long time. In a span of 24 hours, the rate remained as low as 2.7 per cent while about 4,114 tests were conducted out of which only 111 turned out positive.
The deadly virus claimed one life while 267 patients recovered during this period. According to official figures, 80,529 people have been infected with the virus in Islamabad so far. Of these, 72,409 have recovered while 746 have lost their lives to the contagion. The report also stated that there are 7,374 active cases of Covid in the city.
Meanwhile in Rawalpindi, the total number of positive cases has reached 25,980 with 23,998 from Rawalpindi and 1,982 from other districts after the addition of 72 more positive cases during the last 24 hours. The report said 24,223 patients were discharged from hospitals while 1,719 were quarantined, including 997 at homes and 722 in isolation.
Presently, 86 confirmed patients were admitted to various facilities with 17 at Holy Family Hospital (HFH), 11 at Benazir Bhutto Hospital (BBH), 35 at Institute of Urology, 17 at Fauji Foundation Hospital and one each at Bilal hospital and Akhtar Rukhsana Memorial trust while only one patient lost their life during the last 24 hours, a health authority report stated.
Moreover, around 266,077 people, including 22,034 health workers and 244,043 senior citizens, have been administered the anti-Covid jabs from 22 centres across the district since the vaccination drive was launched on March 1.
A district administration official informed that around 3,145 people had been inoculated the vaccine at Tehsil Headquarters Hospital (THQH) Taxila, 694 at THQH Murree,1,248 at THQH Kahuta, 2,982 at THQH Gujar Khan, 471 at THQH Kotli Sattian, 1,420 at THQH Kallar Syedan, 9,637 at Rawalpindi Institute of Cardiology, 4,707 at Holy Family Hospital, 2,758 at DHQ Hospital, 7,689 at Benazir Bhutto Hospital, 488 at Govt TB Sanatorium Samli, 6,830 at Wah General Hospital, 70,206 at Shahbaz Sharif Complex, 16,381 at Tehsil office (TO) Taxila, 9,374 at TO office Kallar Syedan, 21,663 at TO office Gujar Khan, 1,312 at TO office Kotli Sattiyan, 2,899 at TO office Murree, 51,495 at TO office Potohar, 8,566 at TO office Kahuta while 40,252 people received jabs at the Red Crescent vaccination centre.
Furthermore, Hazara Commissioner Riaz Khan Mehsood inaugurated a special vaccination centre at Jalal Baba Auditorium. Special counters have been established for senior citizens, physically challenged people and ladies at the vaccination centre, he maitnained.
The centre, jointly established by the district administration and District Health Officer would remain open from 8am to 8pm for the general public. Eight counters have been set up at the centre that would directly be monitored by the officers of district administration and District Health Office.
The Hazara commissioner inspected different sections of the centre. Later, he said that people of Hazara must avail this opportunity and get themselves vaccinated against the coronavirus free of charge, adding that protection from coronavirus was linked with observance of prescribed standard operating procedures (SOPs).
He further stated this was the province's first vaccination centre that was providing pre-vaccination registration and post-vaccination safety measures. He said on a daily basis around 15,000 people would be vaccinated at the centre and, if needed, its capacity would further be enhanced.
Hazara Regional Police Officer Mirvais Niaz, Abbottabad Deputy Commissioner Captain Nadeem Nasir, District Health Officer Dr Shehzad Iqbal, officers of district administration, doctors and paramedic staff were present on the occasion.
The new centre would also provide vaccination to people above the age of 30 while other vaccination centres at Ayub Teaching Hospital and District Headquarters Hospital would remain functional.
Published in The Express Tribune, May 26th, 2021.