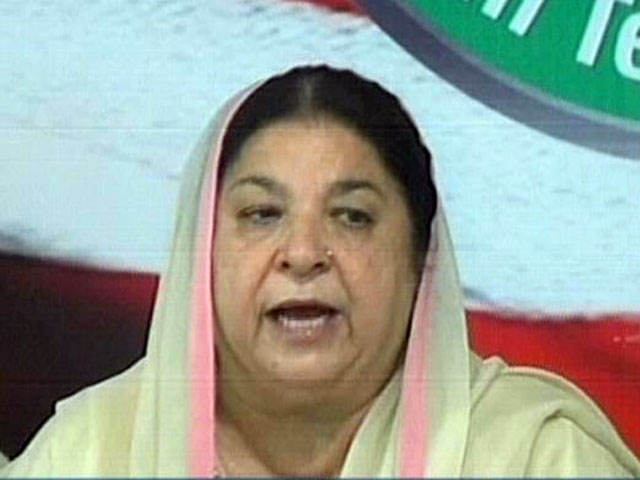 ---
Minister seeks report on fewer jabs per day
Says vaccines being administered round-the-clock at Expo centre
---
LAHORE:
Provincial Health Minister Dr Yasmin Rashid sought a report from the Primary and Secondary Healthcare Department as to why fewer vaccines were administered on Monday and directed it to provide details about the jabs in each district that day.
She was presiding over a high-level meeting to review the corona pandemic situation, pace of vaccination and medical facilities in hospitals, at the Civil Secretariat on Tuesday. Punjab chief secretary, additional chief secretary, home additional chief secretary, secretaries of health departments, additional IG Special Branch and senior civil and military officials attended the meeting.
Speaking at the meeting, Dr Rashid said the availability of accurate data is imperative to control the corona epidemic. She directed that online data entry be ensured at all the newly established vaccination centres.
She said that round-the-clock work is being done in three shifts at the Expo vaccination centre and the number of staff would be increased in the shift facing a rush of people.
Punjab Chief Secretary Jawad Rafique Malik said the process of vaccination has to be expedited for the complete eradication of coronavirus. He said PCR tests of passengers coming from abroad should also be done if they are tested positive in rapid testing at airports.
The secretaries of Primary Health and Specialised Healthcare gave a detailed briefing to the meeting. The primary health secretary said 105,224 people were inoculated on Monday. She mentioned that at the Expo Centre the number of staff in the morning shift is 239, 224 in the evening and 95 at night.
On the other hand, Commissioner Lahore Division, Captain (retd) Muhammad Usman directed all DC's to prepare number and lists, sector-wise hotels, restaurants and industries for sectoral Covid vaccination programme.
Published in The Express Tribune, May 26th, 2021.