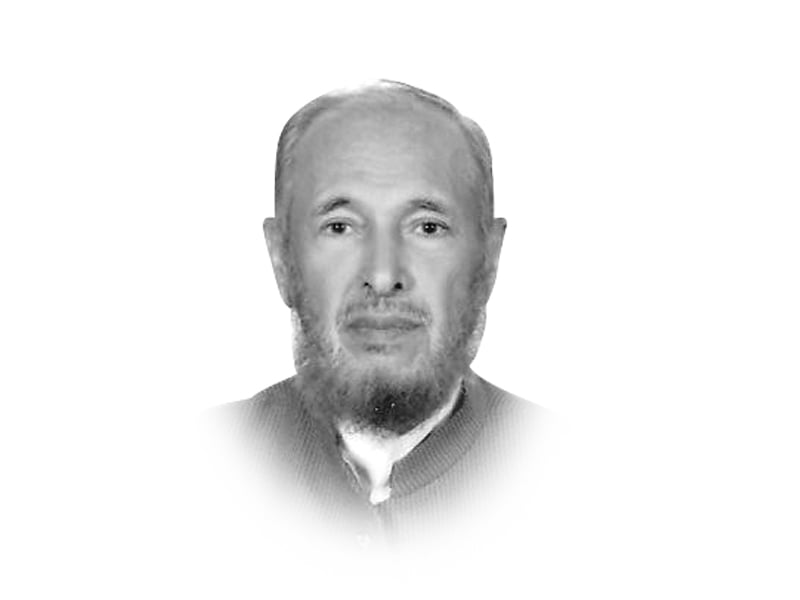 ---
The belief or assumption that Pakistan has been interfering in the internal affairs of Afghanistan is ingrained in the psyche of Afghans across the country. It transcends all ethnic and tribal barriers, and is deeply embedded in the souls and the thinking of all Afghans. Such is the deep acrimony that it would not go away by a visit or by some expressions of goodwill.
How ironic that this vital dimension of Afghanistan's attitude towards Pakistan is so completely overlooked in Islamabad's formulation of policy? And no effort is made to understand the motives or the rationale for such deep suspicions. That is the bane of Pakistan's policy.
Not very long ago, the Army chief paid an official visit to Kabul and held meetings with Afghan President Ashraf Ghani as well as the head of the reconciliation team, Dr Abdullah Abdullah. The bonhomie was palpable and in evidence. It appeared a broad convergence of perception existed between the two countries on ending the conflict. And then came the statement of President Ghani making allegations against Islamabad no-holds-barred.
In an interview with German magazine Der Spiegel last week, Ghani claimed, "Pakistan operates an organised system of support for the Taliban." He went on to say that the "Taliban's decision-making bodies like Quetta, Miran shah and Peshawar shuras" are all named after Pakistani cities.
The existence of Taliban's Quetta Shura is not in dispute. But the question is: has Pakistan been manipulating the Shura for its own goals in relation to Afghanistan or for promoting the cause of reconciliation?
The allegations reveal the mindset of the Afghan leaders. No matter what gestures Islamabad makes in conveying an impression of cordiality, the fissures are deep and apparently unbridgeable.
It has to be acknowledged however that behind these bizarre allegations there is a history of strategic blunders that Islamabad has committed in responding to the situation that evolved after the Soviet invasion of that country in 1979. But that is now history.
As if such accusations coming from President Ghani were not enough to cause worries in Islamabad, fast on the heels came another tirade of Pakistan's alleged "hypocrisy" in dealing with the Taliban.
On May 15, the National Security Adviser of Afghanistan, Hamdullah Mohib, visited the eastern Nangarhar province. In a statement there, Mohib said, "ISI, Pakistan's intelligence agency, is not taking mercy on you [the Taliban]. They neither want you nor will they help you reach power." Addressing the Taliban in the same comments, he said Pakistan was sacrificing them for "its own war".
This was too much to ignore. Pakistan lodged a strong protest by calling the Afghan ambassador to the Foreign Office and handing over a demarche. The situation may appear to have cooled down for the moment. But the remarks of the national security adviser have left scars behind that are not going to heal any time soon. It is this strongly-embedded erroneous perception that needs to be addressed by short- and long-term measures if the trajectory of relations has to be corrected and warmth and cordiality restored.
The coming few months are crucial in determining the future contours of governance in Afghanistan as foreign forces depart. Whether the intra-Afghan talks would deliver, whether there would be agreement on a transitional government, and whether Ghani's government would agree to be sidelined — are important issues needing resolution. Pakistan, like some other countries in the region, has to play a role in the grand scheme of reconciliation. Whether Pakistan would be able to play such a role in view of the suspicions about its designs that exist in Kabul is an important question. Policymakers in Pakistan would need to navigate the path of reconciliation very carefully. Islamabad has to move vigorously to create an impression it is not seeking any favourites in Afghanistan. It must also dispel the widely held belief that Pakistan's policy is just India-centric. At the same time it must also make clear it is not opposed to or favourably inclined to any group be it the Taliban or someone else. This would require diplomacy and a deep understanding of the dynamics of the complex political environment of Afghanistan.
The task is by no means easy but can be handled successfully if there is clarity of vision and consistency in policy.
Published in The Express Tribune, May 26th, 2021.
Like Opinion & Editorial on Facebook, follow @ETOpEd on Twitter to receive all updates on all our daily pieces.
COMMENTS (1)
Comments are moderated and generally will be posted if they are on-topic and not abusive.
For more information, please see our Comments FAQ