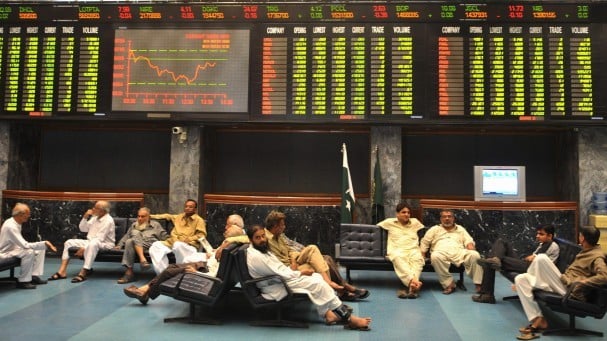 ---
KARACHI:
The Pakistan Stock Exchange (PSX) continued its recovery on the first trading day of rollover week on Monday with the benchmark KSE-100 index gaining about 180 points as positive macros helped the index surpass the 46,000-point mark.
The uptrend was driven by the National Accounts Committee (NAC)'s provisional estimate of 3.94% gross domestic product (GDP) growth for Pakistan in the current fiscal year, which would end on June 30.
Investors rejoiced the news of a business-friendly budget with Finance Minister Shaukat Tarin hoping that in the next fiscal year the government could achieve 5% economic growth.
Moreover, optimism about status quo in the monetary policy announcement this week and rise in cement prices further fuelled the market momentum.
Earlier, trading began with a spike and the market remained on the uptrend throughout the day. Extensive buying inflated gains and helped the index stay in the green territory.
At close, the benchmark KSE-100 index recorded an increase of 182.13 points, or 0.4%, to settle at 46,097.11.
In its report, Arif Habib Limited stated that the market posted decent gains earlier in the session by adding a total of 400 points, taking cue from Moody's assessment of Pakistan's credit profile, which was supported by a surprise growth in the real GDP.
Although the rollover week began, unlike past months, the activity remained low in technology stocks and in the end TRG Pakistan closed below previous trading day's closing price.
Exploration and production stocks were steady following an increase in crude oil prices. Oil and Gas Development Company recorded high volumes with an increase in its stock price, but it failed to maintain the gains by the end of session, the report added.
The cement sector bounced back on prospects of increase in cement prices per bag.
Sectors contributing to the performance included cement (+87 points), banks (+42 points), auto (+35 points), fertiliser (+26 points) and chemical (+22 points).
Individually, stocks that contributed positively to the index included Systems Limited (+24 points), Millat Tractors (+23 points), Pakistan Petroleum (+21 points), Maple Leaf Cement (+21 points) and Colgate-Palmolive (+20 points).
Stocks that contributed negatively were TRG Pakistan (-43 points), Hubco (-12 points), Pakistan State Oil (-12 points), Mari Petroleum (-8 points) and Searle (-7 points).
JS Global analyst Neelam Naz said that the KSE-100 index traded in the green territory throughout the day. It closed the session with a gain of 182 points at 46,097, after touching intra-day high of +400 points.
Total traded volume was 766 million shares where major contribution came from side board stocks. WorldCall Telecom (+13.8%), Silkbank (+4.3%), Summit Bank (+14.3%), Hascol Petroleum (0%) and Fauji Fertiliser (+6.3%) were the volume leaders.
The rollover week started off on a positive note, which boosted the confidence of investors, the analyst added.
On the news front, a statement issued by Energy Minister Hammad Azhar said that the government was targeting 4% economic growth in the ongoing fiscal year. It helped boost market sentiment.
"We expect the market to remain volatile during this week and recommend investors to avail themselves of any downside in the coming sessions as a buying opportunity," the analyst said.
Overall trading volumes rose to 766.6 million shares compared with Friday's tally of 710.4 million. The value of shares traded during the day was Rs19.9 billion.
Shares of 408 companies were traded. At the end of the day, 242 stocks closed higher, 149 declined and 17 remained unchanged.
WorldCall Telecom was the volume leader with 275.9 million shares, gaining Rs0.26 to close at Rs2.14. It was followed by Silkbank with 36.6 million shares, gaining Rs0.06 to close at Rs1.45 and Summit Bank with 36.5 million shares, gaining Rs0.37 to close at Rs2.96.
Foreign institutional investors were net sellers of Rs664.3 million worth of shares during the trading session, according to data compiled by the National Clearing Company of Pakistan.
COMMENTS
Comments are moderated and generally will be posted if they are on-topic and not abusive.
For more information, please see our Comments FAQ