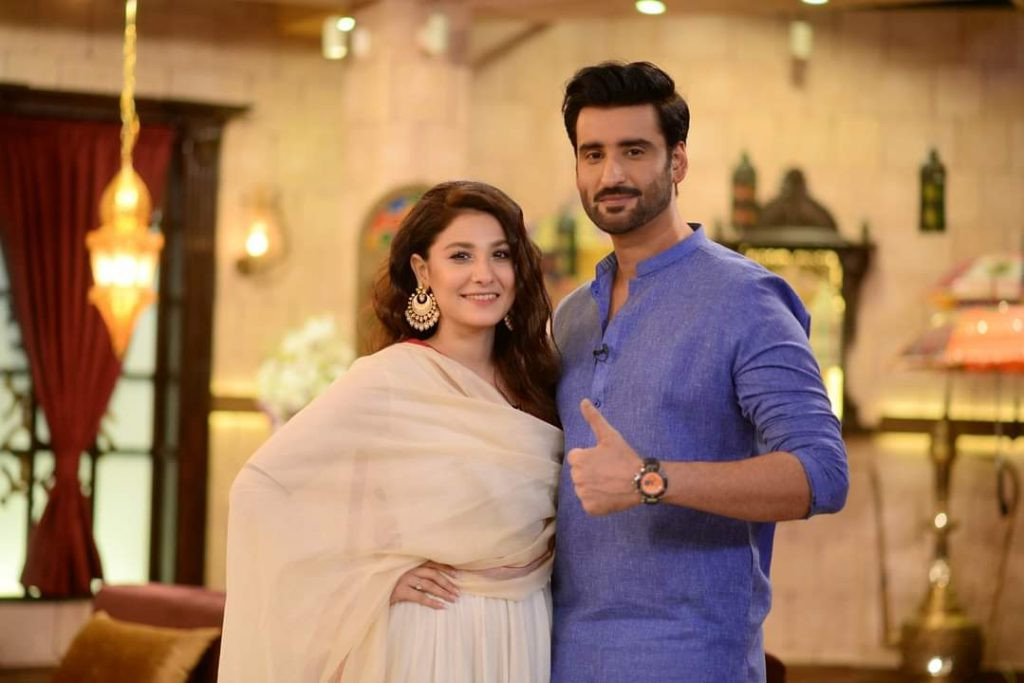 ---
Celebrity sweethearts Hina Altaf and her husband Aagha Ali got candid about their marriage and work in a recent appearance on Time Out with Ahsan Khan. The two, who starred together in the television serial Dil-e-Gumshudaa, tied the knot around this time in May last year.
Speaking on the journey to marriage, Aagha revealed that their love story was a rather simple one. Dishing out the details of his proposal he said, "It is a very simple story. We did a serial together, Dil e Gumshuda. In the beginning, we didn't talk at all after which I got a little curious." He went on to add that their values in life aligned very well, and that was a green signal for him to go ahead with the idea of asking her to marry him.
Revealing his mother's role in the proposal, the actor shared, "We got to talking after that, and would talk a lot, after which we became friends. One thing led to another. Both of our lives were very relatable to each other, and after we became friends, when I asked her about the idea of life, Hina said that 'I want to get married and I want to get settled and all, and my mother knows that there is a friend of mine and I like her. So, when I told my mother, she said, 'son, if she is so nice and you like her so much…" after which Hina interjected sharing how well she gets along with her mother in law.
"The proposal was just as simple. I told Hina on the phone, you know, you want to get settled in life, I want to get settled in life, so let's get settled in life," shared Aagha. Hina added that she believes there was an understanding between them before marriage, but love came after. "I knew what Aagha was like, Aagha knew what I was like, so basically you know what they say, love and this and that, that happened after marriage. So that's why we cherish our relation properly. We're happy."
The Kasa-e-Dil actor spoke of how the bond she shares with Aagha's mother is a strong one. "Aagha's mother and I, we played the most Ludo Star during quarantine… I share a great bond with my mother-in-law." Her husband later added, "This was one of the reasons I thought this could be a good life decision."

Speaking of her husband's best qualities, Hina shared that the actor's loyalty is what truly stood out for her. "Aagha's biggest quality that I noticed was that he is very very loyal. And one thing I cannot compromise on in life is loyalty. And then the relationship that Aagha has with his mother, I found that very beautiful. So I could see… Aagha doesn't put anyone over his family," she revealed.

When the same question was posed to Aagha, his response was rather similar. He said, "The quality I think is the same as Hina said, loyalty is the most important and then there is the fact of what your preference is in life. You are an actor and how crazy you are about your work. All of us, a point came in our lives, mine included, that I wanted nothing but to make it big in the industry, but then you have to keep a balance in life."

The actor revealed that his wife helped ground him in Karachi. He shared, "My life was all over the place. Lahore was good, compact because my mother was there, but in Karachi, I always felt lost. This girl came into my life and gave me that compact life, and now I can say I feel complete and satisfied."
On the topic of who the two enjoy sharing the screen with, Hina said she enjoys working with her Kasa-e-Dil co-star Affan Waheed, while Aagha respects and admires Ayeza Khan, whom he starred within the serial Mere Meherbaan. The actor jokingly revealed that he would work with Mahira Khan in a film for free. "Anyday, I would love to share a screen with Mahira Khan. And I will not charge a single penny if it's a film," shared Aagha.