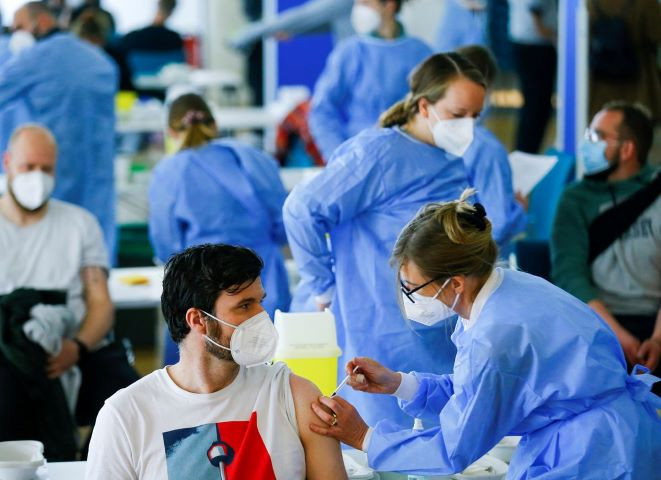 ---
Covid positivity dips in Pindi
Four deaths, 70 cases recorded as infection rate falls below 3.5%
---
ISLAMABAD/RAWALPINDI:
The National Command and Operation Centre (NCOC) on Sunday said that 156 new cases of coronavirus were reported from the federal capital during the last 24 hours.
According to an official of NCOC, as many as 146 cases were reported on Saturday while 221 cases were reported on Friday. He said so far 80,312 cases while 745 deaths were reported from the Islamabad Capital Territory (ICT), adding that 71,939 patients have recovered from the deadly virus.
Meanwhile in Rawalpindi, the third wave of coronavirus is seemingly waning as the test-to-positivity rate was recorded below 3.5 percent, however, another four patients died of the virus during the past 24-hours.
Two patients each breathed their last at Rawalpindi Institute of Urology and Kidney Transplant (RIUKT) and Holy Family Hospital (HFH), officials stated. There are still 101 patients receiving treatment in three allied hospitals of Rawalpindi while 87 of them are on oxygen and five are on ventilators.
So far, some 252,073 citizens have been administered the Covid vaccine in the district. Among them, 230,415 are citizens and 21,658 are healthcare workers.
Moreover, as many as 70 more cases were reported in Rawalpindi on Sunday, raising the tally of confirmed cases to 25,863 in the district. As per the latest data released by the District Health Authority (DHA), the total infected cases included 23,863 from Rawalpindi and 1,972 from other districts.
Also read Fighting Covid-19: The third battle continues
The report stated that among the new cases, 25 were reported from Rawal Town, 16 from Potohar, 10 from Cantt, seven from Taxila, two from Gujar Khan, and one each from Kahuta, Kallar Syedan, Murree, Kotli Sattian, Chakwal and Khushab.
Presently, 98 patients are admitted to various facilities with 14 at HFH, 15 at Benazir Bhutto Hospital, 40 at RIUKT, 24 at Fauji Foundation Hospital, three at Bilal Hospital and one each at Hearts International Hospital and Akhtar Rukhsana Memorial Hospital, the report maintained.
DHA further informed that so far 23,999 patients were discharged after making a recovery while 1,804 were in quarantine with 1,065 at home and 739 at isolation wards.
Rawalpindi Medical University (RMU) Vice Chancellor (VC) Dr Muhammad Omar expressed jubilation on the dip in the positivity rate, however, he still emphasised wearing face masks and maintenance of social distance, adding that residents need to get themselves vaccinated and avoid going out needlessly.
Dr Omar said that the number of vaccination in the district would have to be taken to 10,000 doses daily.
Furthermore, the Punjab government has issued a notification regarding revised lockdown restrictions after a drop in positivity rate in the province. The new restrictions would remain effective until June 15.
From Monday (today), tourism activities in the province would resume under strict observance of anti-Covid standard operating procedures (SOPs) while public parks would remain shut. The restaurants would be allowed to hold outdoor dining and the ban on indoor dining would remain in place while wedding events could be organised with the capacity of 150 people in the open air.
The notification further read that the business activities may continue until 8pm from Monday to Friday. It added that the private and public offices, as well as public transport, would operate under 50 per cent capacity while the ban on programmes in cinemas and theatres has been extended.
No new cases in Abbottabad
No new case of coronavirus was registered in Abbottabad as active Covid-19 cases remained at 198 on Sunday.
According to the health department, the total number of confirmed cases so far was at 5,293, recovered cases stood at 4,874 while 221 deaths had been had been reported in Abbottabad. All active patients were admitted to the Covid-19 ward of Ayub Medical Complex Abbottabad, district headquarter hospital while some of the patients were asked to quarantine at home.
A total number of 71,767 tests were conducted in the district out of which 63,963 tested negative, 5,293 were positive, 1,478 were still awaited while 1,033 were inconclusive. The district administration and health department have imposed smart lockdown at a total of 872 places, including 667 rural, urban, residential areas, 14 hotels and restaurants, 155 educational institutions and 26 offices and commercial buildings in the district.
Published in The Express Tribune, May 24th, 2021.