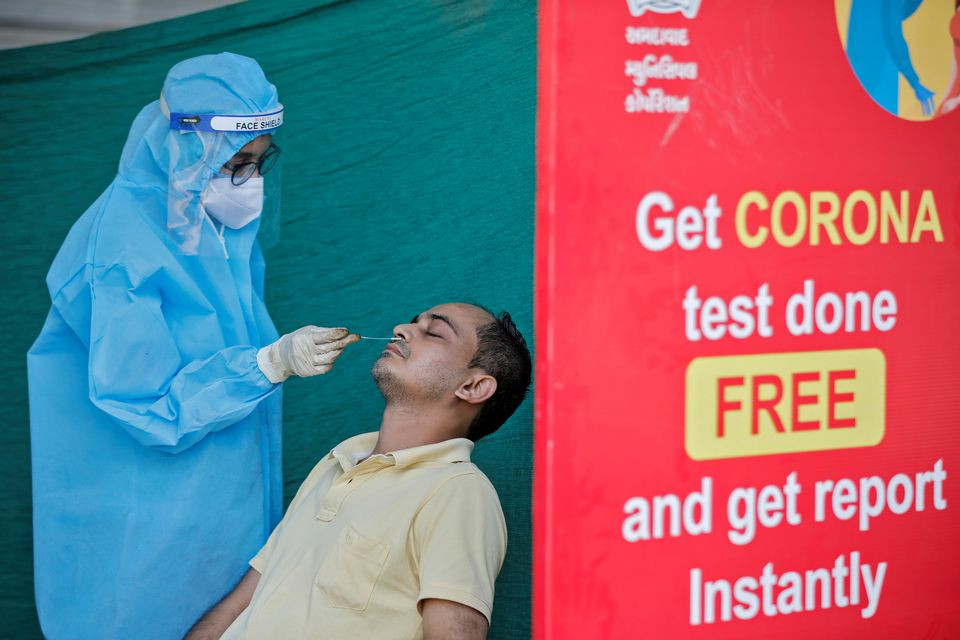 ---
Indian embassy officials quarantined after testing positive for Covid-19
One spouse of IHC official tested positive for virus after Pakistan conducted RAT, says FO spokesperson
---
LAHORE:
The Indian High Commission (IHC) officials along with their family members were quarantined upon their arrival in Pakistan after one of them tested positive for coronavirus on Sunday.
Foreign Office Spokesperson Zahid Hafeez Chaudhri in a statement said that a group of 12 IHC officials and their family members crossed over to Pakistan through Wagah border on Saturday (May 22) in line with the laid down Covid related health safety protocols.
All 12 passengers carried negative PCR [Covid-19] reports, he added.
"However, upon arrival, the spouse of an official of the IHC tested positive on RAT [rapid antigen test] conducted by Pakistani health officials," the spokesperson said.
India today reported 240,842 new infections nationwide over 24 hours – the lowest daily new cases in more than a month – and 3,741 deaths.
For weeks, India has battled a devastating second wave of Covid-19 that has crippled its health system and led to shortages of oxygen supplies.
The FO spokesperson, in his statement, further added that the National Command and Control Centre (NCOC), being the competent forum, after reviewing the case, advised all 12 officials and their family members along with the driver of the vehicle to undergo the mandatory quarantine.
"The IHC has been advised to strictly follow the guidelines provided by the NCOC," the statement quoted him as saying.
Also read: Indian variant of coronavirus detected in Thai travellers from Pakistan
Diplomatic sources told The Express Tribune that as per the standard operating procedures (SOPs) agreed between the two countries, if a member of the diplomatic staff or their associates test positive for Covid-19, he/she will be quarantined in the same country instead of being sent back.
The sources said that if Indian immigration officials had conducted RAT of their citizens at the Attari border, then the woman could have been prevented from crossing over the border.
"This is a fault of Indian immigration officials. Pakistani authorities have acted in accordance with the law," they added.
The officials also set aside rumours that the Indian official submitted fake coronavirus report, saying no one can afford to take such a risk especially when she has to live with about 100 citizens of her country in the embassy.