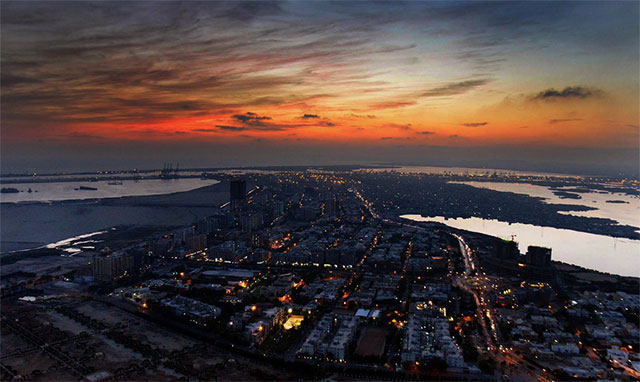 ---
ISLAMABAD:
In his first press conference, the newly inducted Finance Minister, Shaukat Tarin, vowed to push the GDP growth to 5% by the end of next year and 6% the following year.
The minister hinted at some factors such as raising federal tax revenues to about Rs6 trillion, increasing public sector spending to Rs900 billion and expanding the role of financial services. To achieve these goals, however, other areas would also need attention.
During the past three decades, it was only twice when Pakistan's economy grew by more than 5% for two or more successive years – first from 2003 to 2006 and second from 2016 to 2018. It will be useful to reflect on the major factors which helped achieve those successes.
The first high growth can mainly be attributed to all around reforms, including the deregulation of telecom and financial services and opening of Pakistan's economy to international trade.
The second relatively higher growth period from 2016-18 was mostly driven by substantial CPEC-related investments, which ended power load-shedding and established a network of roads, thereby considerably easing domestic travel and commerce.
Read: 4% GDP growth beats gloomy forecasts
The IMF projection is that it would be the year 2026 before Pakistan can reach 5% growth. It seems that the finance minister is anticipating ambitious growth based on higher infrastructure spending.
While the provision of Rs900 billion is a step forward, it is nothing extraordinary. Since the government has limits on what it can afford to spend on public works, there are some other steps, which if taken, can help us achieve higher growth.
Those involve deregulation rather than spending. Here are some suggestions.
Releasing the full potential of information and communication technology (ICT) can increase productivity for nearly every other industry. After the telecom sector was deregulated in 2003, cellular revenues reached Rs262.8 billion in FY11 compared to a mere Rs19.8 billion in FY03.
A McKinsey Global Institute report (Digital Pakistan - August 2020) estimates that "the digital finance potential of Pakistan could be $36 billion by 2025, providing a 7% boost to the GDP and creating 4 million new jobs".
Unfortunately, since 2008 our ICT policies have been myopic, and we have been falling behind in most of the digital indicators compared to the rest of the world.
The launch of 3G was delayed by at least six years – the spectrum being allocated in 2014 instead of 2008.
Pakistan is one of the three countries globally with the highest tariffs (average 10.2%) on ICT goods and digital services such as data usage (33.5%). As a result, Pakistan is considered a country with high restrictions on ICT goods, digital services and investments.
We are one of the few countries standing aloof from the WTO's Information Technology Agreement. In the recently released Unctad's index on the Readiness for Frontier Technologies, Pakistan ranks 146 out of 158 countries. This is the lowest score for any Asian country.
If we want to have a higher growth rate, we have to adopt new innovative ways in the post-pandemic world as is being done by other countries, which are expecting a fast V-shaped recovery.
Pakistan needs to bring its digital infrastructure on a par with other fast developing countries. It needs to adopt new technologies and implement e-government solutions.
With an approximate 10,000 IT graduates entering the workforce annually, we should aim to be at least among the average of South Asian countries on digital indicators.
Our Achilles heel, however, is our poor performance in international trade. The government's approach has been fixated on pampering and subsidising the textile sector and promoting import substitution.
Since 2008, our neighbours have expanded their exports of goods by over 200%, but we have stayed stagnant.
The real reason is a lack of realisation that the global trading patterns have been changing over the last three decades, and Pakistan has made no efforts to adjust to those realities.
Read more: Debt-to-GDP ratio stands at 87%, NA told
Unless Pakistan recalibrates its policies, there is not much hope. It needs to address its domestic non-tariff barriers. According to a recent ITC/World Bank study, Pakistan can export 50% more if it can handle those barriers.
The second key factor is rationalising its import tariff, which is unlike any other competing country. Pakistan's weighted average tariff rate differentials are among the highest in the world, causing a serious anti-export bias.
When this government assumed power, it made an effort to address this issue but soon gave in to vested interests.
The annual budget is the best opportunity to address these issues. But besides technical work, it needs political will to reform.
A slight increase in infrastructure spending will not take us anywhere. If we want to catch up and match the growth rates of other Asian countries, we will have to address our major weaknesses.
The writer has served as Pakistan's ambassador to WTO and FAO's representative to the United Nations
Published in The Express Tribune, May 24th, 2021.
Like Business on Facebook, follow @TribuneBiz on Twitter to stay informed and join in the conversation.