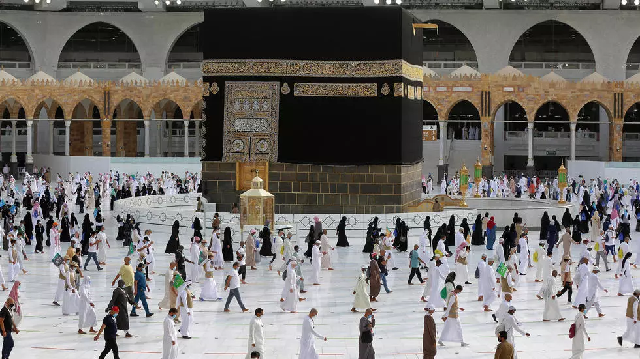 ---
FO takes up vaccine issue with Saudi govt
Kingdom refuses to allow entry to Pakistani Hajj pilgrims who had Chinese jabs
---
ISLAMABAD:
The Foreign Office on Saturday said it had taken up with the Saudi government the issue of the kingdom denying entry to Pakistani Hajj pilgrims, who were vaccinated against Covid-19 with Chinese jabs.
It asked the Saudi authorities to register Chinese vaccines including Sinopharm and Sinovac in their list of approved jabs.
The Foreign Office informed the kingdom that it was difficult to obtain vaccines from countries other than China.
It further said now that a large population of Pakistanis had been administered with the Chinese vaccine, doctors did not recommend giving them another jab.
Read more: 'Up to 50,000 Pakistanis may be allowed to perform Hajj this year'
The Pakistani authorities requested the Saudi health ministry to recognise the Chinese vaccines as they had also been approved by the World Health Organisation.
Pakistanis travellers injected with the Chinese vaccine would have to undergo mandatory quarantine in Saudi Arabia as per new conditions imposed by the kingdom, according to media reports.
The cost of the quarantine will have to be paid by the passengers themselves.
Most people in Pakistan are being vaccinated with the coronavirus vaccines manufactured in China. Many Pakistanis are figuring out how to travel to the kingdom.
Also read: Covid jab mandatory for Hajj pilgrims
Saudi Arabia has issued a list of recommended vaccines including Pfizer, Oxford, Moderna and Johnson and Johnson's.
However, it does not include vaccines manufactured in China.
In April this year, Religious Affairs Minister Noorul Haq Qadri said Saudi Arabia might allow up to 50,000 Pakistanis to perform Hajj this year amid the coronavirus pandemic.
The minister added that Hajj 2021 would take place under special circumstances with special norms, rules and regulations, eligibility, criteria and age restrictions.
The intending pilgrims would be required to strictly follow Covid-19 standard operating procedures (SOPs) during Hajj, he added.
Qadri said only those people who had been vaccinated against Covid-19 would be allowed to perform Hajj this year and his ministry would comply with all conditions laid out by the Saudi authorities.
He said the pilgrims of less than 20 or over 50 years of age may not be permitted to perform Hajj this year.
"Saudi Arabia may only allow those people having sound health without any serious medical condition."
However, the minister said that the Saudi government had not yet given green signal for going ahead with the Hajj arrangements as various Saudi departments including the Hajj and Umrah Ministry, were still weighing different options to make Hajj safe and secure for the pilgrims.