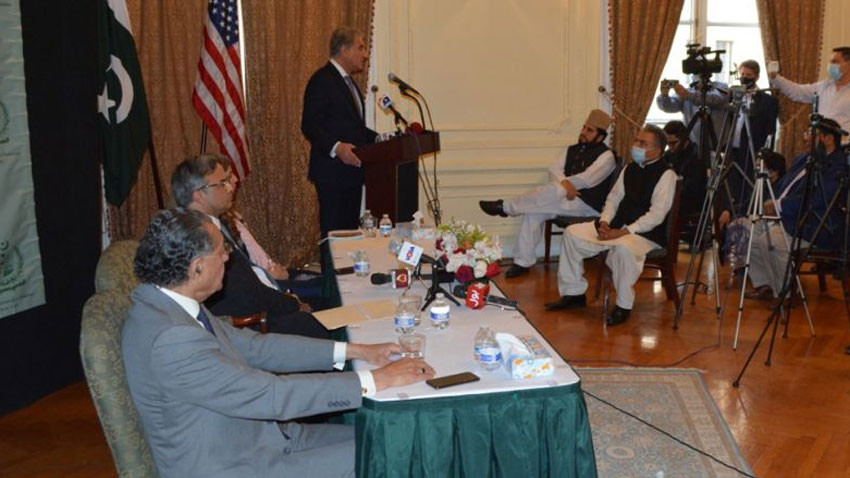 ---
Pakistan desires to promote a broad-based strategic partnership with the US, said Foreign Minister Shah Mahmood Qureshi on Saturday.
This foreign minister's remarks came during his virtual meeting with the Asian committee of the United States House of Representatives leadership.
He spoke about the impact of the strategic partnership between the two states as well. "This partnership will promote the common interests of both countries in bilateral and regional aspects," said FM Qureshi.
He emphasised the need importance of promoting regional connectivity between Pakistan and the US, adding that economic cooperation and bilateral trade were key to achieving that.
Read more: Pakistan urges UN to immediately halt Israeli aggression in Palestine
The foreign minister highlighted Pakistan's efforts for a peaceful, political settlement in Afghanistan.
Earlier, a statement issued by Foreign Office quoted FM Qureshi saying that Pakistan wanted to forge closer economic and trade ties with the US.
Qureshi had expressed these views while meeting senior Republican Senator Lindsey Graham on the sidelines of the United Nations General Assembly's (UNGA) session.
The UNGA session had been convened in New York to discuss the Palestine crisis.
FM Qureshi and Senator Graham discussed bilateral relations and the regional situation, the statement added.
Qureshi appreciated Senator Graham's efforts to strengthen the Pakistan-US partnership, said the FO.
In this regard, the foreign minister and the senator also agreed to further enhance bilateral cooperation in the agricultural sector, especially to enhance agricultural productivity in Pakistan.