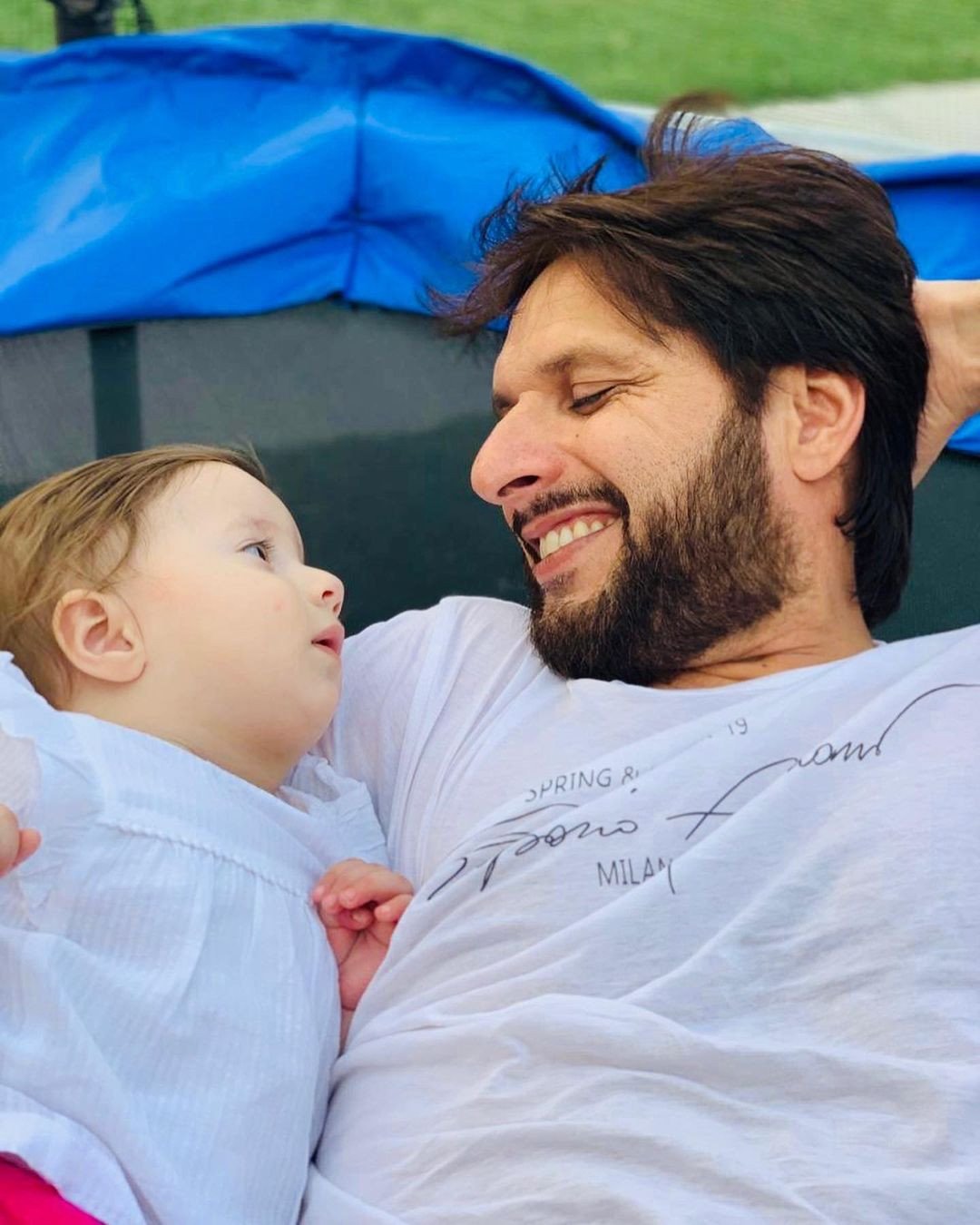 ---
A father to five daughters, renowned cricketer Shahid Khan Afridi is very open about his love for his little ones, whom he talks about endlessly on his social media. However, in a recently interview on a local TV channel, he discussed the Pakistani obsession with having sons.
Afridi asserted that women feel obliged to have a son in the family because of pressure coming from men. In a conversation with host Ehtesham Amiruddin, he reinstated that he will love his little girls irrespective of whatever society has to say.
"Although I'm mostly travelling, I try my best to spend time with my daughters on Eid. I have witnessed my life change with the arrival of each one of them," said the batsman.
Afridi went on to condemn the gender-biased behaviour of men towards their daughters and scorned those who fail to celebrate this blessing. He also called out the practices of wearing amulets. "It's prevalent among us Pathans too, Tavees (amulets) and all. But I think there's a special bond between fathers and daughters," reserved the cricketing sensation.
The 'Lala' of junior cricketers today, even revealed how his wife used to feel they should have a son at one time. But when she saw him treating his daughters with the same love and affection, she didn't worry anymore. "It's mostly because of men that women feel they need to birth a son. But my wife knows I'm happy with our daughters, so she is content."
About getting his daughter hitched to cricketer Shaheen Afridi, Boom Boom Afridi confessed Shaheen's family had been reaching out to him for two years now. But because his daughter is doing her medical and is also interested in fashion designing, he would not ask her to get married before she was ready. "It is very important for girls to complete their education. People think that men run the society but it is in fact women who are running it today."
The former captain of the Pakistan national cricket team and right-arm leg spin bowler also reminisced some of the best matches he's ever played. "I had my best bowling performance in the West Indies. But Mushtaq Ahmed suffered an injury and the then-captain Haroon Rashid called me up. He said I had been selected for batting."
As for his inspirations, Afridi confessed he is inspired by former cricketer and now Prime Minister Imran Khan. "I always used to say to myself that if he could be blessed with such respect then why couldn't I?" However, he added an advice for the premier saying, "Imran Khan is stuck in the system, and a person or two can't change it. Running the country is not like playing a cricket match that requires a team comprising 12 or 13 players, it's a question of millions of people."
Afridi pointed out that most of PM Khan's government is run by the very members who were part of the 'corrupt and incompetent' parties he criticised. "He [PM Khan] gives a lot of explanations, it's about time he left behind [Asif] Zardari and Nawaz Sharif, and focused on what his own people are doing."
Afridi is currently focused on welfare work via his Shahid Afridi Foundation.
Have something to add to the story? Share it in the comments below.
COMMENTS
Comments are moderated and generally will be posted if they are on-topic and not abusive.
For more information, please see our Comments FAQ