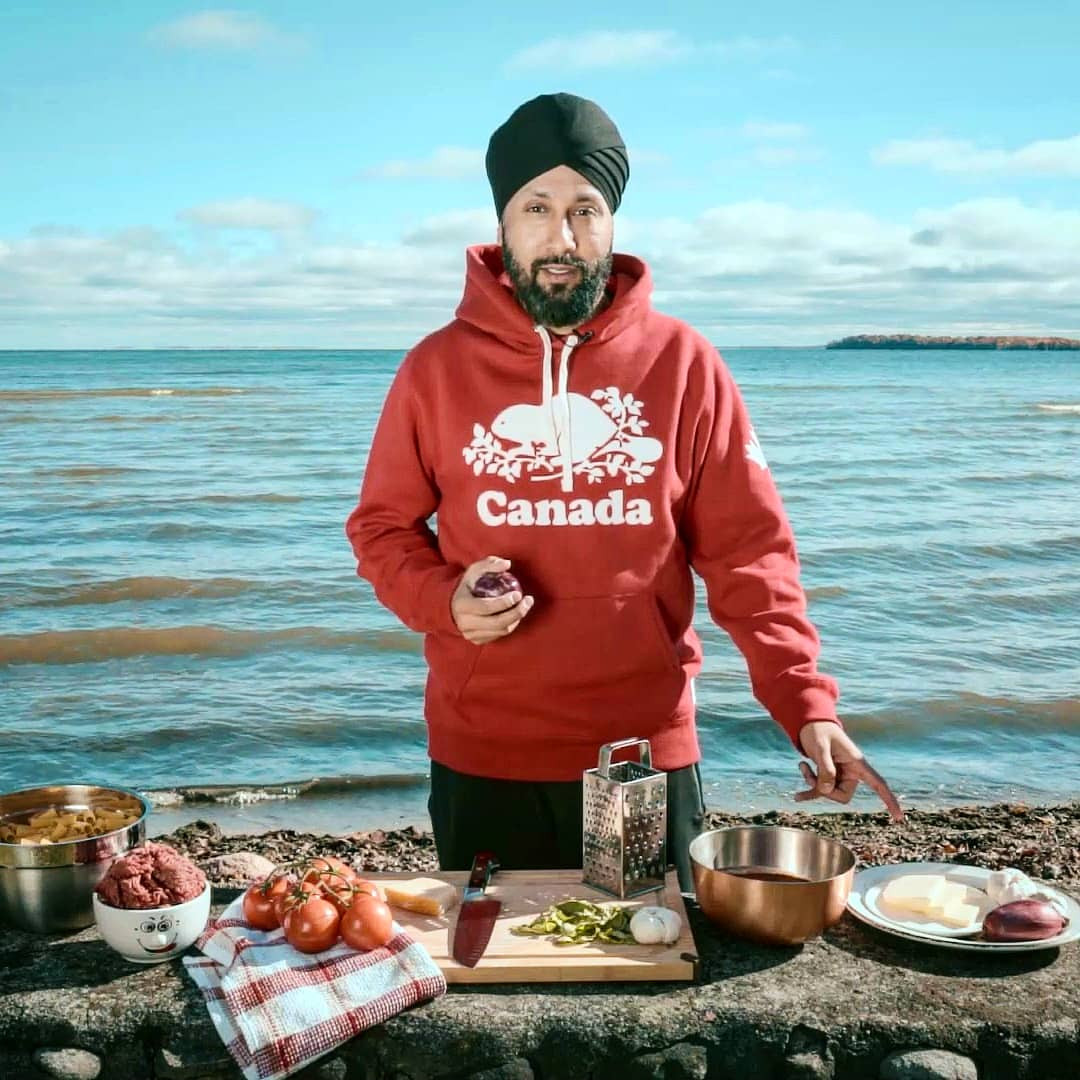 ---
KARACHI:
One of the most eminent career switches in Hollywood includes Mary-Kate and Ashley Olsen, who haven't acted since establishing their high-end label. JLo is also known for her acting since 2014. And Rihanna is committed to being a makeup mogul, as opposed to a singer since the longest time. But what do such successful career shifts have in common? They work out for artists who embrace them with open arms.
Such is the case with Canadian vocalist Rupinder Singh Magon, popularly known as 'Rup' of the band Josh. The singer-turned-actor, who's also a foodie, has now donned the chef's hat, and one can't help but wonder how a full-time performer like him can go from touring across the world to making Hariyali Murgh à la Rup.
While the pandemic can be blamed for playing a huge part in restraining this Punjabi sensation to his kitchen, Rup told The Express Tribune that he is a proud home chef who loves to cook for his wife and daughters when given the chance.
Branching out
"We have to acknowledge that during the pandemic, work opportunities diminished. But a lot of artists were able to earn their livelihoods through digital means, except for musicians and singers of Pakistan and India – of course," lamented The Black Prince actor. He went on to explain how artists from both countries are dependent on live performances because there is no proper royalty structure in either region.
Josh canceled over 45 concerts since the outbreak of Covid-19 and "by now, we would have played 60 concerts," he claimed, adding, "A lot of us had to pivot but being musicians, we lead a pretty cool life which we don't want to sacrifice."
Rup reinstated how traveling and meeting new people is all part and parcel of the many perks performers enjoy. "And In 2019, Josh traveled 250,000 miles while in 2020; zero," he said. But that didn't stop this bird from spreading its wings. So the author of Ten Easy Desi Recipes for Guys, will now be seen in a cooking show alongside guests like Ali Kazmi – who's also the director of the series – and bloggers like Anika Zulfikar (Punkistan), Zaid Ali T among others.
The singer-songwriter, who's collaborated with the likes of Grammy-winning artist Nelly Furtado for Powerless (Say What You Want), Promiscuous, and Maneater, had his reservations about taking up his favourite hobby as a profession, especially since it would rebrand him like nothing before. But then he figured, "sannu ki?"
"Seven years ago I transitioned from music to acting. I took the art very seriously, enrolling myself in various courses. I was okay with taking side roles, just to accustom myself to the craft. That transition helped me go from there to here. My inspirations are Justin Timberlake and Puff Daddy, they've had similar transitions," remarked the Speedy Singhs actor.
However, Rup hasn't been to culinary school, but that doesn't mean he doesn't take the art of cooking seriously. "I don't claim to do what a chef can. But just because you're not trained, doesn't mean you can't make scrumptious meals," assured the star.
Preserving the trunk
Rup, whose 2020 comedy web series Decoys was nominated for a Canadian Screen Award recently, said that according to experience, acting is what he does best. "I think that's because I've gotten accolades and compliments from renowned actors. I once did a film with Anupam Kher, and he told me he's got this acting school. I thought he would say 'jao kuch seekh ke aao' and he ended up offering me a teaching job." The film marked Rup's first time on screen.
"Shah Rukh Khan has also complimented me, but that's different," he added. Rup did, however, recall meeting Nusrat Fateh Ali Khan (NFAK) and Strings, who restored his faith in music.
"You'd think because I grew up in Montreal, I'd listen to U2, but I grew up listening to NFAK," reminisced the Josh Naal crooner. Rup recollected how NFAK once pointed at him and his brother at a concert and offered them to join him backstage. "We were the only brown people in the audience so I suppose he had that affinity for us. But when we went backstage, all we witnessed was him singing again, even after performing for three hours," Rup recalled.
As for his first meeting with Strings, Rup said he walked up to Faisal Kapadia after opening for his band, and before he could say a word, the Pakistani singing sensation said, "'Rup, right? Your song is such a hit in Pakistan.' It was in that moment that I fell in love with his humility and realised we had had an impact in Pakistan too."
Have something to add to the story? Share it in the comments below.
COMMENTS
Comments are moderated and generally will be posted if they are on-topic and not abusive.
For more information, please see our Comments FAQ