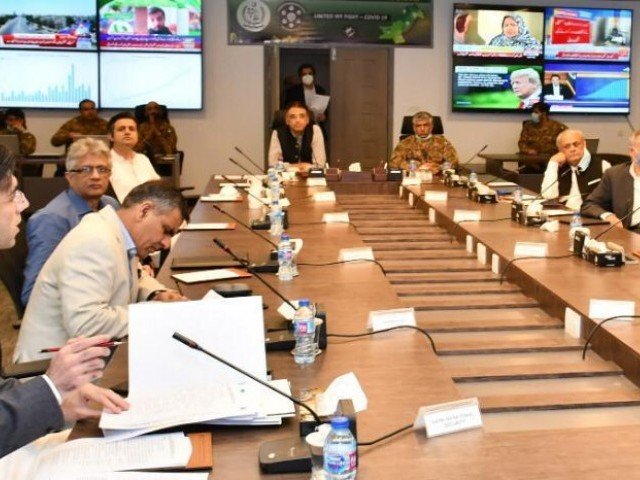 ---
NCOC drops several Covid restrictions
Forum allows staggered reopening of schools, tourism, outdoor dining, wedding ceremonies
---
Amid signs of ease in the third wave of coronavirus pandemic, the government cut back restrictions that affected the usual hustle and bustle during the Eidul Fitr celebrations last week.
The National Command and Operation Centre (NCOC), which supervises the government's strategy against the pandemic spread, allowed reopening of educational institutions in Covid safe zones as well as increased business hours from next week.
The NCOC held an important meeting, co-chaired by its chairman Asad Umar and Chief Coordinator Lt-Gen Hamooduz Zaman, and attended by its members as well as key provincial ministers and chief secretaries.
After a review of the disease prevalence situation and the corresponding NPIs, the NCOC allowed a staggered re-opening of educational institutions in districts where the Covid positivity ratio is below 5% from May 24 (Monday), while examinations of secondary and higher secondary schools will start after June 20.
Read more: NCOC decides to hold board exams across Pakistan this year
A detailed review of disease prevalence in the country was taken, a statement from the NCOC said.
"Educational institutes in districts with less than five per cent positivity rate will be reopened from May 24. Educational institutes in all districts will be reopened in a staggered manner from June 7," said a statement issued after the NCOC meeting.
"All matric and intermediate exams will be held after June 20. All professional and non-professional exams will take place on a case-to-case basis as recommended by the ministry of education," the statement added.
According to the NCOC decisions, outdoor dining at restaurants will be allowed daily till midnight, while takeaway will be allowed 24/7 from May 24. Tourism sector will also be reopened under strict Covid-19 protocols from May 24.
From June 1, outdoor marriage ceremonies will be allowed with a maximum of 150 people, and the elective surgeries. The Gadani and the Misri Shah industries will reopen on Thursday (today). "Sectors opening from 1st June 21 [will be] subjected to review on 27th May," the NCOC said.
The NCOC statement said that the policy for in-bound and land border travel will continue.it said amusement parks will remain closed but walking and jogging tracks will be allowed with strict adherence to standard operating procedures (SOPs).
The forum, however, maintained certain restrictions. Shrines, cinemas, and indoor gyms will remain closed. Similarly, indoor dining, contact sports, festivals, cultural, musical and other events and all types of indoor and outdoor gatherings, including religious events, will be banned.
Also read: Sindh allows opening of bakeries, milk-shops till midnight
Earlier, this week, the NCOC allowed resumption of normal office working hours with 50% strength – 50% work from home – and resumption of market activities with closure by 08:00 pm. The forum allowed public transport to operate with 50% capacity and the railways service with 70% occupancy.
The NCOC said that the wearing of masks would remain compulsory, adding that "innovative measures for enforcement" would be taken. "Implementation of broader lockdowns with stringent enforcement to be made based on risk assessment," the statement added.
"Critical monitoring of disease prevalence and critical health care system is being carried out on a daily basis, and necessary steps will be taken accordingly, whenever deemed appropriate to control the disease spread," the statement said.
Last month, the NCOC announced a lockdown in the country during the Eid holidays in order to stop the spread of the virus amid the deadly third wave. Later, certain restrictions were eased following a review of the pandemic, which have now been further loosened.
Amid the third wave, April remained the worst month since the pandemic first broke out in the country in February 2020. However, since the advent of May, the single-day tally of new cases had declined from over 5,000 in April to over 3,000, according to NCOC data.
On Wednesday, according to the NCOC daily update, the national tally of active Covid-19 cases reduced to 66,377 as 3,256 new cases emerged, while 4,440 patients recovered from the disease during the last 24 hours.
It said that 104 patients – of them 88 in hospitals, including 43 on ventilators – died during the past 24 hours. It added that most of the deaths, 63, occurred in Punjab, followed by 23 in Khyber Pakhtunkhwa and 11 in Sindh. The nationwide death toll has now risen to 19,856.
As of Wednesday, 4,549 Covid-infected patients were under treatment in critical care. During the past 24 hours, the NCOC update said, 188 patients were in various Covid dedicated healthcare facilities. The national Covid positivity ratio during the past 24 hours was recorded at 7.79%.
The national caseload of the disease has risen to 882,928, out of whom 799,951 people have made full recovery, which makes a significant recovery rate of over 90%. A total of 12,552,339 coronavirus tests had been conducted so far.
(WITH INPUT FROM APP)