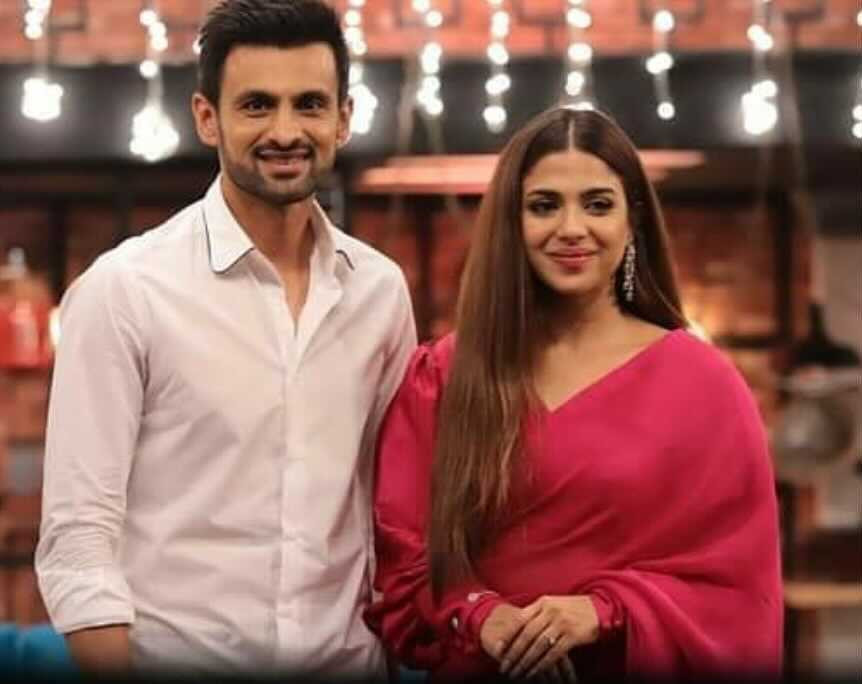 ---
In a recent appearance on Time Out with Ahsan Khan, cricketer Shoaib Malik and actor Sonya Hussyn shared a host of information and dished on quite a few topics. The two were invited as guests on the much-anticipated Eid special of the show.
Shoaib Malik was the first guest to be introduced by a highly enthusiastic Khan. The cricketer has made several television appearances in the recent past, but he emphasised that cricket was still very much his first love. He revealed that while he enjoys being on shows, he makes it a point to make time for practice so that he can stay in shape and deliver his best during games.
The cricketer spoke of how he could not have ever imagined his life would turn out the way it has. Reflecting on his past, Malik shared, "To be honest, never thought this, where I am sitting right now or what I have achieved, I still remember I was giving under-15 world cup trials in 1996 at Gaddafi Stadium and I saw Waseem Bhai, Waseem Akram. I took an autograph from him and I never imagined that I will play and Waseem Bhai will be the captain after three years."
Malik, who has a large following on Instagram with over a million followers, recently took to the app to share videos of his working out. The host brought these videos up, making it a point to compliment Malik on his muscular and toned physique. The cricketer revealed that his primary aim in working out is to stay fit and build endurance for cricket. He emphasised that big muscles are useless if they're only for show and don't do much when it comes to a game. The cricketer said, "That's self-obsession. I enjoy it a lot, but not just making muscles, you also need to have endurance. It benefits you when it comes to cricket. There's no point if you play a little and then your body gets tired and you have to take a seat. Those muscles are useless."
Sonya Hussyn was the second guest to be introduced, clad in red and looking as radiant as ever. While speaking to Khan about Eid festivities, the actor revealed, "I am a good cook. I have not received any formal training in it though." She later added that her culinary talent may be inherited, saying, "My grandmother is also a very good cook, I think I get it from her."
On the topic of acting, the Ishq Zahe Naseeb starlet spoke of her roles as people who suffer from mental illnesses. Bear in mind that the actor had previously received flak for her opinions on mental illness when she claimed that autism was a symptom of schizophrenia. However, Hussain made it a point to distinguish between the two during her latest appearance. "Mental disorders are very similar, like, previously I thought Autism and schizophrenia were the same things, but there are certain differences which leads to them being classified separately. I have also done a performance as someone with Split personality disorder, and my recent on-screen appearance is that if a person going through schizophrenia."
When asked why the actor chooses such roles, she explained, "I don't know if it's fortunate or unfortunate but I literally get characters like these. Even right now, the series I am doing with Adnan Sarwar has the same thing. The girl has been traumatised in her life and that trauma leads her to harm herself. I'm sure you've heard of this, you start taking your depression out on yourself These kinds of scripts are offered to me, but I think it's a good thing. These things are considered rather taboo in our society. Depression and things like that are not discussed. People call the people suffering crazy."
Malik, when asked about what kind of characters he would like to play if given the chance, revealed that he prefers comedy over everything else. After Khan questioned why people from Sialkot, where Malik was born, are so funny, the cricketer said, "I was born in Sialkot, so the humour is built-in, cricketers have a lot of fun in the dressing room. A lot of funny things happen. The background they usually come from, if you stay in a five-star hotel room for the first time… Two of our cricketers, when they first went to England, they saw a tub for the first time, they couldn't figure out how to bathe in it. They filled in the tub, they filled glasses and bathed with that. The entire hotel was flooded."
Have something to add to the story? Share it in the comments below.
COMMENTS
Comments are moderated and generally will be posted if they are on-topic and not abusive.
For more information, please see our Comments FAQ