 ---
Bella Hadid is among the few Hollywood celebrities to have taken a stand against the ongoing violence by Israel's Defence Forces (IDF) in Palestine. Pictures of the supermodel taking to the streets of New York with fellow protesters went viral on the internet earlier this week, as did her heartfelt social media posts. In retaliation, an official Israeli Twitter account falsely accused Bella of advocating for the elimination of Israel and calling for Jewish people to be thrown into the sea.
Following this, the 'queen' of pro-Palestinian activism in the world at the moment, shared a rather diplomatic sentiment on Twitter and Instagram for the first time since raising her voice. Soon after, she deleted her tweet but netizens had already taken screenshots of her sudden "change of heart". Many took to the micro-blogging site to take a dig at her "short-lived" activism. But several gave her benefit of the doubt, pointing out that her statement could have been a result of a "threat".
In the now-deleted tweet, Bella had written, "Peace, coexistence, equality," and coupled it with an Israeli and Palestinian flag. In a currently available Insta story, she shared, "There is so much to be said about the phrase 'from the river to the sea' and how it predates the creation of Israel. But when I, my family and my friends say it, the meaning attached to it is freedom, not annihilation."
But it seems the damage had already been done, as a trove of disappointed fans took to Twitter and complained about Bella's rather diplomatic tweet, despite her deleting it.
"A short story by Bella Hadid," shared a user with Israel's tweet against her, and a screenshot of her 'coexistence' stance.
"Well, Bella Hadid's activism lasted a hot minute," quipped another.
A user shared an earlier post by Bella where she called a spade a spade, and wrote, "Well said [here] Bella Hadid. But how did this mean equality and coexistence with the Israelis?"
But many of her fans also understood that she may have been 'threatened' or 'forced' to say what she said, especially since she took it back later.
"Do you even understand how much abuse she probably received on the back of that tweet?" asked a user.
"Bella Hadid was 1000000% threatened," chimed in another.
"Just until yesterday Bella Hadid was participating in pro-Palestine rally, now she went from #FreePalestine to All lives matter... They are shutting down powerful voice[s]. [This means] your hashtags, appeals and solidarity is working. Otherwise they wouldn't try this hard to shut them up!" added on more.
Another voice of reason explained, "Bella Hadid did not have a sudden change of heart. Something bigger and more sinister happened. Even me, in my small small position have been told in the past to not voice my concern for Palestine as it may impact my career. That girl had Israel @'ing her like it was nothing."
It is pertinent to mention here that prior to this, Paris Hilton had deleted a tweet in which she condemned the bombing of Gaza without explaining why.
On Sunday, the American model re-tweeted a Guardian article and wrote, "This is so heartbreaking. This needs to stop! #SavePalestine #GazaUnderAttack #stopthegenocide." In a follow-up tweet, she shared a video of a 10-year-old Palestinian girl breaking down after air strikes destroyed her neighbour's house, killing eight children. "This hurts my heart. No one should have to live in fear. My heart goes out to the little girl and the other children around her," Paris shared with her 17 million followers.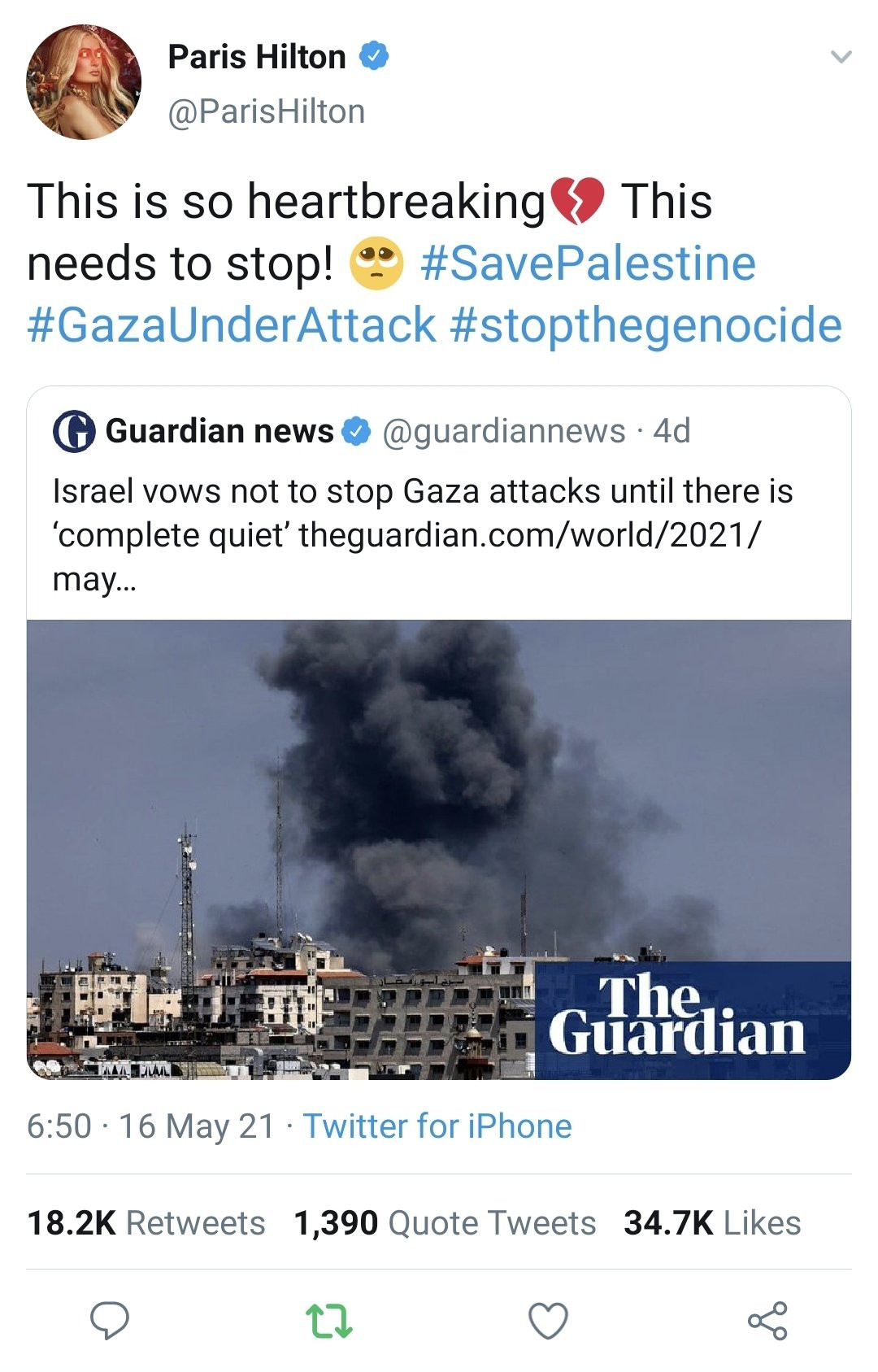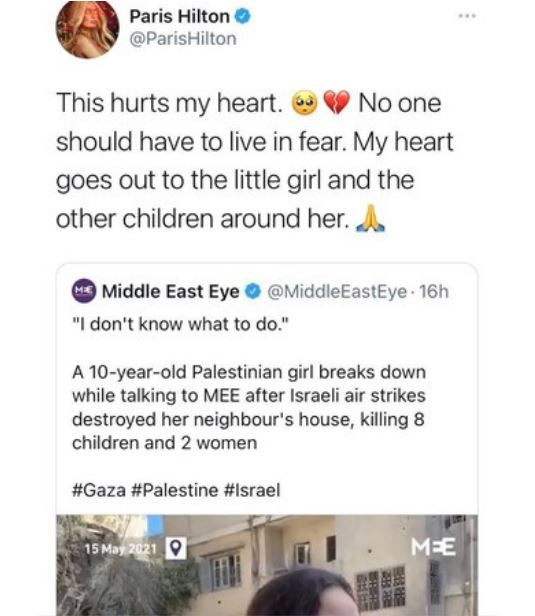 Hours later, both tweets disappeared and were replaced by the more general statement: "Sending love and light around the world. Praying for peace to make the world a better place for all."
Hilton was not the only celebrity to have deleted posts related to Israel-Palestine in recent days. Lewis Hamilton, Kendal Jenner have also shared and deleted similar posts in the last week.
Have something to add to the story? Share it in the comments below.
COMMENTS
Comments are moderated and generally will be posted if they are on-topic and not abusive.
For more information, please see our Comments FAQ