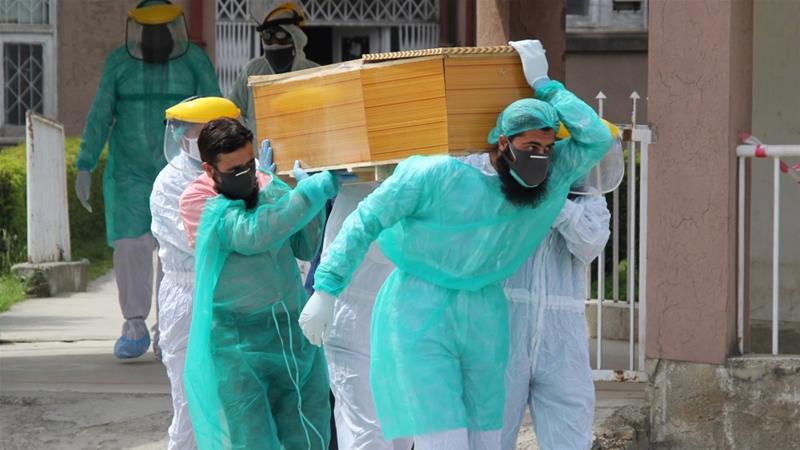 ---
12% Pakistanis say they know someone who died from coronavirus: survey
Survey carried out among a sample of 1,590 men and women in urban and rural areas of all four provinces
---
As the Covid-19 death toll continues to rise amid the third wave of the novel coronavirus pandemic in the country, 12% of Pakistanis claimed that they know someone who has lost his or her life due to the deadly virus, according to a survey.
During the survey — conducted by Gallup & Gilani Pakistan — participants were asked the question: "In your social circle, do you know anyone who has lost his/her life due to the coronavirus?" In response to this question, 12% said "Yes", 88% said "No" while 1% did not know/did not respond.
The survey was carried out among a sample of 1,590 men and women in urban and rural areas of all four provinces of Pakistan, between March 19 to April 6.
Read Pakistan has received 4.06 million doses of Covid vaccines so far
The margin of error for the survey is between 2-3% at a 95% confidence level. The methodology used for data collection was phone interviews. Respondents hailed from over 100 districts of Pakistan.
Pakistan reported 3,232 new coronavirus cases in 24 hours, taking the country's Covid-19 tally to 880,362.
The country's death toll climbed to 19,617 after 74 people succumbed to the deadly disease.
Meanwhile, 3,754 patients recovered from the deadly disease in a day taking total recoveries to 792,522.
According to the National Command and Operation Centre (NCOC), the total active Covid-19 cases across the country were reported to be 68,223.
The NCOC on Sunday asked all those people who are above 30 years of age to get vaccinated as soon as possible in order to prevent the deadly disease from infecting them.
Also read: Vaccination drive for 30-39 age group begins
In a message on its official Twitter handle, the NCOC asked the above 30 people to get registered by sending their CNIC numbers to 1166 prior to visiting the vaccination centre.
"Walk-in facility for above 40 years also needs prior registration," the NCOC added in its public awareness message.
The NCOC said that vaccines protect individuals and communities. "Vaccination not only protects you, it protects those who cannot be vaccinated," it mentioned.
Gilani Research Foundation is a not-for-profit public service project to provide social science research to students, academia, policymakers and relevant citizens in Pakistan and across the globe.