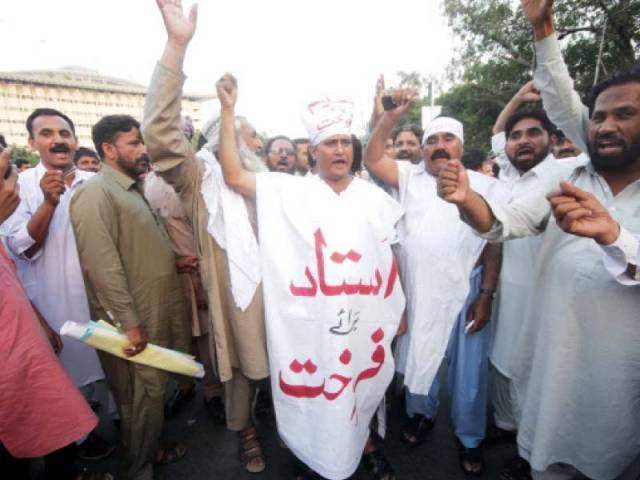 ---
ISLAMABAD:
The federal government is working on plans to rationalise the pay and pension of the government employees and has hired the services of a private firm in this regard, which is starting its work from Monday (today), sources have said.
There are several proposals under consideration, including elimination of wide disparity in salaries of employees of various ministries, divisions and departments, introduction of a new system to reduce the government's pension bill and freezing the basic pay for pensions after completion of 25-year service.
The sources said that the government has hired a private company of international repute, which will operate under the supervision of the Pay and Pension Commission.
The Terms of Reference for this purpose would be introduced soon, the sources said. According to the finance ministry sources, the company would start its work on the reforms from Monday (today), adding that it will review the entire pay and pension structure and submit a comprehensive study to the government in six months.
However, they added, since the federal budget for the next fiscal year 2021-22 is expected in the first half of the next month, a proposal for a temporary relief of 15 to 20% in the salaries of government employees was under consideration.
Read Progress in talks over government employees' salaries
On March 3 this year, the government allowed a 25% disparity reduction allowance after the government employees protested in the federal capital. The allowance was aimed at reducing the gap in the salaries of the government employees.
The sources said that a 15 to 20% increase in the salaries of the government employees is expected in the next budget but added that the increase would also be based on a formula to reduce the pay gap, which means that those employees receiving higher salaries and benefits will be given less increase.
The sources also said that the government is considering the introduction of contributory pension system for new recruits to minimise the pension bill.
Under the proposal, they added, a separate pension contributory fund could be created for which the World Bank might provide the seed money.
Another proposal is that the basic salary of a government employees should be frozen after completion of 25 years of service. It means that there will be no increment in the salary after 25 years, and hence the pension would also be based on the service of 25 years.
This proposal, the sources said, is aimed at encouraging the government employees to retire from the service at the end of 25-year service. However, they added that no final decision had been taken as yet on any of the proposals.