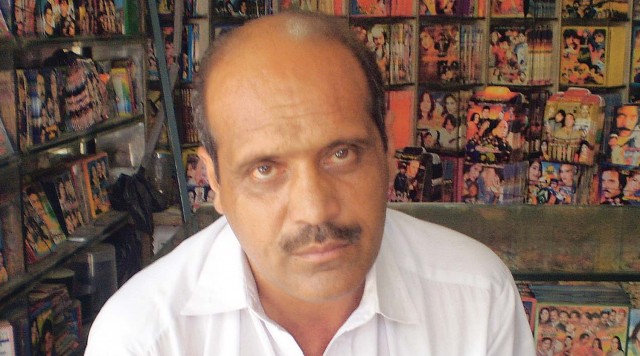 ---
"We sell 500 to 600 CDs everyday," says Muzaffar, who produces and sells films at the Musafar CD store in Nishtarabad - Peshawar's wholesale market for CDs and DVDs, which is home to over 180 stores.

Pashto cinema, which was until a few years ago one of the most well-performing sectors in the Pakistani film industry, was caught in a strange trap. With the rise in minifilms that are sold via VCDs, the number of people going to cinemas to watch films decreased, along with the fact that concerns about security kept people away from cinemas, as did the increased cost of visiting a cinema. Enter, the 'CD films' or 'minifilms', as they are called. Made directly for a CD release, the films are sold for Rs40 in retail stores and Rs28 in the wholesale market.

Farman Umarzai, one of the first to produce these films, says that the productions are based on "the Sarhad culture and the problems people face in society." He tends to make films that are "entertaining, and which distract people". He added that the films "don't have any vulgarity in them".

Umarzai has never made a film about the Taliban, saying that he did not want to create enemies, and recalled how he received threats a couple of years ago. A number of prominent actors and singers have left Peshawar largely due to security threats. Comedian Alamzeb Mujahid was abducted and moved to Malaysia after his release. Muzaffar said that they are trying to call the actors back for the films as he believes the threats are in the past.

The process of making a 'minifilm' is short and far cheaper than a proper film, which now costs Rs60 to Rs70 lakhs to make on average. "It takes six to seven days to make", says Umarzai, "and about a month to edit and add on music etc. The films are shot in Lahore, Peshawar, Abbotabad, Ayubia and Murree and edited in Peshawar."

"It costs about Rs180,000 to Rs350,000 to make a film, which stars about 10 to 15 actors, some of the girls are from Punjab as we have very few female actors here, and their voices are then dubbed," Umarzai told The Express Tribune.

The films are distributed via stores in Nishtarabad to Karachi, Mardan, Swat, Quetta, Kabul and Jalalabad, Dubai and London.

Lacking any official cultural policy for Pashto films to be sold in Afghanistan, the filmmakers believe they are losing out on a big market.

However, producers are proud that they have "kicked Indian and Hollywood films out of the market".

"2012 was a huge hit worldwide but it barely sold here," he says. "Indian films are not released in Peshawar cinemas and people prefer watching minifilms."

However, Umarzai and Muzaffar are both adamant that there needs to be a proper censor policy, and the establishment of a censor board.

In the absence of a censor policy, Umarzai says, "insaan ka apna zameer censor board hota hai." (Man's own conscience is the censor board)

These films have become a huge industry in their own right, and at least eight are released every week. The shop owners in Nishatarabad have formed a union comprising of 122 members, and they now have a rotating schedule for film productions.

Nishtarabad was bombed in 2007, and the government has not provided any security to the market. At that time, they told store owners they could either close up shop or arrange their own security.

But Muzaffar says they chose not to wrap up their businesses, and were at work the next morning. Now that minifilms are doing roaring business, he feels they made the right decision.

Published in The Express Tribune, June 23rd, 2010.
COMMENTS (9)
Comments are moderated and generally will be posted if they are on-topic and not abusive.
For more information, please see our Comments FAQ