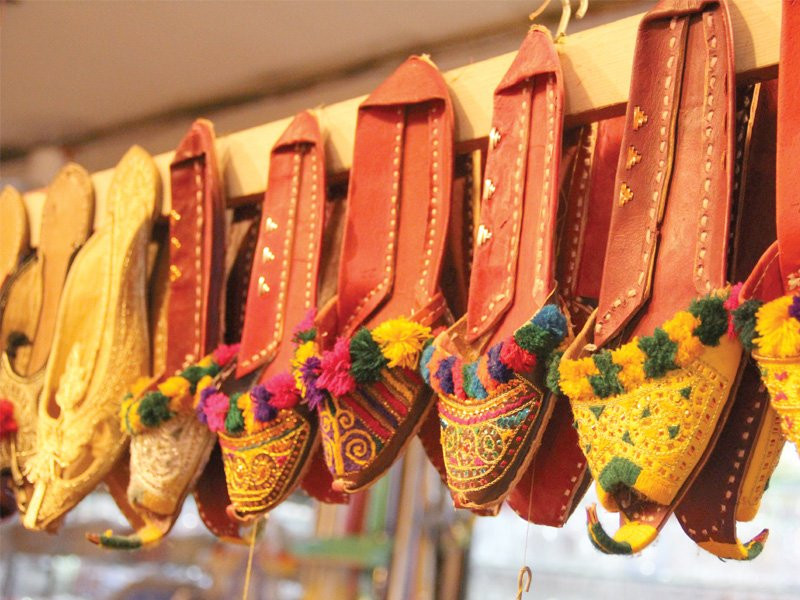 ---
LODHRAN:
The culture of making Khussas in Kahror Pakka, a tehsil of Lodhran district, is more than 100 years old. The handmade footwear is not only sold at traditional Khussa shops but also available in some of the country's famous branded outlets. Khussas made in Kahror Pakka are also sold and worn abroad.
The tradition of making Khussas has continued for over a century, in which the curled-toe shoe is decorated with gold, silver and pearls.
The Nawab or ruler of Bahawalpur state used to commission Khussas according to his dressing. Precious buffaloes and other gifts were arranged for the craftsmen preparing the footwear.
However, Baqir Hussain Jafari, the owner of an old traditional Khussa store, told The Express Tribune, "Nowadays we are facing severe difficulties in selling Khussas. The compensation is not reasonable."
There was no patronage at the government level and loans were not available for the trade, he added. "Government patronage is desperately needed to promote this work as it can play a vital role in keeping the traditional attire alive."
Before the Mughal period, Khussa was made in thick and heavy weight variations, he further said.
"My great grandfather Mian Khuda Bakhsh used to make a shoe with a one-inch thick sole and it was so strong that was said at it could be used to press wooden stalks into the ground for tying cattle with them. Later, my grandfather Muhammad Nawaz Jafari added elements of beauty in this work and the heavily decorated Khussa began to be made for aristocrats," he elaborated. "The decoration some times included five tolas of gold or silver. People started ordering this exquisite footwear and it was also displayed in people's drawing rooms as well as parliament."
This variant of the closed shoe was produced even before the Abbasi family's rule, he stated. "The quality of this work and its neatness comes to the fore with manual labour. However, the number of people wearing it has dropped over time."
He said gold and silver flower patterns are made to decorate the shoes. A gold Khussa is sold for Rs500,000 to Rs1 million, while ordinary Khussas cost Rs2,000 to Rs15,000.
Despite being hand-made, the shoe's neatness and symmetry surpass those made by machines.
Khussas are is also produced for women and children along with the men's variety.
Baqir added that different varieties of Khussas were produced.
The most popular are Kahroori, pointed, Riyasati, Kanewala round, Kolhapuri and Jaipuri Bhatli Khussas for men, along with . Saleem and Nagra for women.
It takes one week to 10 days to prepare a pair of Khussas. The wage of a craftsman is Rs500 per pair, while it is sold for Rs3,000. However, if the Khussa maker prepares it with gold and silver, he is paid thousands of rupees.
There are 18 Khussa shops in Kahror Pakka but the buyers are decreasing the costs increasing.
Rao Ejaz, a former member of Punjab Assembly from the area, said, "My father Amanat Ali used to wear Khussas when he went to teach his students. He would often travel on foot and he thought the handmade shoe was comfortable. Even at the age of 80, he still preferred wearing Khussas."
This is part of the tradition of the elders as well as a comfortable footwear, he added.
Published in The Express Tribune, May 17th, 2021.