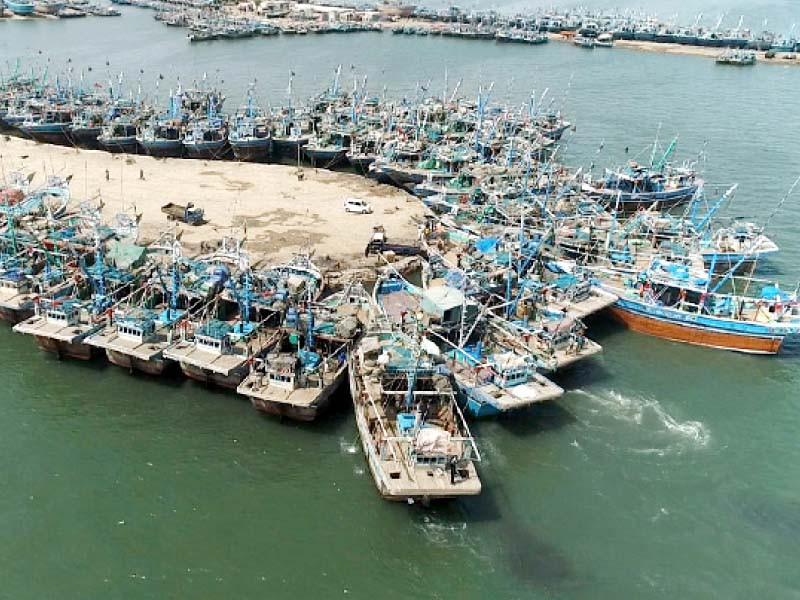 ---
KARACHI:
Fishermen had to rush home from as far as the maritime borders of India to reach the safety of the jetties as the sea condition started to go from rough to rougher with tropical cyclone Tauktae heading northward.
Though at distance of over 1,400 kilometers, almost as far away as Karachi to Islamabad, the Tauktae is likely to cause winds of up to 120kmph. The eye of the storm has wind velocity of over 180kmph.
In this situation the fishermen were directed over wireless, cellphones or even boat to boat sign communication to hit home. However, they have lost one month's livelihood due to the intensifying Arabian Sea cyclone Tauktae.
Fishermen at Ibrahim Hayderi jetty told The Express Tribune that they were directed to reach home port or drop anchor at nearest safe place. After an alert was issued by the met office, a large number of boats started returning to the jetties of Karachi as well as other coastal towns of Sindh and Balochistan.
They said that they faced high winds and choppy waters and the conditions were getting worse by the hour.
The boats preparing to go out to sea were also withheld by the port authorities. Fishermen fear that the storm will further drown them below the poverty line. Residents of Ibrahim Hayderi, an old fishing village in Karachi, are extremely worried about the inflation and unemployment than the destruction that may occur due to the cyclone. Boats continue to return at the jetty of Ibrahim Hyderi. From the total 1,800 boats, about 1,350 boats have returned so far.
According to fishermen, a fishing trawler roams in the sea for at least a month and incurs a cost of about Rs2.5 to Rs3.0 million including salary and expense of staff, rations, ice and fuel worth hundreds of thousands of rupees.
READ Cyclone 'Tauktae' threatens coastal regions of Pakistan, India
A trawler owner said many fishermen were near Indian waters after sailing for 10 days in the Arabian Sea. However, organizations and government agencies concerned with the fishermen directed them via wireless to return. The news spread from one boat to another through mobile or radio. On the way, the fishermen also encountered strong waves and winds.
According to those who returned empty handed from the seas, a huge amount of fuel was wasted on transportation while the laborers and staff were also deprived of wages due to which the hardships of the poor fishermen have increased. The fishermen said they do not expect any government assistance and would return as soon as the storm subsides so that they can make their ends meet. Other sectors related with the fisheries are also affected, including drivers, commercial loaders, ice factories, laborers and fishmongers and traders.
Published in The Express Tribune, May 16th, 2021.