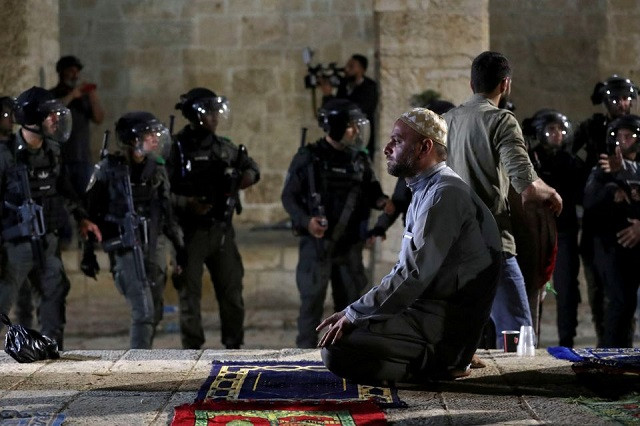 ---
KARACHI:
Political forces got behind the Palestinian cause by taking out rallies and issuing statements against Israel on Wednesday.
At least 56 people have been killed in Ghazi since violence escalted on Monday.
Pakistan Tehreek-e-Insaf (PTI) Karachi staged a protest on Shahra-e-Faisal against the ongoing atrocities of the Israeli army in Palestine.
The protest was led by PTI Karachi President Khurram Sher Zaman. Senior party leaders Firdous Shamim Naqvi, Saeed Afridi, Jamal Siddiqui, Aftab Jahangir, Ali Aziz JiJi, Shehzad Qureshi, Amjad Afridi, Sameer Mir Sheikh, Fiza Zeeshan, Faraz Lakhani and other leaders and members of the national and provincial assemblies participated in the demonstration.
Addressing the rally, Zaman said PTI has formed a human hand chain to express solidarity with Palestine. He said that the purpose of the chain is to show the world that the ongoing violence in Palestine is intolerable.
He said that it is high time Muslim nations unite on the Palestine issue. He requested the Organisation of Islamic Cooperation (OIC) and other world powers to come forward for its resolution.
According to Zaman, Israel considers Muslims to be cowards, but it is actually a misunderstanding.
"We are the followers of Prophet Muhammad (PBUH) and we only fear Allah," asserted Zaman.
"Israel is a terrorist country which bombed the sacred mosque, Al Aqsa, in the holy month of Ramazan," said Zaman, adding that such terrorism must end.
He said that Prime Minister Imran Khan has raised a voice on this issue and the Pakistani nation will stand against the Israelis as a great power. He said that the oppression against the Muslims will not be tolerated.
Zaman further said that they pay tribute to the Palestinians for standing strong against the Israeli oppression and tyranny. He said that Masjid Al-Aqsa is the first qibla of Muslims and disrespect towards it will not be tolerated under any circumstances.
"It is time to remind Islamophobic countries of their limits because whatever is happening in Palestine is the humiliation of humanity," said Zaman.
"Israel is a group of cowards who are claiming to be powerful by inflicting violence on innocent Palestinians."
Meanwhile, Muttahida Qaumi Movement-Pakistan (MQM-P) Senior Deputy Convener Amir Khan said his party strictly condemns the Israeli violence in Palestine.
He said that the silence of the Muslim world on the Israeli barbarianism in Palestine is unbelievable.
According to Khan, it is time that all the Muslim nations put their differences aside and come together in support of the Palestinian call for justice.
"Raising voice against oppression is a part of our faith, no matter who the oppressor is," said Khan.
He said that the social media is flooded with posts regarding inhumane Israeli violence against Palestinians. The international organisations for international peace and human rights have gone silent over the oppression in Palestine, he stressed.
Khan appealed to the government of Pakistan to play an effective role in drawing international attention towards Israeli violence and requested the citizens to pray for their Palestinian brothers.
Meanwhile, the Jamaat-e-Islami (JI) Karachi also held a demonstration against Israeli brutalities.
A large number of JI workers and supporters, carrying placards and banners, chanted slogans against the Israeli regime. The demo was held outside Baitul Mukaram mosque in Gulshan-e-Iqbal area Asar prayers.
Addressing the protesters, JI Karachi chief Naeemur Rehman said that Prime Minister Imran Khan should have ensured a joint declaration against Israel during his visit to the Kingdom of Saudi Arabia.
The JI leader said that Israel, in principle, is an illegal state. He added that therefore, a two-state theory is not a solution for the issue. He said that any such attempt would be tantamount to accepting and legalising the occupation of Palestine by Israeli forces.
The JI leader, however, praised Hamas, the resistance force against Israel in Gaza. He said that Hamas is a symbol of resistance against oppression. He also paid a rich tribute to the resilient Muslims in Palestine.
Published in The Express Tribune, May 13th, 2021.