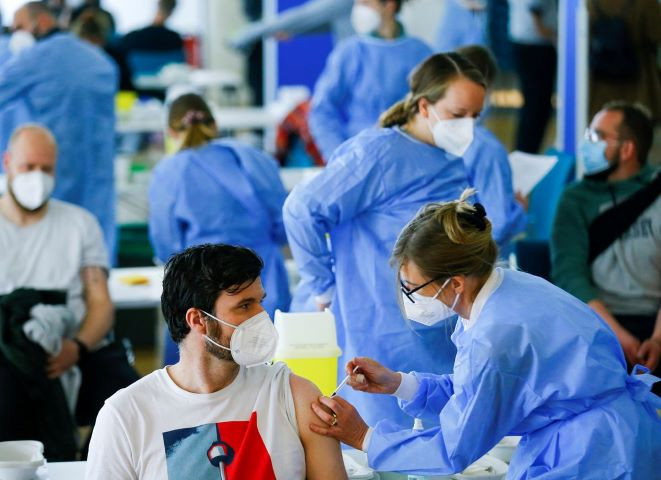 ---
ISLAMABAD/RAWALPINDI/ABBOTTABAD:
Six more died of Covid-19 while 55 new cases of the novel coronavirus were reported in 24 hours on Wednesday, raising the tally of confirmed cases to 25,041 in the Rawalpindi district while six more lost their battle against the deadly virus.
The District Health Authority (DHA) informed that among the new cases, 12 were reported from Rawal Town, 18 from Potohar, 11 from Rawalpindi Cantt, three from Taxila two from Murree, four from Gujar Khan, two from Islamabad and one each from Kahuta, Kallar Syedan, and Kotli Sattian.
Presently, 117 confirmed patients are admitted to various health facilities with 26 at Holy Family Hospital, 22 at Benazir Bhutto Hospital, 48 at Institute of Urology, 14 at Fauji Foundation Hospital, six at Hearts International and one at Akhtar Rukhsana Memorial hospital, a health authority report stated.
It further read that so far 22,918 patients had been discharged after making a recovery while 2,507 were in quarantine with 1,423 at homes and 1,084 in isolation wards.
Meanwhile, the lethal third wave of coronavirus claimed three more lives during the last 24 hours at Ayub Teaching Hospital (ATH) Abbottabad. According to the ATH spokesperson, 67 patients were admitted to the Covid-19 ward at ATH where 11 were in a critical condition in the Intensive Care Unit.
The Abbottabad Health department disclosed that the total number of positive cases was at 245 while the number of recovered patients had reached 4,654 and 194 people have so far succumbed to the deadly virus.
Moreover, a total of 68,885 tests were conducted in the district of which 62,133 tested negative, 5,107 came out positive, 1,033 were inconclusive and 615 are still awaited.
READ Resistance to vaccine — a worrisome behaviour
District health office Abbottabad also conducted Covid-19 sampling from educational institutions where 271 various institutions were screened, the total number of tests conducted was 17,292, the number of positive cases from educational institutions was 730, the number of teachers screened for Covid-19 was 4,244 while the number of students screened was 13,017.
As a result, the district administration and health department have imposed smart lockdown at 758 places including 567 rural, urban, residential areas, 10 hotels and restaurants, 155 educational institutions and 26 offices and commercial buildings.
Vaccine trials
Meanwhile, Al-Shifa Trust President Major General (retired) Rehmat Khan said that last stage human trials of the coronavirus vaccine developed by Chinese multinational Anhui Zhifei Longcom Biopharmaceutical Co Ltd are underway at the Al-Shifa Trust Eye Hospital, which would be available to the public soon.
Around 8,000 volunteers were initially recruited for trials while no serious underlying medical issues were reported and it is effective in triggering immunity response, he maintained.
Khan made it clear that the results from trials of the Chinese Academy of Sciences (CAS) Covid-19 vaccine candidate ZF2001 showed that it was safe and triggered immune responses.
"A state-of-the-art Clinical Research Unit has already been established at Al-Shifa Trust Eye Hospital and trials will be completed soon," he maintained. He added that the vaccination process in Pakistan will be accelerated after the successful completion of the trials of the new Chinese vaccine.
Furthermore, the new Islamabad International Airport (IIA) management has deployed sniffing dogs for the detection of new variants of the coronavirus. According to details, the dogs trained by Pakistan Army would sniff out swab samples collected from inbound passengers with high temperatures.
IIA Manager Adnan Khan has confirmed the deployment of the sniffing dogs at the airport. He said that the measure was taken in light of NCOC's orders.
The National Command and Operation Centre (NCOC) has also issued a notification in this regard, stating that the dogs would help detect Covid-19 infected passengers landing at IIA.
The airport administration would assist ACC while Airport Security Force (ASF) would help in handing over infected passengers to the ACC.
A four-member team of health ministry would also be deployed at the airport and work under two shifts, the notification noted, adding that it would collect swab samples of the arriving patients.
The manager said that if a passenger would be detected with a high temperature, the health ministry officials would collect swab samples of the passenger in question and get it sniffed out for detection of Covid-19. There would be no direct encounter between dogs and the passengers, he added.
Published in The Express Tribune, May 13th, 2021.
COMMENTS
Comments are moderated and generally will be posted if they are on-topic and not abusive.
For more information, please see our Comments FAQ