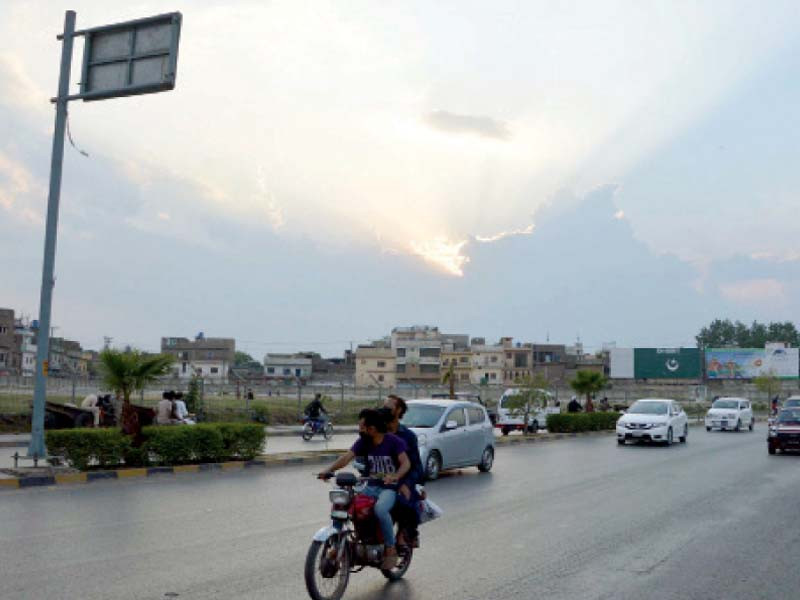 ---
Met office predicts 'pleasant Eid'
More rains expected in next three days; efforts afoot to remove rainwater
---
RAWALPINDI/ISLAMABAD:
The Pakistan Meteorological Department (PMD) on Tuesday predicted that the weather would remain pleasant in Rawalpindi and Islamabad during the Eidul-Fitr holidays as more rains are likely in the next three days.
"Rain would likely continue for the next three days as clouds with moisture are present on the horizon in patches", said an official of the PMD while speaking to the media
The good news for the citizens of the twin cities Rawalpindi and Islamabad is that the rainfall would continue in Rawalpindi and Islamabad after small breaks.
The official of the PMD claimed that the weather would remain clear during the day and turn rainy in the evenings.
The official also mentions that the rain is expected in upper Punjab, northern Balochistan, Khyber-Pakhtunkhwa, Kashmir and Gilgit-Baltistan.
It is pertinent to mention that heavy rain accompanied by gusty winds lashed the twin cities of Rawalpindi and Islamabad on Monday bringing a pleasant change in the weather, however inundating low lying areas.
The temperature in the twin cities rose to 35°C over the past few days but after rain, it dropped down to 20°C.
Low-lying areas
Rawalpindi Development Authority (RDA) Director-General Abdul Sattar Essani has directed the Water and Sanitation Agency (WASA) staff to operate in low lying areas till the drainage of rainwater.
He made a visit to low lying areas in Arya Mohalla, Chamanzar Colony, Muslim Town, Sadiqabad and Committee Chowk underpass along with WASA Managing Director Raja Shaukat Mehmood to see the ground situation as it continued to rain in the city.
He said that water had entered some houses in low-lying areas where the district administration carried out dewatering and now the situation was under control.
"We are in close contact with the meteorological department to deal with any emergency like situation," he said, adding WASA staff will remain present with heavy machinery in the field to clear the areas.
Civic services
The Capital Development Authority administration is trying to provide the best possible services to citizens amidst the Eid holidays and lockdown, said a statement on Tuesday.
The CDA teams worked diligently during the course of the torrential rains that lashed the federal capital on Monday night. A major traffic jam was caused due to the accumulation of water at Kashmir Chowk, but the CDA staff took immediate action to remove the blockage caused by water on the road. Restoration work was also undertaken near Rawal Chowk where a new project is being developed.
During lockdown and Eid holidays, the staff is striving to keep all facilities operational including sanitation, environment, road maintenance, street lights, city sewerage and water supply.
The administration has cancelled the holidays of most staff and has also set up a central control room to resolve complaints and issues faced by citizens.
The officers and staff of relevant departments of CDA are working day and night to serve the people of the city.
Published in The Express Tribune, May 12th, 2021.