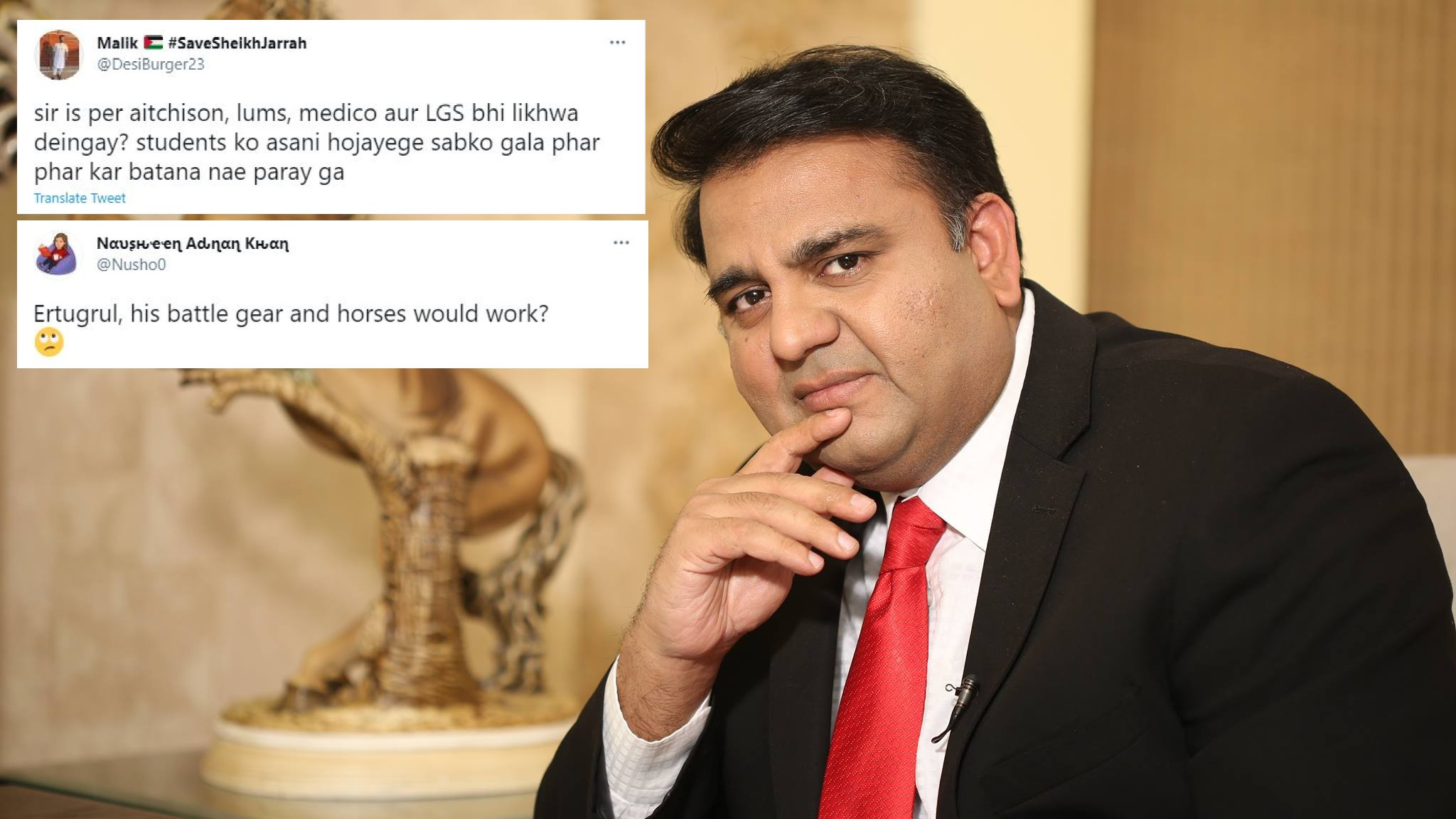 ---
The Federal Minister for information and Broadcasting, Fawad Chaudhry, is eager to make alterations to Pakistan's emblem and Twitter has spoken.
Calling all graphic designers, Chaudhry asked local artists to replace the jute and tea symbols on the emblem with science, technology, and education icons, and boy did they respond.
While many actually put their own spin on the insignia, others called out the minister for exploiting artists for free work. Some also urged Chaudhry and the state to set its priorities straight while others asked why the emblem was being referred to as a logo in the first place.
"In [the] government of Pakistan logo my suggestion is jute and tea should be replaced with science and technology, and education icons. Graphic designers there send me your ideas," Chaudhry tweeted on May 10.
It is pertinent to mention here that the federal minister for information and broadcasting was previously the minister for science and technology from April 19, 2019 to April 16, 2021.
Nevertheless, here's what Twitterati had to say:
Some caved in
Others had different ideas
The line is thin...
It's all about knowing your worth
Priorities priorities...
The coat of arms of Pakistan was adopted in 1954 and symbolizes Pakistan's ideological foundation, the basis of its economy, its cultural heritage and its guiding principles.
The four components of the emblem are a crescent and star crest above a shield, which is surrounded by a wreath, below which is a scroll. The crest and the green colour of the emblem are traditional symbols of Islam. The quartered shield in the center shows cotton, wheat, tea and jute, which were the major crops of Pakistan at independence and are shown in a form of shield and signify as the main agricultural base for the importance of the Nation's economy.
The floral wreath, surrounding the shield is Jasminum officinale (the national flower) and represents the floral designs used in traditional Mughal art and emphasizes the cultural heritage of Pakistan. The scroll supporting the shield contains the national motto in Urdu, "Īmān, Ittiḥād, Naẓm", which translates as "Faith, Unity, Discipline." These are intended as the guiding principles for Pakistan.
Have something to add to the story? Share it in the comments below.
COMMENTS
Comments are moderated and generally will be posted if they are on-topic and not abusive.
For more information, please see our Comments FAQ