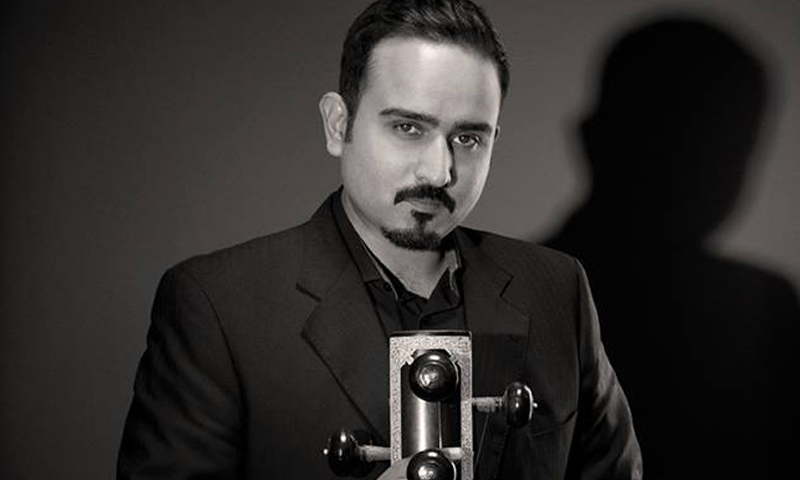 ---
Abbas Ali Khan's more than ten years of music have a versatility that few artists in the country can lay claim to. From the dark, moody tracks of his early Malal days, the soul-searching Sufi music of his album Tamam Alam Mast, all the way up to the 80's synthwave-inspired dance tracks that make up a significant part of his recent body of work, Khan understands the importance of branching out as well as mixing things up as an artist.
His most recent release, a loosely pandemic-themed track Mein Hoon (I Exist) exudes back-to-the-basics energy, and in a time as tumultuous and uncertain as this, it may just be what his listeners need. His motivations to release the song are made lucid at the very beginning of the music video, which is prefaced with a message of reconciliation with the Divine in this time of turbulence. The song presents a fusion of electronic synth with the earthy tabla, brought together under Khan's soft, grounding voice.
Mystical muse
He shared that the inspiration for this track came in the early days of the pandemic. Describing a state of confusion and anxiety (that at this point the world may have grown all too familiar with), he spoke of how it led him to delve deeper into the Sufi tradition, which he claims to have had an affinity with from before, and take on meditation practices which in turn laid the groundwork for the track. "All the lyrics of this song were written while I was in that meditative state. If you begin to view the song from that angle, you'll be able to relate with the experience in it," Khan told The Express Tribune.
Khan spoke of how his faith also played a key role in inspiring the track. While mentioning lyrics from the high-point of the song he shared, "Basically, I am talking about my faith because, in these times, it is only the Divine who can help you."
Khan has previously performed Khusrau classics such as Man Kunto Maula and Zihaal e Miskeen, as well as work by contemporary poets from the Sufi tradition, such as Baba Gulzar Sabri, who Khan said is his "spiritual adviser" or "murshid".
"Poetry has really impacted me. All the pieces I performed in Tamam Alam Mast touched me in some way or the other which is why I picked them," said Khan. When speaking of his own lyrical work, he confessed that he does not consider himself a poet. "I just write the feelings that I have. I have not published any divan or books. I try to bring Sufi ideas that may at times be difficult to understand, to the people in a simple language." He later added, "My poetry is all about finding yourself… about recognising your existence."
Ghosts of the past
However, the tracks that introduced Khan on the musical map, hits such as Sun Re and Malal have a theatricality to them, at times crossing over into gothic territory with a resounding emphasis on storytelling. The videos are larger than life, with clowns and vampires and ghosts, the performance art aspect bursting forth right out of the television screen (now relegated to the more constrained dimensions of our smartphone displays). When asked if he would be willing to go back to this style, his response was deeply descriptive of the conundrum faced by artists these days.
"If you want to do anything which is more theatrical, you need more resources. If we speak of videos like Malal, a lot of money was spent on it. However, at the time, music videos had a longer lifespan. These days the focus is on quick content. Even big bands are focusing on filming performance videos only," asserted Khan. Regardless, the singer-songwriter expressed a desire to return to his performance art roots and film more videos along the lines of Sun Re, perhaps going a step further this time. He shared, "I would like to turn my songs into short films. It is one of my biggest wishes that I would like to work on."
As far as the music trajectory is concerned, Khan felt that all of his previous ideas are culminating into one, big, mishmash of expression, "Everything that has inspired me so far, be it the 80s sound, the dark, gothic sound, along with my spirituality has begun to converge together. This is what you can hear in my recent music."
Watch the music video here:
Have something to add to the story? Share it in the comments below.