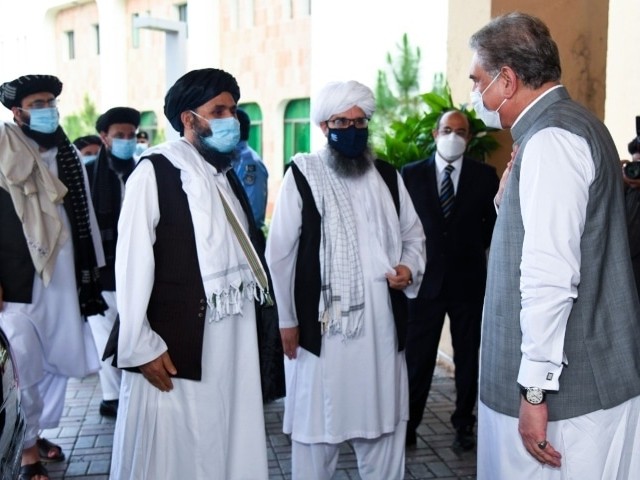 ---
ISLAMABAD:
Geopolitical experts from different countries especially those in the region have warned of dire consequences of pulling out US-Nato troops from Afghanistan sans a sustainable peace deal.
They say the region will see geopolitical chaos, instability and rise of insurgency as witnessed on the first day of the drawdown from Kandahar airfield when 150 persons were killed in a battle between Afghan soldiers and Taliban to capture the vacated airfield.
The experts said the sacrifices made for 20 years in Afghanistan against terrorism will go waste in a hurried troop withdrawal which seems intentional on the part of the US and Nato to stop Chinese, Russian and Iranian strategic and economic interests in the region. Meanwhile, Pakistan will suffer the consequences of an increase in armed conflict in Afghanistan.
Development Communications Network (Devcom-Pakistan) and DTN organised a regional webinar 'Pulling out the US-NATO troops from Afghanistan without any sustainable peace mechanisms – Repercussions for the Region.'
Former ISI chief Lt General (retd) Durrani said a sustainable peace mechanism post US withdrawal from Afghanistan is an uphill task. Despite several rounds of talks, the parties could not agree to proposed mechanisms.
He said foreign occupation creates serious contradictions, and the polity gets divided among freedom fighters, a warrior class and opportunist collaborators. The same has happened in Afghanistan.
He said the onus is on neighbours with a stake in the war-ravaged country's stability to identify and support credible figures within to restore peace. It is for Pakistan and other nations in the region to bring this peace.
Journalist Rahimullah Yousafzai said the US and Nato did not win the 20-year war, the Taliban won the Doha negotiations. The invaders' hasty pullout is the result. Without ensuring a fair role for the Taliban in Afghanistan, they will reject any new setup, he added.
"There is a fear of a surge in radicalisation in Afghanistan and its spillover to neighbouring countries.
Politician Farhatullah Babar said only a political solution would ensure peace. Big regional players Russia, China – and to an extent India – have to play a positive role, because the racialisation spillover would not spare anyone. All stakeholders in the region need to join hands for a consolidated peace deal.
Beijing-based China Centre for Globalization chief Victor Gao suggested an immediate UN Security Council meeting to discuss the US leaving Afghanistan in an irresponsible manner There is a huge task of rebuilding Afghanistan. America should allocate sufficient funds for post peace development.
He said the Chinese government will contribute to the economic development and engagement of all parties including the Taliban. China is also a victim of Afghanistan radicalisation spillover spreading to parts of China.
Journalist Anwar Iqbal said Pakistan is likely to suffer the most from the post-drawdown of US troops.
Published in The Express Tribune, May 11th, 2021.