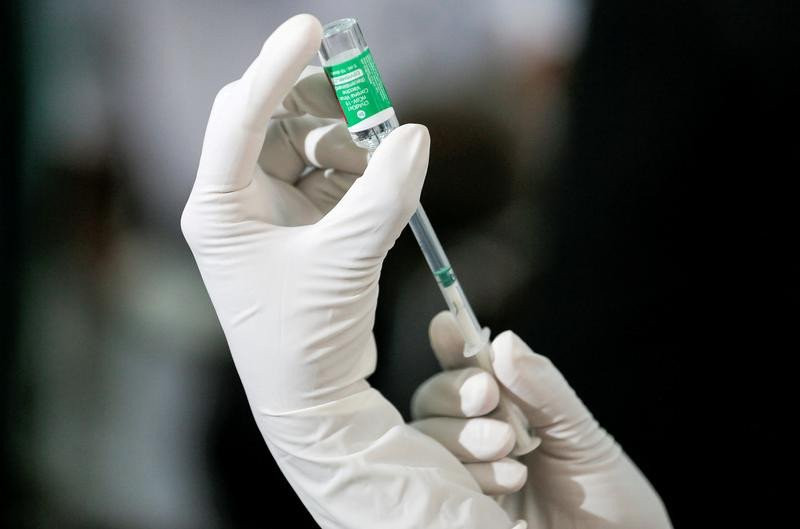 ---
No vaccination on first two Eid days
Six more die of Covid; another 12 shopkeepers booked for defying lockdown
---
RAWALPINDI/ISLAMABAD:
Six people died of the novel coronavirus while 71 new cases were reported in a span of 24 hours in Rawalpindi, a District Health Authority (DHA) spokesperson informed on Monday. He said that among the new cases, 25 were reported from Rawal Town, 10 from Potohar, 19 from Cantt, 14 from Taxila, two from Murree, and one from Kahuta.
Presently, 131 confirmed patients were admitted to various health facilities with 30 at Holy Family Hospital, 22 at Benazir Bhutto Hospital, 57 at Institute of Urology, 14 at Fauji Foundation Hospital, seven at Hearts International and one at Akhtar Rukhsana Memorial hospital, the health authority report stated.
Meanwhile, as many as 12 shopkeepers were reportedly arrested in the jurisdictions of New Town police station of Rawalpindi for violation of preventive measures against coronavirus and directives of the Punjab government to keep control on the spread of coronavirus, said a spokesperson the other day.
Regional Police Officer Imran Ahmar paid a visit to review the situation while conducting raids in the area of Commercial Market and held 12 shopkeepers for running their businesses as usual and registered cases against them.
Ahmar said that police is committed to ensuring the implementation of directives of the Punjab government. He made it clear that strict action would be taken against the violators.
Rawalpindi Commissioner Gulzar Hussain Shah has warned that no negligence would be tolerated in following the standard operating procedures (SOPs) during the Eid holidays aimed to effectively control the third wave of coronavirus.
Shah said that the government was adopting all possible measures to combat the pandemic while police and Rangers have been directed to make necessary arrangements to restrict the unnecessary movement of the citizens, especially at tourist places.
He added that if we want to defeat the deadly infection, we must wear face masks, maintain social distance and avoid going to crowded places.
Moreover, Rawalpindi Deputy Commissioner (DC) Anwarul Haq said that the process of vaccination against coronavirus was being carried out at a fast pace.
While visiting a vaccination centre set up at Shahbaz Sharif Sports Complex on Monday, DC said all possible facilities have been provided at the vaccination centres in collaboration with the health department.
The in-charge of the vaccination centres apprised DC about the statistics. Haq said all SOPs should be followed while inoculating people and they should be provided with all facilities.
DC also talked to the visitors and inquired about the performance of and facilities at the vaccination centre. The visitors expressed satisfaction with the facilities provided by the Punjab government and mentioned that they were facing difficulties in getting access to the vaccine.
Vaccine centres to reopen on third day
The coronavirus vaccination centres in Rawalpindi will remain closed on the first two days of Eidul Fitr and resume operations from Sunday.
District Health Authority (DHA) officials said that 164,389 people have been administered the vaccine in the district as yet. Among them, 145,961 were citizens while 18,961 were frontline workers. They said that a review of the increasing rate of infected patients confirmed that the majority of them were people aged 60 and above, having chronic ailments such as diabetes, blood pressure, asthma etc.
The officials maintained that the immune systems of such people were already weakened to an extent that they will be unable to cope in case of a Covid attack. They added that the pathogen affects their lungs to a level that recovery becomes hard despite the supply of excess oxygen.
A consultant said that the recovery rate of patients placed on ventilators was disappointing, which is said to be around five to 10 per cent.
Meanwhile, DHA Chief Executive Officer (CEO) Dr Fauzia Kanwal said that prevention against the deadly virus was important through the implementation of standard operating procedures. She emphasised that more people needed to get themselves vaccinated to develop their immunity to combat the virus in a better manner.
Dr Kanwal mentioned that it takes two to three weeks to develop antibodies after the second dose to a level at which the coronavirus could be countered.
Research lab established
Al-Shifa Trust Eye Hospital has transformed its research centre into a state-of-the-art laboratory to gear up the fight against Covid.
Final trials of the vaccine developed by a Chinese multinational are in progress after which it will be made available throughout Pakistan while the whole process will take a month, said Al-Shifa Trust Chief of Medical Services Dr Wajid Ali Khan.
He stated that the lab will enable us to respond to the current outbreak in a better way through treatments and countermeasures that can save millions of lives. He maintained that the laboratory would also be figuring out how the new infection spreads and how it infects as this information will be vital in order to accurately test new vaccines and drugs against the virus.
"With the overwhelming numbers of patients, the clinical laboratories are encountering enormous pressure, therefore, a better system is needed to rapidly and accurately diagnose the infected people for quick response by the health workers, Dr Khan stressed.
He said that strategies are urgently needed to educate the masses and effectively detect the disease for appropriate care that can prevent its exacerbation. He noted that reinfection has also become an issue and the issue will be taken as a challenge to overcome this problem through finding long-term immunity in people.
"We do not have the luxury of time, speeding up research has become a necessity to fight this disease which has transformed into a global crisis," Dr Khan said, adding that we should be working overtime to combat the disease.
He noted that many people are not taking the problem seriously resulting in a steady increase in the cases which can result in a huge catastrophe.
Published in The Express Tribune, May 11th, 2021.