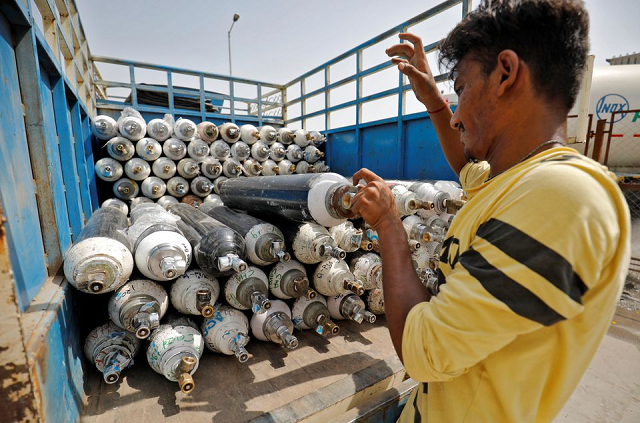 ---
India rejects Pakistan's offer of liquid oxygen despite record Covid cases
Indian Punjab had asked New Delhi to allow state to commercially import liquid medical oxygen via Wagah-Attari border
---
Chief Minister of Indian Punjab Amarinder Singh has said Prime Minister Narendra Modi government had refused the request for private firms in the state to commercially import liquid medical oxygen from Pakistan.
As India reported a record number of coronavirus cases and its health sector choking due to lack of equipment particularly oxygen cylinders, Pakistan, in April, offered Covid-19 support to the neighbouring country in a gesture of solidarity.
"As a gesture of solidarity with the people of India in the wake of the current wave of Covid-19, Pakistan has offered to provide relief support to India including ventilators, Bi PAP, digital X-ray machines, PPEs (personal protective equipment) and related items," a statement from the Foreign Office had said.
The statement said that authorities in Pakistani and India can work out modalities for quick delivery of the relief items. "They can also explore possible ways of further cooperation to mitigate the challenges posed by the pandemic."
India has not responded to the offer.
According to a report of The Wire, the Indian government refused the request of the Indian Punjab government to import liquid medical oxygen from Pakistan through the Wagah-Attari border, which is geographically proximate, despite the rising number of Covid-19 patients.
The request was made by Punjab's chief minister in a letter to PM Modi, saying that the state had over 10,000 patients on oxygen support.
"The state was facing the prospect of a shortage of oxygen beds, he said, pointing out that the government of India had expressed its inability to even allow Punjab's local industry to undertake commercial import of LMO from Pakistan through the Wagah-Attari border, which is geographically proximate," the Punjab government's official statement stated.
The report also said that the state's leaders had been pushing for an "oxygen corridor" from Pakistan as the graph of new Covid-19 relentlessly increased.
Indian main opposition party Congress's local leader Sunil Jakhar had earlier said that New Delhi was the main roadblock in the chief minister's proposal to import oxygen from Pakistan. He said that if a single life was lost in the state due to the oxygen shortage, then the Centre would be responsible.
"The CM told us that he has been taking up the matter with Union Home Ministry and Union Minister of External Affairs. But he has not got a positive response yet. If we get this oxygen, we will bear the financial burden on our own. This is an emergent need to save the people of the state," Jakhar said, according to the Indian Express.
Read more: India's COVID-19 cases dip from peak, calls for shutdown mount
A member of parliament Gurjeet Singh Aujla had also written to Modi calling for an oxygen corridor. He pointed out that oxygen was being supplied in tankers from Panipat, around 350 km from Amritsar, while Lahore was just 50 KM away.
The Congress lawmaker had told The Wire that six patients had died of lack of oxygen in an Amritsar hospital last month. "Had we got enough oxygen supply, those precious lives could have been saved. Given the present state and forthcoming spike in this wave, I have written to PM Modi to accept all the help needed from our neighbours, especially Pakistan, which is around 50km away and just a one-hour journey from Lahore to Amritsar via the Indo-Pak border. A special 'oxygen corridor' should be set up to ensure regular and timely oxygen supply for patients."
The Wire report also said that the Indian government's rejection of an oxygen corridor from Pakistan seems similar to its refusal of Islamabad's offer of aid.
After the crisis intensified in India, Foreign Minister Shah Mahmood Qureshi had also shared the message of 'humanity first' on his official Twitter handle.
As a gesture of solidarity with the people of India in the wake of the current wave of #COVID19, Pakistan has officially offered relief & support to #India, including ventilators, Bi PAP, digital X ray machines, PPEs & other related items. We believe in a policy of #HumanityFirst

— Shah Mahmood Qureshi (@SMQureshiPTI) April 24, 2021
Prime Minister Imran Khan also expressed solidarity with the people of India. The premier said the country's prayers are with all those suffering from the deadly virus and for their early recovery in "our neighbourhood and the world".
I want to express our solidarity with the people of India as they battle a dangerous wave of COVID-19. Our prayers for a speedy recovery go to all those suffering from the pandemic in our neighbourhood & the world. We must fight this global challenge confronting humanity together

— Imran Khan (@ImranKhanPTI) April 24, 2021
Calls grew for India to impose a nationwide lockdown as new coronavirus cases and deaths held close to record highs on Monday, increasing pressure on the Modi government.
The 366,161 new infections and 3,754 deaths reported by the health ministry were off a little from recent peaks, taking India's tally to 22.66 million with 246,116 deaths.
Also read: 'Humanity first': Pakistan offers support to India in Covid fight
As many hospitals grapple with an acute shortage of oxygen and beds while morgues and crematoriums overflow, experts have said India's actual figures could be far higher than reported.
Sunday's 1.47 million tests for Covid-19 were this month's lowest yet, data from the state-run Indian Council of Medical Research showed. The figure compared with a daily average of 1.7 million for the first eight days of May.
Health experts said India became complacent in the winter when new cases were running at about 10,000 a day and seemed to be under control, lifting restrictions that allowed for the resumption of big gatherings.
Others said that it could also be a more dangerous variant of the virus coursing through the world's second-most populous country where people live in close proximity, often six to a room.
"While complacency in adhering to masks and physical distancing might have played a role, it seems increasingly likely that this second wave has been fuelled by a much more virulent strain," wrote Vikram Patel, Professor of Global Health at Harvard Medical School, in the Indian Express.
WHO emergencies director Mike Ryan said reducing transmission in India would be a "very difficult task" but the government was working on limiting mixing between people, which he said was essential.