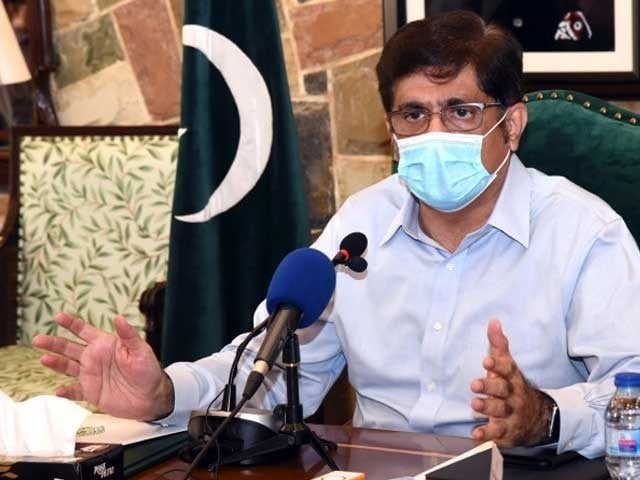 ---
Sindh to vaccinate 0.1m people against Covid everyday: Murad
Says 50,000 jabs will be given daily at Expo Centre; positivity rate in Karachi at 9.48%
---
KARACHI:
Sindh Chief Minister Murad Ali Shah directed on Monday the provincial health ministry to vaccinate 0.1 million people every day to overcome the surge in Covid-19 infections.
Murad issued the directions while chairing a meeting of the coronavirus task force this afternoon. He also directed to build the capacity of the Expo Centre vaccination unit to administer 50,000 vaccinations on a daily basis.
The meeting was briefed that the highest number of cases in Sindh during the third wave totaled 1,064 on April 29.
The meeting was informed that an almost complete lockdown was enforced on May 9 (Saturday), adding that industrial units pertaining to exports will continue to operate during Eid.
Speaking on the occasion, Murad said that considering cases reported between May 3 and 9, Karachi saw the second highest percentage of positive case - 9.48%.
Read Buy your own Covid jabs, Ali Zaidi tells Sindh govt
He expressed gratitude to the business community and the public for supporting the closure, adding that, "It was a difficult decision but we went ahead with it to protect the people."
On May 7, CM Murad announced closing all shops, including grocery stores at 6pm as the third wave of the coronavirus sweeps across the country. Restaurants will not be permitted to offer takeaways after sunset but they may continue home deliveries, he directed.
"We would further tighten enforcement of SOPs after Sunday and close Hawksbay, Sea View and other such recreational facilities for visitors," he added, chairing a meeting of the coronavirus task force at the CM House.
Besides, the provincial government has announced that all markets and businesses are to remain shut on Sunday - a day prior to the Eidul Fitr holidays beginning from May 10.
The restrictions are to remain in place till May 16. Only grocery stores and essential services will be permitted to remain open during the closure.