KARACHI:
The expression out of the frying pan and into the fire may be considered apt for Pakistan as it faces a potential threat to its exports to the European Union just as the country had begun to recover from the impact of the Covid-19 pandemic.
"Notwithstanding, the recent rise in Covid cases, Pakistan has been showing signs of a fragile economic recovery with a gradual resumption of economic dynamism," according to a new World Bank report. The Covid-19 outbreak dealt a devastating blow to the world economy as global trade came to a grinding halt with economies going into lockdown. Even though Pakistan did not escape unscathed, it managed to rebound fairly quickly aided by the textile industry that received hefty orders from international buyers.
With factories in China, India and Bangladesh lying closed to curb the spread of Covid-19, Pakistan received the bulk of export orders from the US and Europe. This story is best told by trade numbers. As the Pakistani government imposed a lockdown in March, exports of the textile group plunged 61 per cent to $403.8 million in April 2020 from $1.04 billion in March 2020. However, the following month saw a quick recovery as textile units were allowed to reopen and exports from the sector reported a steady increase. In May 2020, exports from the textile group recorded an 86 per cent jump to $751.1 million from the preceding month. By the end of the year, exports in this segment were back to the pre-pandemic levels of over $1 billion a month.
These numbers are crucial to understand the revival of the economy in terms of trade and why the latest development comes as a threat. Now, in a hit to the beleaguered economy, the European Parliament has called for a review of Pakistan's GSP+ status, which gives concessions on exports to EU, on grounds of abuse of blasphemy laws in the country. The resolution stated that the European Parliament "calls on the Commission and the European External Action Service (EEAS) to immediately review Pakistan's eligibility for GSP+ status in the light of current events and whether there is sufficient reason to initiate a procedure for the temporary withdrawal of this status and the benefits that come with it, and to report to the European Parliament on this matter as soon as possible."
The EU is a major export destination and a very important trading partner for Pakistan as it absorbs nearly 34 per cent of the country's total exports to the world. Due to the GSP+ facility, nearly 80 per cent of Pakistan's exports enter the EU at a preferential rate. Around a quarter of the items imported to the EU from Pakistan are from the textile sector, like bed linen, table linen and toilet and kitchen linen. The textile industry contributes over 60 per cent to the country's exports. Hence, it is no surprise that the business community is alarmed over the development and the sector underperformed at the Pakistan Stock Exchange in the previous week.
But before we delve further in to this, let us talk about the GSP+ scheme.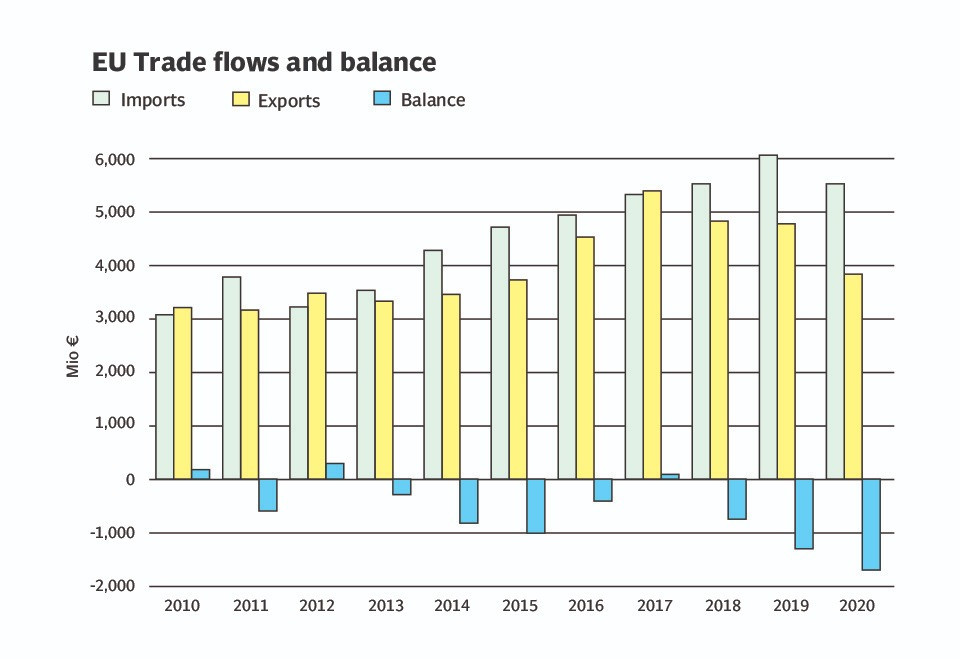 Design: Ibrahim Yahya
A supporting hand
The Generalised Scheme of Preferences (GSP) is an initiative of the developed countries by which they seek to support developing economies in achieving sustainable growth through trade. The goal is to help developing countries implement the sustainable development agenda to promote values of human rights, core labour standards, environmental protection and good governance.
The EU's GSP has three arrangements; standard GSP for low and lower-middle income countries, GSP+, and Everything but Arms (EBA). Under the general GSP arrangement the EU grants tariff reductions for products covered by around 66 per cent of tariff lines and originating from low-income or lower-middle income countries, which do not benefit from other preferential access to the EU market. Under the EBA arrangement, the EU grants duty-free, quota-free access for all imported products except arms and ammunition from countries classified by the UN as Least Developed Countries (LDCs).
For countries benefiting from the special incentive arrangement (GSP+), the EU eliminates tariffs for products covered essentially by the same tariff lines.
Beneficiaries of GSP+ are required to implement 27 international conventions related to human rights, labour rights, protection of the environment and good governance. Once the status is awarded, the EU monitors the beneficiary countries to ensure compliance with the international conventions through visits, dialogues and exchanges of information. Subsequently, the commission publishes a report every two years to review the progress made on the agreement.
Pakistan and GSP+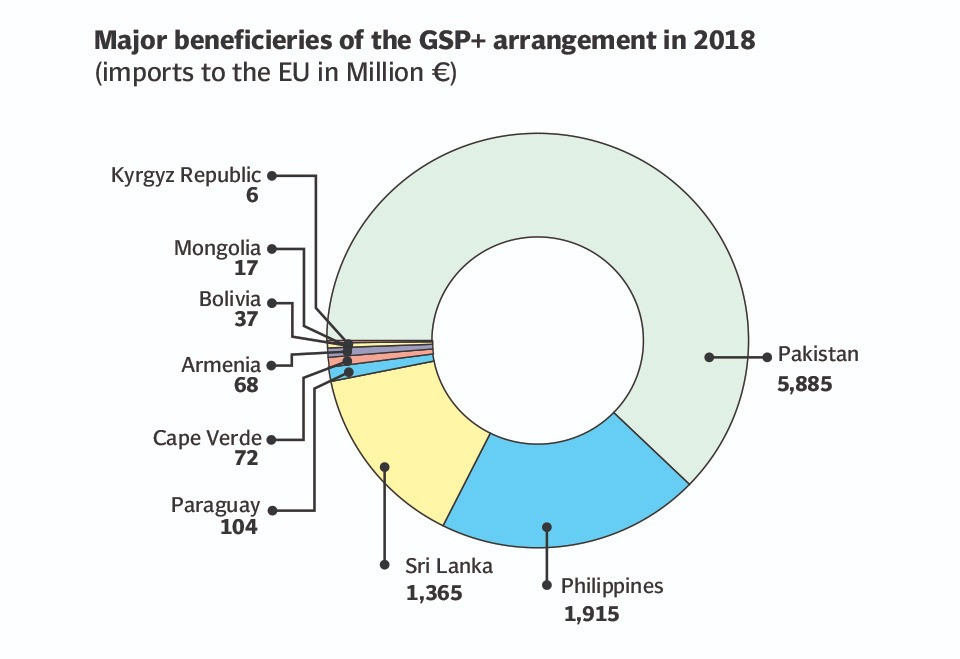 Pakistan was awarded the GSP+ facility in January 2014 and has since then witnessed a rapid rise in its trade with EU. According to a report on EU's assessment of Pakistan for GSP+, EU imports from Pakistan doubled from €3.6 billion to €6.8 billion from the period of 2008-2018. The growth of imports further accelerated following the award of the facility with a 30 per cent increase seen between 2014 and 2016. According to the Pakistan Business Council's (PBC) report on 'Pakistan's performance under the EU GSP+ program: 2014 – 2019', "Under GSP+, EU's imports from Pakistan have risen from $7.2 billion in 2013 to $9.7 billion in 2019 – an increase of roughly 34.7 per cent."
Under this facility, Pakistan has been granted duty-free market access for more than 6,300 tariff lines. The EU, which is one of the major trading partners of Pakistan, accounted for 46.8 per cent of the country's total trade in 2019. Moreover, it is Pakistan's third largest import partner after China and the UAE. Based on this assessment of the PBC, one can safely say that the GSP+ status has had a positive impact on our country's exports as the last six years have witnessed an overall favourable trend in EU imports from Pakistan.
"Even though Pakistan's exports to the world, on average, declined by 0.6 per cent from 2014 to 2018, EU's imports from Pakistan witnessed an increase in CAGR of 3.2% during this period. This shows that Pakistan has been able to maintain its favourable position in the EU market," the report adds. In its last compliance review in 2020, the EU extended Pakistan's GSP+ status for another two years, making the country eligible for availing preferential duties till 2022.
Untapped potential
To understand the role of GSP+ in Pakistan's exports and impact on the economic situation if the status is withdrawn, The Express Tribune spoke to a few experts on the matter. Pakistan Business Forum Vice President Ahmad Jawad said that despite getting zero concession on many items under GSP+ status, the country was unable to fully take advantage of this facility due to which there may not be as much of an adverse impact.
He said that only the textile sector was able to increase its exports by around $2-3 billion but the potential for exports from other sectors like agriculture and other items were not tapped. "Even the horticulture sector, despite fulfilling the EU's requirement, was not able to make its footprint in the European market."
Jawad said that envoys from different European countries, time and again, urged the businessmen to tap potential sectors under the extended facility, particularly kinnows, as there was a market for such products. However, we were unable to make our place in the European market and even though it is a major export market for the fruit, the quantity exported remains very small, he added. "We have not really taken advantage of the benefit that we could have gotten from the GSP+ status. The total advantage that we get from the facility currently is $2-3 billion, which is far below potential," Jawad added.
Commenting on the reasons for this, he said that there was a lack of proper export strategy for the EU. "Ideally, what should have happened was that when we got GSP status, we should have identified a marketing strategy and held road shows as Europe is a very big market. But our ministries and foreign missions did not work on this front," he lamented. He said that there was a lot of focus on promoting textiles, due to which other sectors like leather, halal meat and jewellery, were neglected.
Not only were the other sectors neglected, the textile sector was also unable to adapt to the changing demand of its market. Findings of PBC's report highlighted that an analysis of EU imports from Pakistan showed that most of the items fell in the retreat segment. According to the Export Products Dynamics (EPD) Matrix, retreat is when items have a lower share among world's imports and the exporting country also exports those items in smaller quantities. Pakistan is neither exporting items that are imported by EU in high amounts nor is it focusing on items that have witnessed a high growth among EU imports. The lack of effort to keep up with the changing dynamics, has led Pakistan to miss out on opportunities to increase market share as well as to have a strong presence in items which are in growing demand in the EU.
So, in spite of the tariff advantage, Pakistan's share in the EU's global imports stands at 0.16% (in 2013, this number was 0.12%). "Hence, GSP does not have that much advantage in our exports. It is more symbolic; even if $2-3 billion is lost from this, it will not have a lot of overall impact," said Jawad. However, he was of the view that an incentive such as the GSP+ status could help drive up exports if the government focused on pushing all the sectors otherwise we will not be able reap dividends from the GSP facility. "Only getting the facility renewed will not be of any use to us."
Federation of Pakistan Chambers of Commerce and Industry (FPCCI) President Mian Nasir Hayyat Magoo echoed similar views saying, "There will be a difference of $1-2 billion maximum [if the status is withdrawn] but that too will not be felt immediately." He said that currently the world was facing a pandemic and countries had limited options for supply. India is embroiled in a devastating second wave of Covid infections and Bangladesh also had started losing orders so someone had to fill the gap. He said that initially there will not be any major difference, though there may be some impact later when other countries start recovering.
Karachi Chamber of Commerce and Industry (KCCI) President Shariq Vohra was of the view that in terms of numbers there would not be a great difference but this does come as a hit to the country's exports. "Pakistan has not been able to take advantage of what the GSP plus has offered. The categories offered under this facility are more than 300 and we are exporting just a few. We have not been able to fulfil the true potential."
He said that the latest decision to review the GSP+ status will definitely dent our exports. "Firstly, there is a very important thing called perception. When they say Pakistan's GSP status has been withdrawn, there will be a negative message going across the globe about the country. So it will definitely hurt Pakistan's exports." Further elaborating on the consequences, the KCCI president said that because majority of our exports to the EU are from the textile sector, if the facility is withdrawn our exports to the EU, which are currently free, will face tariffs. "So our product will become expensive and our customers will start looking to alternatives like India, Vietnam and Cambodia."
He said that even if we start to diversify our markets now to prevent any fallout the process will take time. "Diversification takes time. To find new markets, establish your product in new markets is a time consuming process. The European markets are ready markets for us. Our exporters have a set base of customers and Europe imports a lot of our basic products. But if we do lose preferential access to the markets, then we may have to look at this option."
Elaborating on why Pakistan was not able to take full advantage from GSP+, Vohra said, "There were too many categories in GSP+ and most were value added products, which we did not export. There is an effort required to do value addition." He said that there was still a lot of work that could be done to take benefit from this facility. "Of our $15 billion worth textile exports, 70 per cent is for EU. With value addition we can boost this to $20 billion. We can do this by focusing on items other than the standard ones that we currently use."
Reiterating similar sentiments, Pakistan Business Council CEO Ehsan Malik said, "Since we got this facility, our exports have done well but the main beneficiary has been the textile industry. A significant part of our textile exports is directed at the EU. So these textile firms enjoy around 9-10 per cent duty-free access to the EU markets."
He said that India and China also export to the EU but they are not offered the same preferential rates. But if we look at exports that come from India and China they are significantly more in volume than the goods exported by Pakistan despite the GSP advantage. "So the main challenge that we have had in not being able to take full advantage of the facility is that our offerings are not broad enough and they do not have as much value-addition."
Malik said that the current exports were at the low-end of the spectrum and an incentive of 9 to 10 per cent is significant for that segment. "So if we lose that, it will be a setback. We do see exports coming down." He added that there was a review due by the end of this year anyway, but the latest developments have made it easier for the EU to withdraw the facility. "We already had a challenge coming but this review will be exceedingly tough and there could be negative consequences for us ahead."
Exports and more exports
Former finance minister Abdul Hafeez Shaikh once said, "Without exports no country has ever developed." The current government has time and again emphasised on its efforts and policies to boost the exports. Yet, numbers show that exports have been nearly stagnant for the past three years. "Generally, there has been slow progress on boosting exports," Malik said.
Despite knowing the importance of exports for our economy, not only have we not been able to increase them there has not been much value addition to the current exports either. The government officials keep urging the businessmen to make efforts on this front, while on the other hand, the exporters lament lack of incentives, taxes and other duties as hindrances to boosting exports.
The KCCI president said that there were not many schemes from the government's end that offer incentives to do value addition. "There is no institutional support from government. There used to be an export promotion bureau. Our commercial attaches, foreign embassies have no roles." Now, in this scenario where EU's share in our total exports is about one-third, losing preferential access to a huge potential market of 500 million customers for Pakistani products does not bode well for the economy.