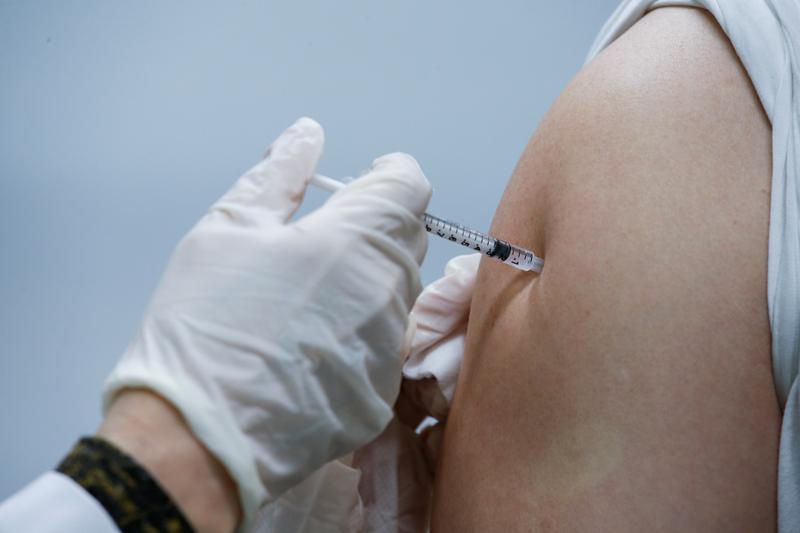 ---
Pakistan still has time to avoid tragedy at its doorstep: expert
US-based infectious disease specialist says country needs to accelerate the pace of vaccinations
---
KARACHI:
With coronavirus cases skyrocketing, Pakistan is teetering on the edge of a health crisis that has the potential of being as catastrophic as one presently unfolding in neighboring India, according to a leading US-based infectious disease expert.
"While the situation in India is beyond prevention, Pakistan still has time to prepare and take measures to avoid the tragedy at its doorstep," cautioned Dr. Faheem Younus, Chief of Infectious Diseases at the University of Maryland.
In a wide-ranging interview with The Express Tribune, Dr. Younus, a recipient of the 'Presidential Service Award' from the Obama administration, candidly spoke about the strategy to prevent the coronavirus from spreading, the situation in Pakistan, the precarious course ahead, the importance of vaccination, and the chaos in India,
"I don't think people need to compare or wait for an India-like scenario to unfold. We are in a more precarious situation today than we have ever been before. Pakistan's daily mortality is the highest even if you compare it with the first peak last summer," the doctor explained.
Dr. Younus's juxtaposition of Pakistan and India suggests that the arch-rivals face a similar struggle against the contagious respiratory disease. On the other side of the fence, India, accounts for nearly half of all new cases in the global surge and more than 2,000 Covid-related deaths daily.
India, he said, is paying the price of hubris, denial, and its government's premature declaration of victory against the super spreader.
In short, he said: "Its denial, complacency and then the virus surprises you." The Bharatiya Janata Party, or B.J.P. government in New Delhi, he said, politicized the virus for electoral mileage.
"This is what happens if you don't respect this virus at the very least and if you politicize it at the very worst. I've always said there is no need to fear the virus but there is a need to respect this virus and we respect it by restricting our gatherings, by wearing masks, by following protocols, and by adequate testing," Dr. Younus said in a telephone interview from Maryland, US.
For Pakistan, Dr. Younus said, the writing is on the wall. To defeat the virus, which appears to be gaining steam, the infectious disease expert said, the available solutions are no secret: "Restrict gatherings and activities that spread the virus, and simultaneously accelerate the pace of vaccinations."
Vaccination
During the interview, Dr. Younus, who hails from Lahore, urged people to get vaccinated as soon as it is available.
"This is no time for vaccine shopping. Any vaccine now is better than the best vaccine later." Without endorsing any specific shot, he said, all six vaccines offer some degree of protection against the virus.
"Our first goal is to defang Covid and reduce its intensity to any regular cold. All vaccines Pfizer, Morderna, Johnson & Johnson, AstraZeneca, Novavax, and Sputnik will do that based on the data I've reviewed. Once we achieve this then our next goal is to eliminate the chance of getting sick," he explained.
"So, if you decide to get vaccinated today, your full immunity could still be two months away," the expert added.
He urged the government to allow scientists in the country to lead the narrative. "The presence of armchair epidemiologists, misinformation, and distorted narratives is far more dangerous than the virus itself," he cautioned. The expert added that the lack of candor and facts about the coronavirus pandemic will not only delay the circulation of scientific advice but also cause more deaths.
Commenting on vaccine hesitancy that persists across the country, he said, Pakistan has only managed to vaccinate less than 1% of its population since the onset of its vaccination drive in March this year. These factors coupled with more than 200 million people who are vulnerable, in epidemiological terms, Dr. Younus said, make the nation a sitting duck in a data fog.
Many variants
Referring to Covid as too serious a matter to take lightly, the Maryland-based health expert said: "If Covid was like any other respiratory disease it would not have made headlines, overwhelmed the global healthcare infrastructure."
"The pandemic would not have shut down the world if it wasn't serious," said Dr. Younus, during the hour-long discussion about the deadly contagion.
Talking about the latest version of the virus that is currently wreaking havoc in neighboring India, Dr. Younus said: "Despite the new variants, people should worry less about the virus's behavior and worry more about their own behavior because that's in our control."
Resources
With the total number of Covid cases just 150,000 shy of the one million mark in Pakistan, Dr. Younus said, the government will have to focus on the front end more than the back end.
"All countries that have controlled the pandemic have done it by focusing on prevention and by playing on the front foot against this highly contagious disease."
Referring to pre-pandemic World Bank data related to Pakistan, he said: "We had one doctor for every thousand people, we had 0.6 hospital beds for a thousand people, we had 0.01 ICU beds for a thousand people, and we had a handful of ventilators."
"Once you end up on a ventilator in a country like Pakistan the mortality is going to be anywhere between 20-50%," the doctor explained. He urged decision-makers to have hard policy discussions that focus on improving prevention more than treatment facilities.
"Investing on the backend is not going to give you the same benefit or same bang for the buck that you will get on the front end."
While choosing his words carefully, Dr. Younus said he empathizes with the government and people who are trying to control the virus in Pakistan. But with more than 600 deaths during the first seven days of this month, he warned that the country is on a dangerous upswing that can only be avoided through tighter precautions, which are slowly coming into effect.
"The worry now is how deep this rabbit hole will get or how worst it will get before it gets better and much of it is in our control," he said about Pakistan, where so far more than 18,600 deaths have been recorded since the pandemic began.
Responding to a question about a possible oxygen shortage in the country triggered by the harrowing images of a raging crisis and a crumbling healthcare system from neighboring India, he said Pakistan must increase its supply or simply stretch its utilization and make it more 'appropriate'.
Reports suggest that people have already started hoarding oxygen cylinders in several cities. Dr. Younus said the government can address the hyper reaction through mass communication.
"People should not develop this anxiety and fear about the lack of oxygen. 80-90% of Covid patients never need any oxygen. Therefore, there is no need for hoarding." To avoid such hyper reaction, he urged the government to focus on the clarity of message during the pandemic.
Long road ahead
In Dr. Younus's assessment, which is based on numerous mathematical models that are being produced to forecast the future of coronavirus disease, Pakistan's struggle against the virus will continue into 2022 and even beyond.
"This is a public health and national emergency. Don't declare victory too soon. It isn't over until 70 or 75 % of our population is vaccinated."
"Even if you think our total infections are 10 times more than what we have counted, some 200million people are still susceptible in Pakistan," warned Dr. Younus, who is followed by more than 260,000 from all over the world on Twitter, where he candidly responds to Covid-related questions.