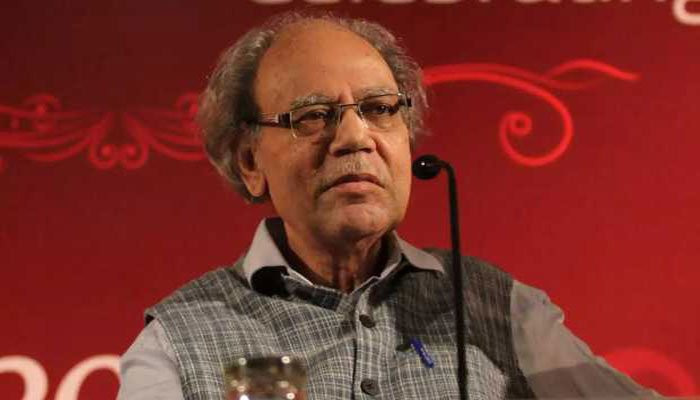 ---
Urdu world at a loss of words as Shamim Hanafi passes away
Eminent scholar died at the age of 85 in Delhi.
---
Eminent Urdu critic, dramatist and a proponent of modernist movement in Urdu literature, Shamim Hanafi passed away in Delhi on Thursday. He was 85 years of age.
Rekhta's official Twitter handle revealed the unfortunate news last night. "We are saddened to inform you all about the demise of one of the most respected literary critics, playwrights and poets Prof Shamim Hanfi," it announced. "We extend our deepest condolences to his family and loved ones. #Rip"
Hanafi had tested positive for Covid-19 a few days back. India's member of the parliament Dr Syed Naseer Hussain, who is also the Rajya Sabha National spokesperson, had shared a message by Hanafi's daughter, Ghazala Siddiqui, on his Twitter.
The message was a call to action, relaying that Hanafi, a patient of Non Hodgkin Lymphoma, was suffering from pneumonia post Covid-19. It informed that he was being kept on oxygen support and urgently required medical intervention. Pneumonia had affected all the lobes of his lungs while he was also diabetic and hypertensive.
Writer Raza Ahmad Rumi, while sharing the same on May 3, asked for those in Delhi to reach out to him. "Saddened to read this, those in Delhi, please reach out. Wishing Shamim Hanafi Saheb speedy recovery," he tweeted.
But following his demise, many from the world of Urdu literature remained at a loss of words. The largest festival celebrating Urdu language and culture, Jashn-e-Rekhta, paid tribute to the late legend with a video of him at their panel in 2015. "Phir laut ke is bazm mein aane ke nahin hain. The entire world of Urdu Literature mourns the demise of Professor #ShamimHanafi. It is a loss as an era of guidance, wisdom and knowledge reaches its end," it lamented. "We extend our heartfelt condolences to his friends and family. #RIP"
Rana Safvi, author of The Forgotten Cities of Delhi and Tales from the Quran and Hadith, shared a photo of Hanafi and wrote, "Ek ek karke sitaare aasman ko sidhaar Rahe hain." In another tweet she added, "Chiragh e lafz hi chup ho gaya hai, Andhera kis qadar ghup ho gaya hai. Shehpar Rasul sahib for Janab Shamim Hanafi."
Bilal Tanveer , author of The Scatter Here Is Too Great also chimed in tweeting, "Saddest time for Urdu. First Asif Farrukhi, then Shamsur Rahman Faruqi, and now Shamim Hanafi."
S lrfan Habib, historian of science and modern political history from New Delhi, also lamented the loss. "Sad to know that Prof Shamim Hanafi, well-known Urdu critic, dramatist and one of the foremost proponents of modernist movement in Urdu succumbed to COVID-19. Rest in peace," he said.
Ghazala Asif, an anthropologist researching gender, religion, and the state in Pakistan, went on to add, "Devastating news amidst so much other devastation. Alvida Shamim Hanafi."
Broadcast journalist and producer Pervaiz Alam shared Jashn-e-Rekhta's video of Hanafi and wrote, "Great Urdu scholar Shamim Hanafi's death is the end of an era. He was my teacher at AMU. It was an honour to have moderated a discussion on the love affair between Hindi & Urdu with him for @JashneRekhta"
Born on Nov 17 in Sultanpur, city of Uttar Pradesh. Hanafi was one of the most respected Urdu literary critics, playwrights, and poets. An alumnus of the Allahabad University and the Aligarh Muslim University, Hanafi taught at the latter and was an academic at the Urdu department of Jamia Millia Islamia in New Delhi. At the JMI, he served as the Dean of Humanities and languages faculty, from which he resigned in 2012.
He wrote dramas such as Mitti Ka Bulawa and Bazaar Mein Neend. He also penned a number of acclaimed books in literary criticism, including Khayal ki Musaafat, Jadidiyat ki Falsafiyana Asaas, Tareekh, Tehzeeb aur Takhleequi Tajurba, Qari Say Mukalma, Khayal ki Musaafat, Nayi Sheri Riwayat; and Urdu Culture aur Taqseem ki Riwayat. He authored four books for children while some of his books on modernism include The Philosophical foundation of modernism and New poetic tradition.
Hanafi has also served as a patron of Jashn-e-Adab and the Rekhta. Hanafi's poetry collection Aakhiri Pehar ki Dastak was published by Rekhta at one of its first ventures in publishing in 2015.
He was conferred with the first Jnangarima Manad Alankaran award, by the Bharatiya Jnanpith in 2015. He received the International award for promotion of Urdu literature in January 2021 from the Majlis-e-Frogh-e-Urdu Adab, a Qatar-based literary organization. He has also received the Maulana Abul Kalam Azad Award, Pervaiz Shahidi Award, Delhi's Urdu Academy Award and the Ghalib Award. On September 20, 2015, he was conferred with the Hindustan Gyan Peeth.
Have something to add to the story? Share it in the comments below.