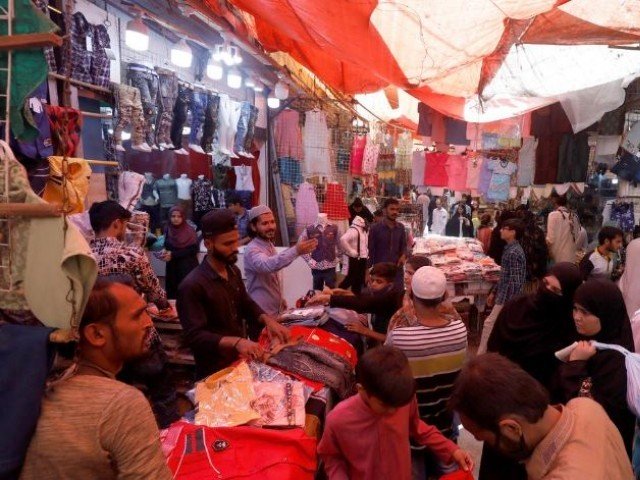 ---
Sindh allows businesses to operate on Friday, Saturday
All commercial activities in the province will be suspended from Sunday onwards, says minister Nasir Shah
---
KARACHI:
The Sindh government has announced that all commercial activities across the provinces will be allowed to operate on Friday and Sunday from 6am till 6pm.
In a statement, provincial Information Minister Nasir Shah said that businesses are allowed to operate on May 7 and 8 while ensuring standard operating procedures (SOPs) issued to contain the spread of coronavirus.
However, the minister said from Sunday (May 8) onwards all business activities will remain suspended till May 16 as the National Command and Control Centre (NCOC) has announced nine-day lockdown under the "Stay Home, Stay Safe" strategy. He said a separate notification in this regard will be issued soon.
Shah also urged the people to comply with Covid-19 SOPs while visiting markets amid rising coronavirus cases during third wave of virus.
Previously, the provincial government had ordered the businesses to remain close on Friday and Sunday. However, the decision has been taken on the demand of traders.
Also read: Sindh directs all private hospitals to offer coronavirus vaccine for free
Earlier in the day, the Sindh government announced on a new set of Covid-19 restrictions.
The decision to tighten pandemic-related restrictions was taken during a meeting of the coronavirus task force, presided over by Sindh Chief Minister Murad Ali Shah.
During the meeting, it was decided that restaurants will be allowed to offer take-away services till Maghrib prayer, after which only home-delivery will be allowed.
This will come into effect from Friday until Sunday.
The provincial government upheld its earlier restriction on commercial activities, stating that shopping centres are to open early in the morning till 6pm, the CM said.
In addition, Murad maintained that beaches and other public places will also remain closed during Eid days.
The pharmacies and other essential services are exempt from all restrictions.