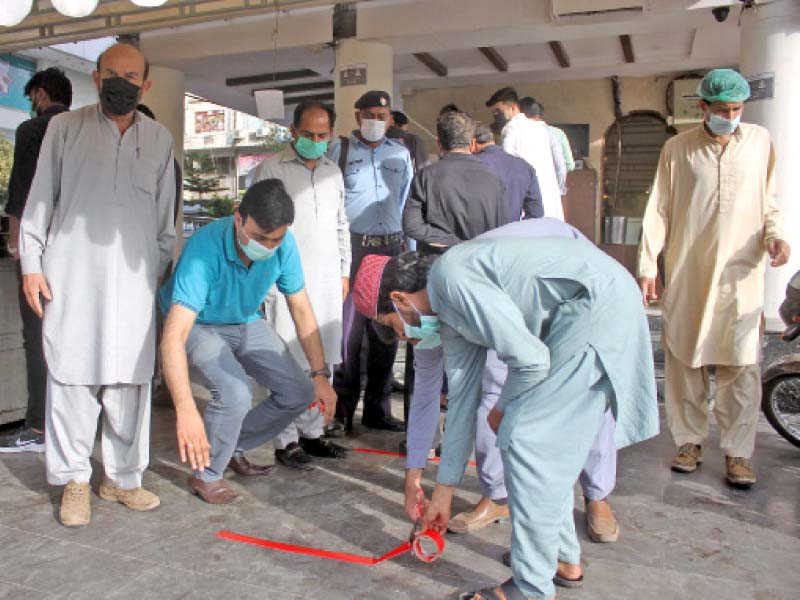 ---
Daily Covid tally falls below 4,000 as SOPs compliance doubles
Minister warns of negative fallout if precaution adherence not improved in Karachi
---
ISLAMABAD:
A mix of strict observance of the standard operating procedures (SOPs) and an expanded vaccination campaign appeared to have been paying dividends, as the country's single-day tally of new coronavirus cases fell below 4,000 for the first time in a month.
The National Command and Operation Centre (NCOC), which oversees the government's synchronised efforts to control the pandemic, reported 3,377 new Covid-19 cases during the past 24 hours, for the first time since April 5.
Pakistan is in the grip of a third wave of coronavirus, driven by the UK strain of the disease. For most part of the last two months, the single-day tally of new cases stayed above 5,000 while the daily death toll topped 100.
The government has taken stricter measures to contain the spread of the deadly contagion, including calling out troops to help the local authorities enforce the anti-Covid SOPs. Authorities have been repeatedly warning against flouting SOPs.
Planning Minister Asad Umar, who heads the NCOC, said in a tweet on Tuesday, a significant improvement has been seen in the SOPs' compliance after the strong enforcement measures including military deployment, took place.
"National average compliance has doubled from 34 per cent on April 25 to 68 per cent on May 3," he said in his tweet. He stressed the need for sustaining and building on this compliance level, especially till Eidul Fitr.
However, Information Minister Fawad Chaudhry said on Tuesday the SOPs compliance has increased in the country except in Karachi, the country's largest city. He warned that if the SOPs were not implemented properly in the city, the effect on the rest of the country would be felt "very soon".
"The least implementation of SOPs is seen in Sindh, especially in Karachi," Chaudhry said during a press conference in Islamabad. "That is why the province's Covid-19 situation has not got better despite other provinces witnessing stabilisation in the rate of cases."
Simultaneously with the SOPs implementation, the government has also expanded the Covid vaccination drive, allowing the administration of jabs to the people over 40 years of age from Monday.
In a separate tweet, Asad Umar said that the number of Covid vaccination per day exceeded 150,000 mark on Monday.
"Yesterday, more than 164,000 people were administered vaccine shots. Yesterday was the first day of vaccinating people aged 40 and above," he added.
According to the NCOC daily update, the national tally of active Covid-19 cases continued its declining trend, coming down to 86,151 as 3,377 more people were tested positive for the virus against 5,018 people recovering from the disease during the last 24 hours.
On Monday, the NCOC reported 70 fatalities – the first time since April 25 when the single-day death toll fell below 100. However, the number surged again to 161, of them 140 died in hospitals, including 70 on ventilators.
As of Tuesday, according to the NCOC, the national caseload increased to 837,523, including 733,062 recoveries. The data showed that 6,464 patients were admitted to 631 hospitals across the country equipped with Covid facilities. The nationwide death toll has risen to 18,310.
(WITH INPUT FROM APP)