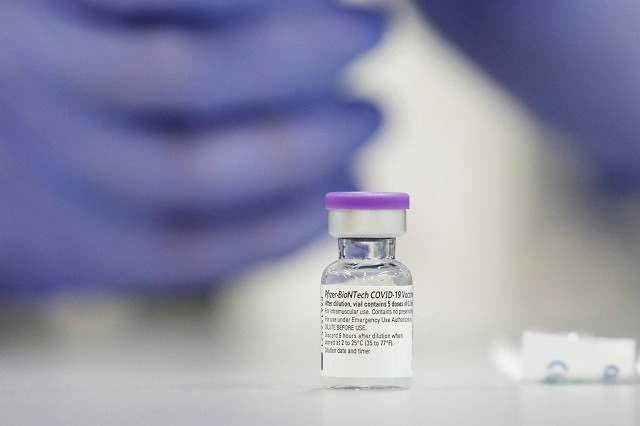 ---
ISLAMABAD/RAWALPINDI:
The federal capital has registered a gradual decline in new cases of the novel coronavirus. District Health Officer (DHO) Dr Zaeem Zia stated on Tuesday that 283 cases were reported in the Islamabad Capital Territory (ICT) in a span of 24 hours, lowest in last 10 days.
The rate of positive cases in the city has been recorded at 7.87 per cent in a span of 24 hours. In the said time,3,596 tests were conducted in Islamabad while two patients died in the city on Tuesday, the health official said.
Dr Zia termed the coronavirus situation stable in Islamabad, adding that "it will be premature to give a final opinion over the decline in cases." Thus far, Islamabad has reported 76,492 cases.
Meanwhile, the infection rate has started to subside in Rawalpindi, however, six fatalities were reported during the past 24 hours, a spokesperson said.
Two patients at Holy Family Hospital (HFH), Benazir Bhutto Hospital (BBH), and Rawalpindi Institute of Urology and Kidney Liver Transplant (RIUKT) each succumbed to the virus. The infection rate has come down to 6.47 per cent, the official maintained.
The number of patients receiving treatment in aforementioned hospitals has dropped to 165 and among them, 148 are on oxygen while four are on ventilators.
The district health department officials further said that 126,339 people have been administered Covid-19 vaccine thus far while the number of vaccination centres has been increased from three to six in the district. As many as 14,023 vaccine doses were administered in the past 24 hours for the first time since the drive began on March 10, they added.
Furthermore, District Health Coordinator for Coronavirus management Dr Jawad Zahid informed that the district health authority has registered 120 new infections in a span of 24 hours, raising the tally of confirmed cases to 24,261 in the district.
He said that out of the total positive cases, 22,390 belonged to Rawalpindi while 1871 to other districts. The health officer told that 21,866 patients were discharged after making a recovery while 1,879 were in quarantine at homes and 1,317 in isolation wards.
Published in The Express Tribune, May 5th, 2021.