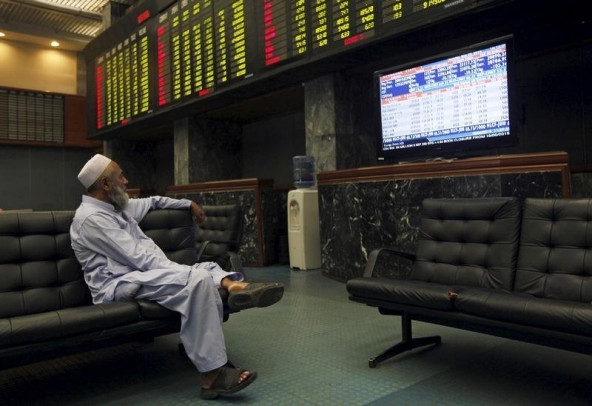 ---
KARACHI:
The stock market on Tuesday snapped a five-day bearish spell and rose 487 points on the back of a slight decline in the daily number of new Covid-19 cases across Pakistan.
After a harrowing two weeks, the daily virus cases slowed down and fell to around 4,200 on Monday, which provided the much-needed breather to the market and encouraged investors to assume fresh positions.
Owing to a prolonged bear run, stock prices had fallen to attractive valuations and market participants capitalised on the opportunity to cherry-pick stocks.
A rise in global crude oil prices triggered a rally in local oil sectors and a majority of the stocks closed the session with modest gains.
Earlier, trading began on a positive note and the market climbed steadily throughout the day. The dip in new Covid cases eased investors' fear about a complete nationwide lockdown and they invested in the market with strong interest.
The bullish trend accelerated in the final hour and helped the KSE-100 index to close above the 44,500-point mark.
At close, the benchmark KSE-100 index recorded an increase of 487.39 points, or 1.11%, to settle at 44,563.59 points.
In a report, Arif Habib Limited stated that the market performed well, adding a total of 544 points to the board and closed on a bullish note.
The removal of rollover uncertainty in TRG Pakistan helped investors to take a positive view on the stock, which hit its upper circuit.
NetSol, on the other hand, remained under pressure, touching its lower circuit for the second consecutive session.
Oil prices bounced back overnight that helped exploration and production companies to inch up.
Cement and steel sectors bounced back as well, after sustaining losses in previous sessions, the report said.
JS Global analyst Neelum Naz said that bargain hunters looking for value stocks, especially blue chips, turned the tables in the market, consequently the KSE-100 index opened on a positive note and stayed in the green zone all day long. The market closed up 487 points at 44,563.
Top five volume leaders were Unity Foods (+7.5%), Telecard (+7.3%), Ghani Global Holdings (+6%), TRG Pakistan (+6.8%) and Hascol Petroleum (+4.4%), contributing a total of 110 million shares (50%).
On the news front, the news of a slight downward trend in Covid cases and positivity ratio on Monday after a continuous rise in recent weeks came as a breather for the market.
"Going forward, a cautious stance is advised in the market and 'sell-on-strength' is recommended in the coming sessions amid Covid-related uncertainty," the analyst said.
Overall trading volumes declined to 221.5 million shares compared with Monday's tally of 238.4 million. The value of shares traded during the day was Rs10.1 billion.
Shares of 371 companies were traded. At the end of the day, 242 stocks closed higher, 110 declined and 19 remained unchanged.
Unity Foods was the volume leader with 33.9 million shares, gaining Rs2.4 to close at Rs34.46. It was followed by Telecard Limited with 26.3 million shares, gaining Re1 to close at Rs14.75 and Ghani Global Holdings with 23.6 million shares, gaining Rs2.16 to close at Rs38.14.
Foreign institutional investors were net buyers of Rs37.4 million worth of shares during the trading session, according to data compiled by the National Clearing Company of Pakistan.