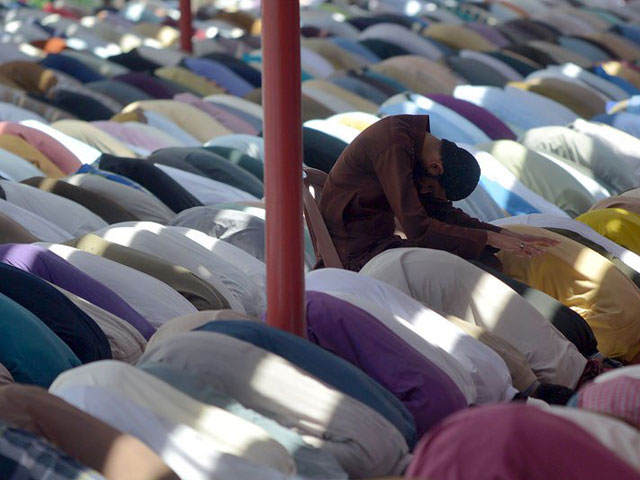 ---
KARACHI:
Last year, when the coronavirus in Sindh had climbed to over 6,000 cases in advance of Ramazan, the provincial chief minister had appeared on a late-night video broadcast to announce an immediate ban all kinds of congregational prayers. It was feared that if gatherings were not curbed, Sindh could be looking at an intractable spread of the disease.
This Ramazan however, as cases jump past 280,000 in the province amid the virus' third wave, there has been little control over congregational gatherings, putting Sindh in the mouth of a threat it's not equipped to deal with.
In Karachi, which is the province's biggest and most densely populated urban metropolis, thousands of mosque-goers appear to have to have turned a blind eye to the raging pandemic, some almost forgetting it was ever a thing.
While various mosque managements have been doing their part by routinely informing Taraweeh and farz namaz congregators to observe government advised SOPs, such as wearing face-masks and maintaining social distancing, most in the crowd seem to be immune to the orders if not the disease.
Per health-expert suggestions, various mosques in the provincial capital have been discouraging the elderly, children and people with terminal illness from visiting the place of worship.
In addition to that, mosque managements in areas including Surjani Town, Nazimabad, North Karachi, F.B. Area, Liaquatabad, Landhi, Korangi, Malir, Shah Faisal, Saddar, and Lines Area, in strict compliance with government-endorsed SOPs, have reportedly removed all carpeting from their premises, marked prayer areas with social-distancing limits and ordered regular cleaning and disinfecting of common areas.
Yet however, disinfection and sanitisation gates, which were a popular sigh on mosque entrances t last year, appear have disappeared from the public-eye this time around. Moreover, although discouraged by disease experts, ablution stations in several mosques have remained open for mosque-goers to crowd and utilise, which in mosque-managements' defense, are being regularly sanitised.
According to local mosque secretary Ahmer Azeem, it is the government's responsibility to ensure and enforce adherence to the National Command and Control Centre (NCOC)'s guidelines. "We can and do request worshippers to wear face-masks but that's the extent of our capacity. We cannot stop a worshipper, be they wearing a mask or not, from praying. The public should also not throw caution to the wind and follow SOPs voluntarily, without the need for policing," the mosque secretary commented.
Where on one hand, seeing the current disregard for SOPs, health experts in the country fear an even more severe- and quite possibly irrecoverable- jump in Covid-19 numbers on the brink, Karachi's mosque managements on the other hand, remain confident about hosting the ittekaf this season. "We have cut-down on a lot of events, such as big iftar dastarkhwans and are paying special attention to maintaining a sanitary environment at the mosques. There have also been especial prayers held for the eradication of the pandemic and all things considered, we are going to ensure compliance to all government-advised guidelines for ittekaf as well," asserted Muhammad Aqeel, administrator of another local mosque.
Published in The Express Tribune, May 4th, 2021.